The man who brought gangsta rap to the masses could soon be hip-hop's richest man thanks to an Apple deal.
When Kanye West was asked by Rolling Stone magazine to write a panegyric to Dr Dre, he had no fear of hyperbole. "Do hip-hop producers hold Dr Dre in high esteem? It's like asking a Christian if he believes Christ died for his sins."
In terms of commercial clout, artistic influence and longevity, no producer in hip-hop can rival the 49-year-old who popularised gangsta rap and launched the careers of Eminem, Snoop Dogg, 50 Cent and Kendrick Lamar. But the reason Andre Young is about to become the richest man in hip-hop (he's currently second to Sean "Diddy" Combs with a mere US$550m ($638 million) isn't the music that people listen to: it's how they listen to music. Apple looks likely to buy Beats Electronics LLC, the company Dre co-founded with Interscope Records' Jimmy Iovine in 2008, for US$3.2 billion.
While digital music sales flatten, Beats is forging ahead in two growth markets: high-end headphones (with Beats By Dr Dre) and subscription-based streaming (with the recently launched Beats Music).
Last year Beats' share of the premium headphone market grew to 65 per cent, with revenues of around US$1.2 billion. Business analysts are unsure if it's a wise buy for Apple, and if Dre's stake will really make him, as he claims, "the first billionaire in hip-hop", but the mooted deal confirms the marketing genius of a man who has been shaping popular music for more than 25 years.
Andre Romelle Young was born in the Los Angeles suburb of Compton on 18 February 1965. It was a crime-plagued area during his youth but his parents, who divorced when he was 7, steered him away from drugs and gangs. (One of his own sons, Andre Young Jr, died of a drug overdose in 2008.)
Music paid well so he dropped out of high school to become a club DJ. He joined the electro-rap group World Class Wreckin' Cru but was embarrassed by both the music and the gimmicks.
When Dre was arrested for unpaid traffic fines in 1986, local drug dealer Eric "Eazy-E" Wright agreed to pay bail in return for production work. That led to the formation of Niggaz With Attitude (NWA) with DJ Yella, MC Ren and the talented Ice Cube. NWA's 1988 debut album Straight Outta Compton didn't invent gangsta rap but it defined it, and Dre's production was as compelling as Ice Cube's raps. Dre was arrested for various offences in his 20s. Most notoriously, in 1991 he was convicted of assaulting television presenter Dee Barnes, who later told Dre biographer Ronin Ro, "There's a lot of women that he beat up. But I'm the one who f***ing pressed charges." Last year R&B singer Michel'le, and a former bandmate both made similar claims. Dre has not commented on the claims.
In 1991 Dre left the group over a financial dispute and formed Death Row Records with former bodyguard Marion "Suge" Knight. His triple-platinum-selling solo debut, The Chronic, revolutionised hip-hop yet again and made gangsta rap the new norm. Rolling Stone named it the second best album of the 90s.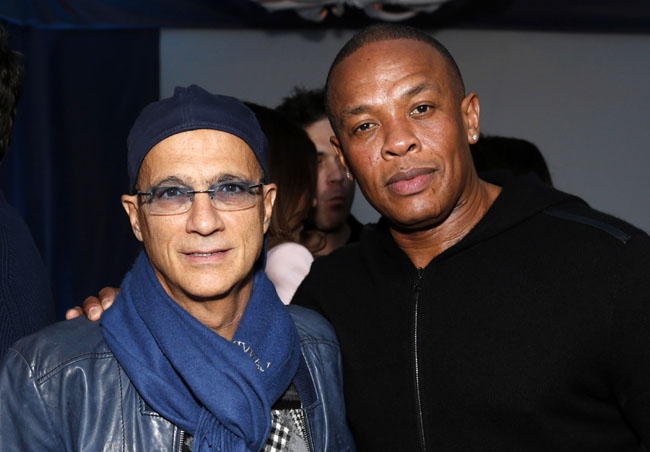 Jimmy Iovine and Dr. Dre. Photo / AP
In 1996, tired of Suge Knight's thuggish antics, Dre left Death Row. His new venture, Aftermath Entertainment, took off when he signed a young Detroit rapper named Eminem.
His second (and, to date, last) solo album, 2001, came out the same year and has since sold more than 7.5m copies in the US alone. Track titles such as Still D.R.E. and Forgot About Dre betrayed a defensive frame of mind.
"Magazines, word of mouth and rap tabloids were saying I didn't have it any more," he grumbled. "What more do I need to do?"
Dre has always been a stolid, uncharismatic rapper, giving the impression that he'd much rather be behind a console than a microphone.
Dre enjoyed another purple patch in the early 2000s, with hits for Eminem, Mary J Blige, Gwen Stefani and 50 Cent. Each one used minimal hooks over speaker-wrecking beats and bass.
Since winning his fifth and sixth Grammy awards for his work on Eminem's 2009 album Relapse, however, Dre has seemed increasingly uninterested in making music. The idea for Beats arose from conversations about the poor quality of Apple's white earbuds with music mogul Jimmy Iovine, his friend and mentor since Death Row partnered with record label Interscope 23 years ago, who has called him "one of the best [producers] that ever lived".
The phenomenal success of Beats is seen by some as a triumph of hype over hi-fi. Beats trades subtlety for power, delivering walloping bass. An interview with Esquire last year revealed a man who loves music and business and can live without the rest. He bragged about enjoying the studio so much that he once worked for 79 hours straight but said he had no interest in hearing his own records. "Once it comes out, for me, it's just business. Numbers." The numbers are looking very good indeed.
- Observer