Can one have a good Harry Potter movie despite the absence of Potter? Surely not. In the realms of scarf-wearing British fantasy heroes, an absence of the young speccy fella would be a bit like Doctor Who with no Doctor.
But, well ...Torchwood. That was quite good. Grown-up. And didn't require an affection for all those years in the Tardis either. Fantastic Beasts is a bit like that really.
Yes, Potter is a much different thing, as the kids who grew up on the books and the movies well know. But it's way too soon for a Hogwarts reunion.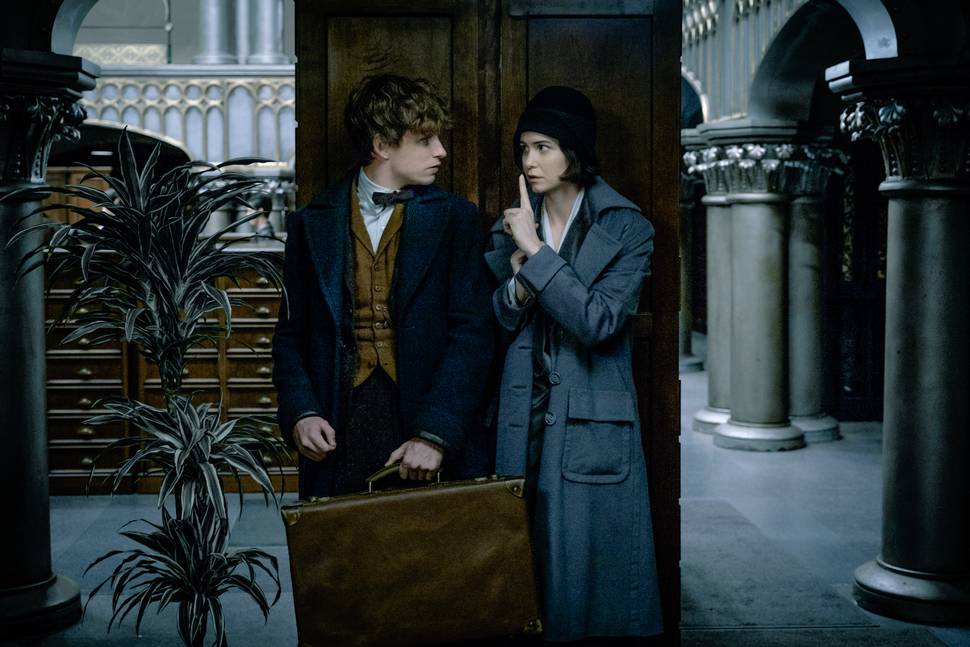 So a sort-of-origin story/prequel as another series starter? One inspired from a school textbook JK Rowling created about fantasy fauna but starting fresh story-wise?
Seems a rather good idea. And so it is.
Fantastic Beasts feels like something darker, stranger and altogether much less of a theme park blueprint than the Potter movies. If you've grown-up with Potter, here's a film that treats you like a grown-up. While making jokes about flames coming out of one's anus as a symptom of a creature bite.
It also instantly solves the main problems of the early Potter flicks - kids who can't act and doing that in the early films, at least, which felt constricted by the books.
Director David Yates helmed the final four and better Potter films and there are plans for four more FBAWTFT films after this.
He's off to a spectacular looking start with a meticulous rendition of 1926 New York and an American spin on the wizard world within.
And, of course, there are those beasts which live up to the title and which range in oddity and size from Niffler, a kleptomaniac marsupial with a very deep pouch to an on-heat giant rhino-like Erumpent which Eddie Redmayne attempts to subdue with a mating dance.
That's something to see. So is the rest of Redmayne's infectiously gangly oddball performance as Newt Scamander, wizard and beast conservationist.
His visit to New York with his enchanted (and frankly Tardis-like) suitcase sets the movie in motion when he loses his bag and his magic menagerie starts going Gremlins on Manhattan.
Working from Rowling's first screenplay, the film sure has a lot to get in - multiple character introductions, creature capers, a looming threat to wizard-kind from No-maj (American for Muggles) who want to bring on a modern Salem witch hunt, which has its own contemporary resonance.
So it's a little bogged down for its first hour and it takes a while for FBAWTFT to weave its spell, especially as its starts out with a nearly mute-Newt.
But eventually he talks and it gels. And those runaway creatures acting like a conjurer's misdirection - the real magic is between Newt and his accidental new chums.
There's Tina Goldstein (Katherine Waterson) an officer for the US wizard police, Jacob (Dan Fogler) a no-maj baker who accidentally acquires Newt's suitcase, and Queenie (Alison Sudol) who is Tina's mind-reading flapper of a sister who sees something in Jacob that he doesn't.
They are a fantastic foursome with Redmayne and the hilarious Fogler quite the twilight zone Laurel and Hardy while Waterson creates a character you'll want to follow into the franchise as much as Newt.
Off they go, trying to round-up all creatures great and small. But their hunt is complicated by the menacing Percival Graves (Colin Farrell), who is high up in in the wizard secret police and who in turn is taking a possibly unhealthy interest in a teenager named Credence (Ezra Miller), the son of the head of the growing anti-witch movement (Samantha Morton).
Yes, it's thicket of plot and politics. But a navigable one - but maybe not for pre-teen Potter fans -and there's always something good to look at.
The production design and costuming are as eye-popping as the creatures, though some of those suffer from the occasionally patchy special effects when interacting with the actors.
Ezra Miller shares how he is a massive Harry Potter fan and reveals what is freaking him out about the Fantastic Beasts and Where to Find Them movie.
But among the leading four it's often ratatat funny which plays nicely with a movie that is also occasionally unnervingly grim - when a death sentence is passed by the wizards on high, out comes the magic dunking chair and spell that makes your life flash before your eyes.
Like Newt's battered suitcase it's frequently unhinged. And it's that strangeness is what makes this proto-Potter enchanting and a promising first chapter.

Cast: Eddie Redmanye, Colin Firth, Katherine Waterston, Dan Fogler, Ezra Miller, Director David Yates
Rating: M (violence)
Running time: 133 mins
Verdict: A textbook case of franchise reinvigoration