Riders step up to enable Team NZ to campaign Motocross of Nations, writes Andy McGechan
New Zealand again finds itself stuck between a rock and a hard place on the international motocross front but is, as always, determined to rise to the challenge.
The Motocross of Nations (MXoN) will this season be held at Kegums, in Latvia, on September 27-28, and Team New Zealand's campaign may have been seen as mission impossible when all three first-choice riders became unavailable.
The trio of riders who represented New Zealand at the MXoN event in Germany last season - Mt Maunganui pair Cody Cooper and Rhys Carter, and Mangakino's Kayne Lamont - all dropped to the sideline with injuries in recent weeks, leaving the sport's governing body here, Motorcycling New Zealand, running out of time to put together a viable campaign.
But former Motocross of Nations campaigner and former national motocross champion Scott Columb (Yamaha), from Queenstown, has stepped in to captain the 2014 effort and ride the open class for Team New Zealand.
His teammates will be Auckland's Hamish Dobbyn (MX1, KTM) and Takaka's Hamish Harwood (MX2, KTM).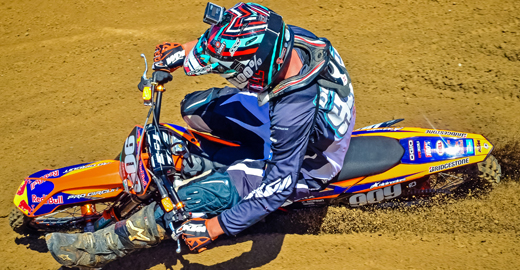 Warkworth's Hamish Dobbyn (KTM) will step up to the 450cc bike for his debut MXoN appearance.
For Dobbyn and Harwood, this year's event in Latvia will be their debut MXoN appearances.
"I believe we have assembled a good team," said Team New Zealand manager Dave Craig, from Wanaka.
"With the experience of Scotty Columb, who has raced internationally for many years, and the undoubted abilities of Hamish Dobbyn and Hamish Harwood, both young men who also have raced in Europe before, I am sure we can achieve a good result."
Columb, who is national MX2 No 4, raced MX2 for New Zealand at the MXoN at Donington Park, in England, in 2008 (where the team finished 8th) and in Franciacorta, in Italy, in 2009 (NZ 11th).
"Youth is certainly on the side of Dobbyn and Harwood and their determination to impress will help our cause," said Craig.
"The flights are booked and accommodation in Latvia is sorted and we are awaiting confirmation now for first-class bikes to be made available. We are receiving great help from KTM and Yamaha in Europe and that is appreciated.
"We may not have what might be considered by many as a world-beating team, but our riders have plenty of guts and determination and that counts for a lot."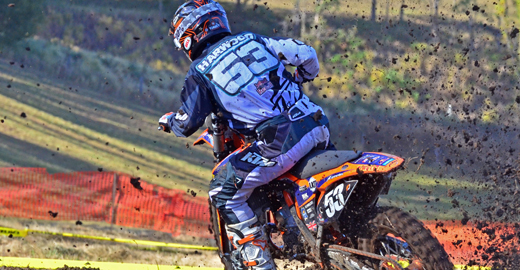 Auckland's Hamish Dobbyn
The step up from local club racing to competing at the nationals is huge; the step up to racing the nationals in another country is bigger again ... but to race the MXoN is the toughest thing on the planet, but the Team New Zealand trio head to Latvia with at least a fighting chance.
Traditionally billed as the "Olympic Games of motocross", Team New Zealand knows it will struggle even to make the grade as one of the 20 qualifying countries among the 40 or so nations entered - and it should be remembered that New Zealand qualified 13th, but finished only 20th in Germany last season - but at least the Kiwi flag will be raised in Latvia this year.
New Zealand found itself in a similar situation when sending a "development" team to the Motocross of Nations in France in 2011.
Though they fought bravely, New Zealand's line-up in 2011 - comprising Auckland's Joel Doeksen (MX1), Elsthorpe's Kieran Scheele (Open Class) and Rotorua's John Phillips (MX2) - were eventually overwhelmed, failing to qualify for the main event, instead finishing 10th overall in the consolation "B final".
But New Zealand does have a long and proud association with the MXoN.
New Zealand has been on the MXoN podium on three memorable occasions in recent times - at Foxhills, in England, in 1998 (with Taranaki brothers Darryll and Shayne King and Motueka's Josh Coppins waving the silver fern flag); at Namur, in Belgium, in 2001 (Hawera's Daryl Hurley, Coppins, Shayne King) and at Matterley Basin, in England, in 2006 (Coppins, Cooper and Taupo's Ben Townley).
Follow Driven on Facebook and Twitter for the latest motoring news.