The eighth edition of CRC Speedshow fills Auckland's ASB Showgrounds over the weekend of 19 and 20 July and celebrates Kiwis' passion for fine, fast and ultra-cool cars, bikes and pickups.
This year's show is not only physically larger with two new halls of displays and action, it also features the biggest-ever door prize. Thanks for Classic Driver magazine one lucky show-goer will win a petrolhead's trip of a lifetime worth $23,000, driving a modern muscle car across America's famous Route 66 highway!
Want to see the latest and greatest in new cars and motorcycles? Then you've got to be at this year's CRC Speedshow, says director Ross Prevette.
"We're super excited to have a record number - 28 - new car and motorcycle brands represented at this year's show, everything from the latest McLaren 650S supercar, Bentley, Audi and Aston Martin models and re-born American motorcycle marque Indian's new Chief V-twin touring bikes. Harley-Davidson encourages fans to have a go on their 'JumpStart' stationary machine suitable for beginners and Lotus will also make its CRC debut," says Prevette.
Taking centre stage is a new display celebrating New Zealand's future legends of speed, the Young Guns of the New Zealand motorsport world.
"We're delighted to welcome 20 of the country's best under 25-year-old drivers and riders to create our first-ever Kiwi Young Guns display," says Prevette. "These young stars were selected with the help of fans across the country, and represent a diverse range of motorised sports from traditional first-step-on-the-ladder categories like karts and production motorcycle racing to motocross, drifting, off-roading, rallying and drag racing. Make sure you're there to meet the Kiwi Young Guns at midday each day."
In the Meguiar's Car Crazy Zone, celebrate the 100th anniversary of Italy's Maserati marque and the 50th anniversary of the ever-popular Ford Mustang, or take a stroll on the green side with the Association for the Promotion of Electric Vehicles and an array of electric vehicles currently available in New Zealand.
The show debut of a completely hand-fabricated 'Eleanor' Mustang, made in Matamata, which the owner intends to take to the US's famed SEMA show is expected to be a key attraction of this year's Castrol EDGE / Teng Tools Custom Show which features 50 of New Zealand's best customised cars, pickups and motorcycles. And check out the striking '57 Bel Air, a bare metal Suzuki GN250, an utterly unique 'bubble' hot rod and a gorgeous copper-coloured Ford Tudor all on show for the first time.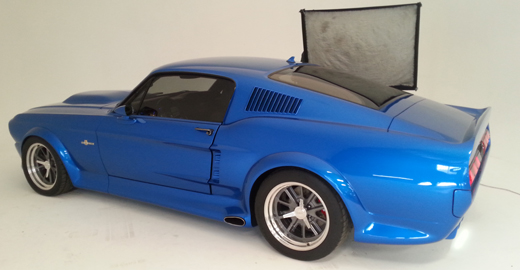 Frazer McKenzie's phenomenal Shelby GT500E clone is well worth an up close look
The show expands into new territory this year with the first-ever Classic Cover Insurance Classic Show presented in association with Classic Driver magazine taking place in Hall 6. The array of beautifully-restored or faithfully original cars and motorcycles pays tribute to the owners' dedication to preserving their slice of automotive history and features a fantastic Morris J van, an iconic Jensen Interceptor, a truly classic Jaguar E-Type and some spectacular Corvettes, Chevrolets and Fords demonstrating the popularity of the American marques. Check out an immaculate Nissan Gloria, a very special Holden ute and some really cool motorcycles.
With a vast range of experts and specialist automotive equipment and services, more great topics being covered the free seminar series plus all the action and entertainment in the Ideal Wheels Live Action Arena, this year's CRC Speedshow is an automotive extravaganza for fans of all ages.