New Zealand's biosecurity detector dogs have a new multimillion-dollar home, complete with swimming pool, underfloor-heated kennels and flush toilets.
The Ministry for Primary Industry's 80-kennel national detector dog centre opened in April, near Auckland airport.
The state of the art centre, believed to have cost around $7 million, was two years in the planning, with input from dog trainers and handlers and researching of kennels run by the Australian Border Force.
It currently houses 53 dogs, including Auckland-based detector dogs who patrol the city's International Mail Centre and ports and international airports from the top of the North Island to Tauranga, plus the national breeding and training centres.
Its 10m heated swimming pool is a key to keeping the dogs, which sniff out food and other items that pose biosecurity risks to New Zealand, in top working shape.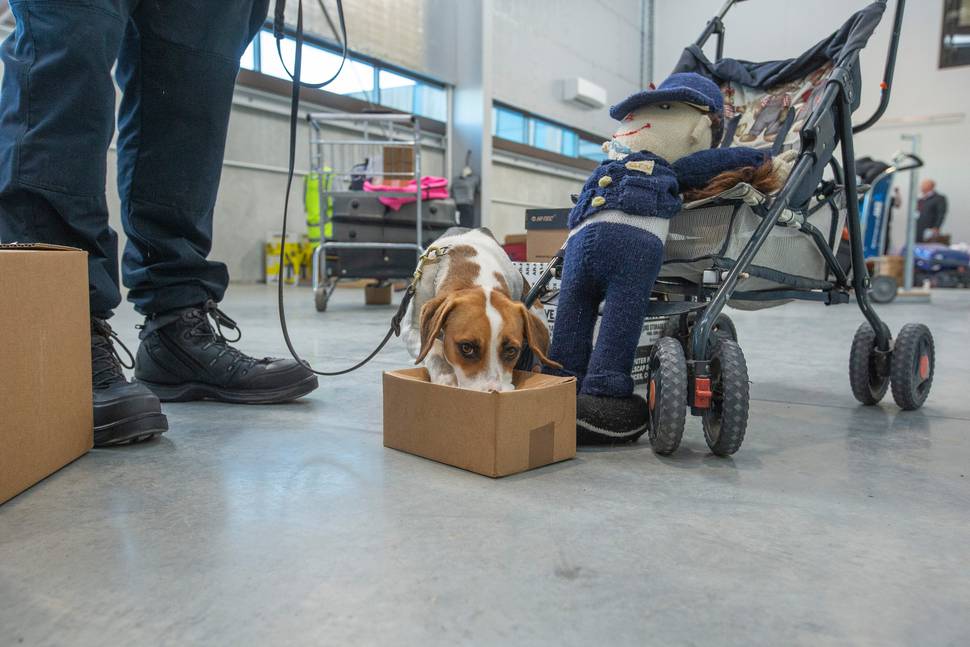 "When a dog becomes unfit, [it] starts panting," said MPI detection technology manager Brett Hickman.
"When it starts panting, the dog doesn't actually use its nose any more. So we need to keep the dogs really fit.
"A pool is really low impact on the dog and the joints. And 5-10 minutes in the pool is the equivalent of... taking a dog out for a 45-minute walk."
Improved fitness and less stress would help extend the detector dogs' working lives. Each dog represents an investment of around $100,000 to prepare them to be able to work as a biosecurity detector.
The pool can be also used for hydrotherapy and dogs are able to have physiotherapy in a specialist vet room.
The centre has a showering and cleaning facility with a runway, and a commercial-style kitchen.
Each dog has its own sleeping area with an underfloor heat pad half-way along, so it can choose its desired temperature.
Generous exercise yards have nearby flush toilets so waste can be removed without using plastic bags.
The breeding centre has three whelping rooms and can house puppies in all weathers.
MPI has been breeding detector dogs since 1996.
Future sniffer dogs are initially cared for by volunteer puppy walkers, to be prepared for hectic settings of their eventual workplaces.
"For the first year of the dog's life it needs to be socialised," Hickman said. "It needs to... go out to families and interact with children.
"Go for walks in the park, interact with other dogs and just be absolutely smothered in different kinds of noises and environments."
There is a constant need for new puppy walkers, he said. People can apply through MPI's Facebook page or website.
At 12-14 months, dogs have 4-5 weeks of pre-training getting them used to detecting smells, generally using an apple, and sitting to demonstrate where they've made a find. They'll learn to use their nose to pinpoint exactly where they believe an odour's coming from.
Dogs are then paired up with their new handler to do around 8-10 weeks of training before going to work at Auckland Airport or the mail centre.
The new national detector dog centre has dedicated training rooms set up as a mail centre, complete with conveyor belt, and an airport facility with baggage and mannequins.
And there's a reptile room with a blue-tongued lizard and leopard gecko, where dogs trained to find snakes can scent associated odours.
Detector dogs' scenting is so honed, Hickman said, they have sniffed out a single poppy seed attached to a postage stamp among thousands of items of mail.
In any given day at an airport or port, they'll pick up forgotten fruit left in a bag, small overlooked leaves and flowers – any of which could contain unwanted pests and diseases.
"We're a primary producing country, we need to protect our primary industries, and our dogs are at the front line, with all the quarantine officers and all the other forms of border patrol."
New "super breed" of dog
A new generation of super sniffers is about to start work protecting New Zealand's borders.
In what is believed to be a world first, MPI crossed a harrier hound with a beagle to get a "super breed" of biosecurity dog which could reach extra detection heights at airports.
"The harrier's a slightly bigger version of the beagle," Hickman said.
"We were looking at how we could improve what we're already producing and one of the biggest things is having a dog slightly taller, having slightly longer legs, so they can sniff people's backpacks without injuring themselves by being on their hind legs all the time."
The taller crosses will also be able to reach stacked luggage on passing airport trolleys easier.
The first cross, between harrier dad Morley and beagle mum Clara, are now 18 months old and in training.
In about five weeks Hattie, Halo, Huia, Haze, Harley and Hunter should be ready to start work at Auckland airport and the International Mail Centre.
Each year MPI detector dog teams:
• Work more than 1.5 million minutes sniffing out biosecurity goods.
• Stop more than 18,000 items of biosecurity interest.
• Check more than 38,000 arriving international flights.
• Help clear nearly 100 cruise ships.
• Make an estimated 8000 seizures of biosecurity goods.