Visitors to Palmerston North and the Manawatū spent $452.5 million in the year to May.
Figures released from MBIE show that visitor spend since May has increased, which has prompted a call from the Central Economic Development Agency (CEDA) for more public-private partnership to achieve its 10-year vision for the tourism sector in the Manawatū region.
At CEDA's 'meet the board and team' last week, chief executive Linda Stewart said it was a misconception to say that the Manawatū is not a visitor destination.
"Visitors are a major contributor to the city and our regional economy. They visit for business conferences, events, leisure, arts and culture.
"To build our rightful share of this market we must work together to build the perception and reputation of our region.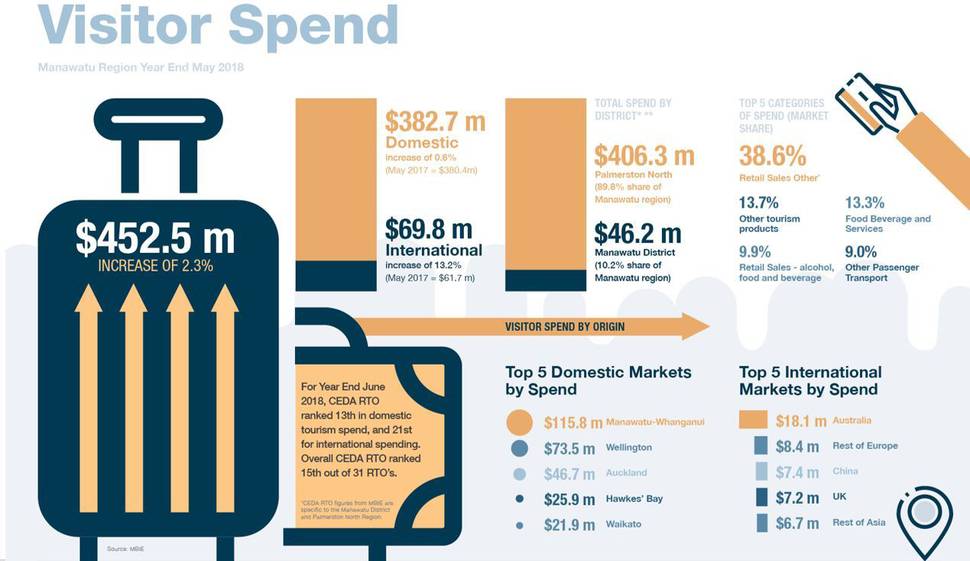 "We need a compelling and cohesive identity to bring in more people and we all have a responsibility to sell our regional story."
Board chairperson Malcom Bailey said the agency's programme, Capturing a Day in a Visitor's Journey, will get tourists to add a day to their journey in New Zealand and visit the region.
In the same vein, communications and marketing manager Janet Reynolds stressed the need for stakeholders to help CEDA raise the regional profile to encourage visitors' longer stay and higher spend.
"We connect with the local and community operators to encourage visitors to stay more, spend more and possibly repeat visit.
"More visitors lead to more beds being needed, more food being delivered, more milk being sold, more coffee being made, and more retail demand.
"Visitors need chemists, petrol, and various services, so the economic benefit is spread wide throughout our communities."
Janet further called on regional tourism operators and event organisers to use the free marketing support provided by CEDA resource hub to attract more visitors to the region.