If you're looking to expand your tastebuds, we've rounded up a selection of Auckland eats including a few slightly quirkier options to try this weekend.
Our picks include fried chicken cutlets "as big as your face", beef burgers with glazed donuts for buns and a couple of recipes that feature up-and-coming food trend hemp seeds.
For the slightly less adventurous, but those still looking for something unique, there's baked pears with a new-to-market date syrup, a world-renowned chef is bringing his 5-course degustation to Auckland and there's a little warning for those of you who may have a tendency to overindulge in avo.
Here are our foodie picks for the weekend:
Dining in
• Tomato, thyme and feta prawns
For days when comfort food is required but time is tight, this delicious dish from Bite's Geoff Scott can be made from scratch and on the table in less than half an hour.
See the recipe over on bite.co.nz.
• Recipe: Pears baked with date syrup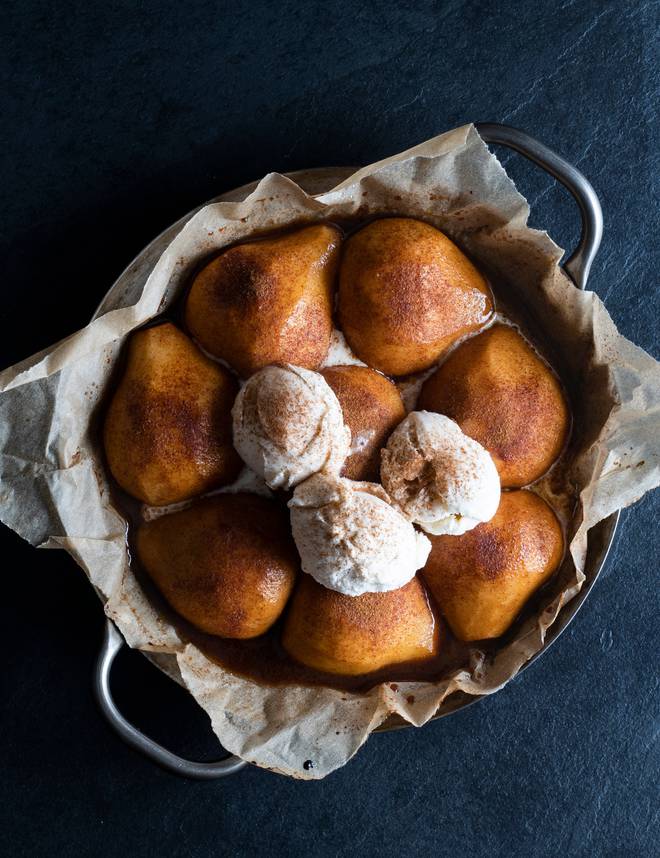 If you enjoy dates you'll likely be a fan of the date syrup in this recipe.
Relatively new to the market the syrup can be found in your supermarket alongside golden syrup.
See the recipe over on bite.co.nz.
Dining out
• Mt Eden's fried chicken as big as your face
Canvas writer Kim Knight says the "cheap(ish) and cheerful" meals at this Taiwanese staple are no KFC - but that's not a bad thing at all.
"A little before (or a little after) you hit KFC, you'll find FryDay — a Taiwanese eatery that serves crunchy chicken cutlets the size of your face."
See the restaurant review online here.
• Satya Chai Lounge, Karangahape Rd
Viva's Eating Out editor Jesse Mulligan finds his new favourite food spot in the form of Satya Chai Lounge on K' Rd.
"Each dish has a markedly distinctive flavour, before you've even got to the variety of textures and temperatures," Mulligan wrote.
He raved about the chai lounge saying it was "so good he couldn't stay away".
See Jesse's full review over on viva.co.nz.
Health news
• Are you eating too much avocado? Probably!
Everyone loves avocado, and thankfully it's a good fat that will nourish your body. But are you taking it a step too far and indulging in a little more than you should?
Sadly, avocado isn't exempt from the old adage: "too much of a good thing".
Read the full article online here.
Hemp seed is unfamiliar territory for a lot of people. So with the seeds turning mainstream, the team at Bite asked Plant Culture's Cameron Sims a few questions to help us better understand the new product.
Armed with your new found hemp seed knowledge, here are two recipes to try: hemp seed, prune and whisky cake and hemp tortillas with a roasted pumpkin salsa.
Read the feature on bite.co.nz here.
Foodie events
Guys, I know where you can get your lips around a donut burger. Wait, a donut burger? Yes - that's a burger made with donuts as buns!
The team at Sneaky Snacky, headed up by chef Min Seak Kang, have created a juicy wagyu beef burger with bacon and cheese sandwiched between two glazed donuts.
If that's not crazy enough for you, the 80s-influenced pop-up restaurant has teased "cheesy" black hot dogs: charcoal-coated sausage, gherkin and mozzarella on a stick and other morsels such as Korean fried chicken and taro chips.
What: Sneaky Snacky: a month-long Asian street food-inspired pop-up bar set in techy 80s-vibe surrounds
When: From July 20 to August 18
Time: Tue-Sat: lunch 12pm - 3pm, dinner 5pm - 10pm. Fri, Sat open till late
Where: Ostro Deck, 52 Tyler Street, Auckland CBD
World-reknowned chef Luke Mangan is coming to Auckland with a five-course degustation menu designed to celebrate our incredible local seafood and produce.
All courses are matched with Cloudy Bay wines.
What: 5-course degustation designed by chef Luke Mangan
When: July 21
Where: FISH Restaurant
Tickets: Tickets available for $189 from the FISH website.