A postie has left a surprising note for a woman after she claimed two dogs broke into her truck and ate her lunch.
Virginia resident Carol Jordan posted a photo of two suspiciously guilty-looking dogs online, accompanied with a note from the postie explaining what had happened.
"Hey! I drove up to deliver a package and both of the dogs crawled in my truck," it read.
"They got into my lunch and ate an egg and some carrots and pumpkin seeds."
Expecting the rest of the note to be hostile, Jordan was surprised to find the postie was in fact trying to care for her dogs.
"I don't know if that will upset their tummies. Just FYI!"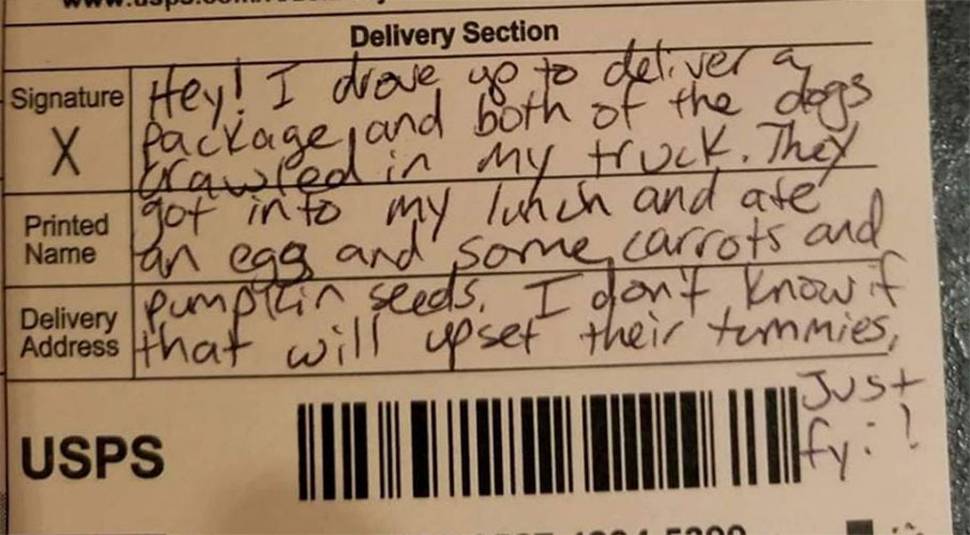 Jordan posted the image to Facebook with the caption "wall of shame", saying she owes the postal worker lunch.
The post of the two naughty dogs has attracted lots of love on Facebook with more than 17,000 people sharing Jordan's cheeky story.
"They are not even remotely sorry!" one person joked.
Another said: "They look so guilty... and ..in need of sunglasses."
Feeling bad for her dogs' lunch antics, Jordan then sent the postal worker a subway gift card personally signed by the dogs along with an apology letter.
"Sorry we ate your lunch. Thank you for sharing! Bull & Bear Jordan.
"PS. Our humans said thank you for leaving a note. We didn't like the note, we got in trouble!"