The designer of Meghan's wedding dress said Prince Harry thanked her for making his new wife look "absolutely stunning" on their big day.
Birmingham-born Clare Waight Keller, who made history as the first female artistic director at French fashion house Givenchy, was revealed as the designer of the eagerly awaited wedding dress on Saturday morning.
The designer, 47, said Harry spoke to her after the ceremony at St George's Chapel: "He came straight up to me and he said 'oh my God, thank you, she looks absolutely stunning'".
According to the Daily Mail, Ms Waight Keller said Meghan and Harry are just "so in love", adding: 'They were just radiant at that time.
"Well I think everybody saw on television - he was absolutely in awe I think. She looked just incredible and it showed."
Waight Keller also said she thinks Meghan may have admired her role as a successful "working mother".
"I think she really admired the fact that I was a woman designer and the many companies I've worked for - British companies and international companies," she added.
"And the fact that I'm a working mother maybe played into that as well, so that was maybe part of her story."
Waight Keller said she is giving her final design sketches to Meghan as a keepsake.
The designer's comments come as Kensington Palace tweeted sketches of Meghan's dress.
It said: "The Duchess and Ms. Waight Keller worked closely together on the design, epitomising a timeless minimal elegance referencing the codes of the iconic House of Givenchy."
The bridal gown was simple in a classic white, but the elaborate five-metre veil, which was held in place by Queen Mary's diamond tiara, was embroidered with flowers from each of the 53 Commonwealth nations, as well as her native California.
Those working on it spent hundreds of hours meticulously sewing and washing their hands every 30 minutes to keep the tulle and threads pristine.
Talking about how that became a feature of the look, Waight Keller said: "Well there was a conversation early on about the story that we were going to tell through this wedding.
"And so part of what I wanted to do was talk to her about what those type of stories could be.
"And the fact that both her and Prince Harry will be actually working a lot within the Commonwealth was something I thought was really intriguing and something built on to be part of the day.
"So over a period of time, we had different conversations back and forth and I came up with the idea of maybe representing each of the countries - the 53 countries of the Commonwealth - through their flora and fauna.
"And we both love the story of that and it also meant that every single one of those countries also journeyed up the aisle with her, which I thought was a really poetic moment."
The identity of Meghan's dress designer was top secret, and remained under wraps until Saturday morning - not even the designer's husband and children knew.
Talking about when her family finally became aware, she said: "Literally on the morning. It was really a secret."
She heard her husband Philip Keller, an American architect, was proud of her and of course watched the wedding on TV when he head the big news.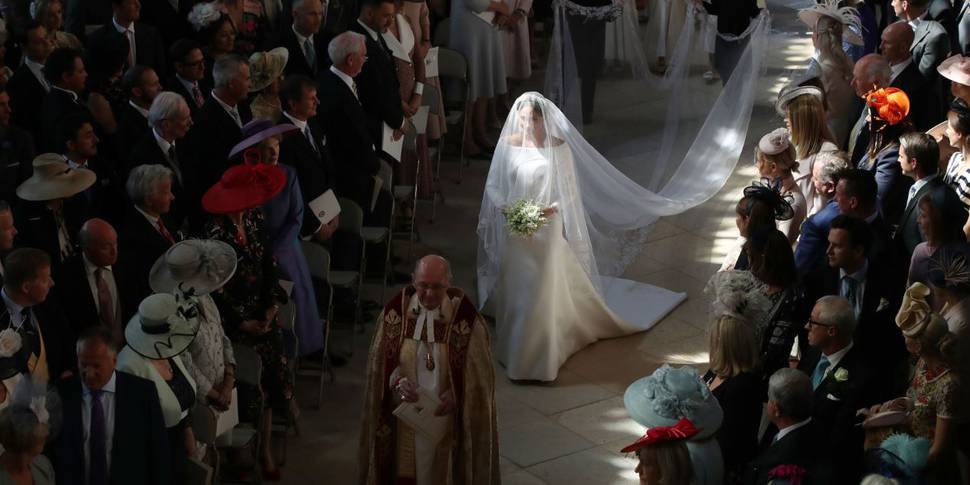 Waight Keller appeared on the steps of St George's Chapel when Meghan arrived to ensure her veil and train looked pristine, and helped to arrange it before the couple made their exit as husband and wife - a role often performed by the maid of honour.
There was no maid of honour as Meghan did not want to choose just one person out of her close group of friends.
Waight Keller said she did not think about the fact the world would be watching.
"I didn't really think about it. I was actually just thinking about the dress and the veil.
"I wanted just for her to feel and look amazing. It was just an important moment to get all of that right and I thought she just looked spectacular," she said.
Asked if she put much thought into her own outfit, she said: "Of course as a designer you always consider how you look.
"But I also wanted to make sure that I was somewhat invisible as well, that it was her moment, and that's what was really key.
"But I wanted her to feel that I was there if she needed me."
Waight Keller said it was confirmed to her in early January that she was the chosen designer.
"It was an extraordinary moment when she told me. Of course it's an incredible thing to be part of such a historic moment," she said.
Waight Keller said the process was collaborative, adding: "I think she had very much seen my work and knew what I did.
"I think she loved the fact that I was a British designer, and working in a house such as Givenchy which has its roots in a very classical, beautiful style."
Waight Keller said over time they quickly got to a point where Meghan felt she knew exactly what she wanted after various meetings and trials.
This meant that the designer got to know Meghan, and she said of the new Duchess of Sussex: "She's exactly what you see on TV.
"She's just so genuine and warm and radiant. She's just glowing.
"She's a strong woman. She knows what she wants, and it was really an absolute joy working with her."
Asked about the moment Meghan was able to look at herself fully dressed and ready in the mirror on Saturday morning, Waight Keller said: "She was just glowing. There's so much emotion on a day like that anyway.
"But I think particularly when it all comes together, I think it is tremendous. She was absolutely radiant.
"I think it was such a special moment for the two of them.
"They're so in love, and I was just thrilled to be part of the whole thing," she said.
Asked if there was any tears from Meghan, she said: "No, she was incredibly composed. It was really quite extraordinary.
"She's just the most beautiful person."
Asked about what Meghan's mother Doria Ragland thought of her daughter, Waight Keller said: "As she went into her car, her mother was already sitting in the car and you just could see there was so much love between them."