Knowing Thomas Markle was going to play a key part in the lavish royal wedding, why didn't someone take the situation in hand, asks Sarah Vine of the Daily Mail
Every bride finds the final days in the run-up to her wedding rather fraught. It doesn't matter how meticulous the planning has been, something always goes awry.
That said, poor Meghan Markle seems to be having more than her fair share of pre-wedding stress. At a time when all she should be thinking about are last-minute finishing touches, she and Prince Harry are having to deal with a full-blown family crisis.
At the time I write, it's uncertain whether Meghan's father — 73-year-old Thomas — will fly to the UK for Saturday's royal wedding following revelations that he accepted money from a paparazzo to stage a series of cheesy pictures.
After his conduct was exposed, the poor man — who is clearly not in the best of health — was so mortified he decided to pull out of giving his daughter away on her big day. Last night he appeared to have had a change of heart.
Meghan is naturally distraught at the prospect of not having her father walk her down the aisle; and Harry, we are told, is fuming, blaming himself — and the media — for the inevitable pressures brought about by association with royalty.
If it were me, I'd be tempted to call the whole damn circus off and just tie the knot quietly in private, well away from the cameras. Too late now, of course — but why they didn't just do that in the first place is slightly baffling.
After all, as a couple Harry and Meghan seem so determined to defy convention and royal protocol that you might have thought a big meringue wedding would have been the last thing on their minds. Especially since it's Meghan's second time around.
As for Harry, bearing in mind what he said in 2016 about wanting to protect Meghan and her family from the attention that comes with the royal family, surely it would have been the easiest thing in the world to use their wellbeing as an excuse for keeping the whole thing low key.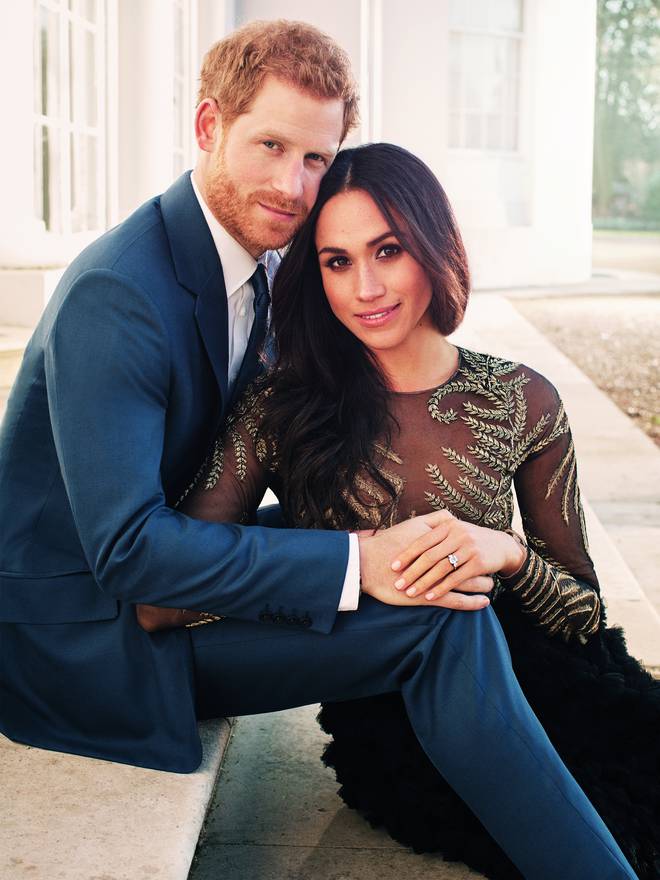 But that is not how Meghan and Harry have chosen to play it. On the contrary: their nuptials — and all the carefully managed publicity in the run-up — seem to have been engineered to garner as much attention as possible for the couple, who have cast themselves as the hip face of the modern royal family.
Even their stylish official engagement pictures, shot in the grounds of Kensington Palace with Meghan in a £56,000 couture dress, would not have looked out of place in Vogue. Not to say there is anything wrong with that approach; just that it is not exactly the behaviour of a couple who are keen to avoid the limelight.
Given all that, and the amount of effort that seems to have gone into managing the public relations of the occasion, it seems curious that the situation with Meghan's father should have been left to drift to the point where it is now a serious crisis.
Or to put it bluntly, knowing that the wedding was going to be such a huge and lavish affair, and knowing that Thomas Markle was going to play a key part on the day, why didn't someone senior at the Palace take the situation in hand?
As the Daily Mail reported on Saturday, Mr Markle has been leading a sad and solitary life in a seedy, murder-plagued town just across the Mexican border.
Rarely emerging from his dilapidated bungalow during daylight, he has few friends and seems to live off chicken tacos and six-packs of beer.
When I read that report, two questions sprung to mind.
First — and forgive my impertinence — I couldn't help but wonder whether, given the fact she'll never have to worry about money again, Meghan might not have been tempted to find her father a more salubrious place to live.
Second, with the wedding only a week away, what on earth was he still doing there?
Why wasn't he already in the UK, attending rehearsals, being talked through what to expect and getting to know the social landscape?
He could have met his soon-to-be son-in-law, whom we are told he has only ever spoken to on the phone. Or even the Queen and Prince Philip who, let's not forget, welcomed Michael and Carole Middleton to a 'break the ice' lunch eight days before Kate and William's wedding.
Father/daughter relationships are complicated at the best of times — and Mr Markle is clearly a proud man — so it's understandable Meghan may have felt reluctant to confront the situation.
But she doesn't need to. That is — or should have been — the job of the Royal Household.
The Queen herself is said to be furious about what's happening — and who can blame her. Because whatever else may be going on behind the scenes, it's abundantly clear that royal officials have seriously dropped the ball.
Why no one had the sense to dispatch a trusted aide from Kensington Palace out to Mexico the moment the engagement was announced is beyond me.
Surely it would have been a matter of simple courtesy, not to mention expediency, to meet Thomas and start preparing him for the biggest day of his life.
It doesn't take a genius to see that there is an abyss between the family Meghan was born into and the one she is marrying into. And that is a good thing — indeed, it's part of the joy of this union.
But while Meghan is clearly at ease with her new cultural and social status, the same cannot be said of those she has left behind.
Given that Harry and Meghan are so passionate about mental health, you would have thought the potential strain that being at the centre of such a global event could place on her father would have been a concern to them.
And yet instead of dealing with the situation like grown-ups and taking positive steps to build bridges, the Palace seems to have done what it so often does in tricky situations: buried its head in the sand.
Perhaps I'm being unfair. Perhaps overtures were made, but rejected. It certainly doesn't help that Meghan's parents are divorced — reportedly not even speaking — but then many of us who arrange weddings have similarly tricky relatives to deal with.
I hesitate to say it, but this is where Harry's late mother, Princess Diana, would really have come into her own. She would have understood exactly the difficulty a man like Meghan's father faces in coming to terms with his daughter's marriage to a Prince.
She would have seen this coming, stepped in, held his hand, made him feel welcome — no matter what. Diana had her defects, but in terms of emotional intelligence and kindness towards others you couldn't fault her.
Who could forget the touching sight of her guiding her own father, Earl Spencer, who had suffered a stroke a few years previously, to the altar at her own wedding?
Yet amid all the turmoil, there is one consolation: long term, none of it really matters.
What determines the success or failure of any marriage is not the event itself, but the months and years that follow it and the love two people have for each other. And that depends on no one but Harry and Meghan themselves.