Address: 551 Richmond Rd, Grey Lynn
Open: Mon--Fri 7am-4pm; Sat 8am-5pm; Sun 7am-5pm
Phone: (09) 361 1100
We spent: $51 for two


Set up & site:
Richmond and Domain Kitchen has taken over the spot near the corner of Richmond Rd where another cafe, Jafa, used to be. I can't tell you how the new outfit compares to Jafa because I never went, even though I used to live five minutes down the road, because I am not a Jafa but rather a snobby Wellingtonian who disapproved of the former site's bad graphic design. However those credentials mean I can report that R and D ticks the box in terms of set-up: the floors are concrete, the ceiling is high, the beams are exposed and the many plants are hanging. There is also a fire, which in theory should have meant the space was cosy on the exceptionally wet and windy weekend morning we popped in, but a window had inexplicably been left open, making the cafe quite drafty.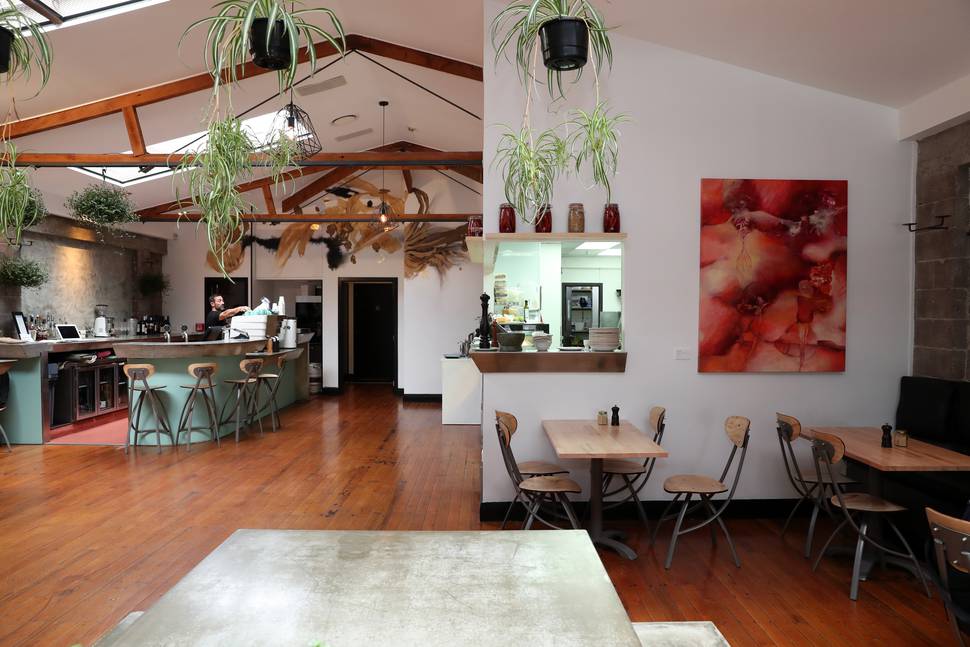 Sustenance & swill:
My boyfriend quickly decided on the RnD Big Breakfast ($23), which comes with a thick wodge of halloumi, free-range bacon and eggs done how you like, spinach and toast with a complimentary shot of house juice. Meanwhile, mildy hungover and very hungry, I agonised for ages. Fish of the day omelette with smashed potato and greens ($19)? Or the beef mince and beans ragu on a slab of sourdough ($18)? Eventually I settled on the half-day cooked pulled lamb ($18), a deliciously moist pile of meat accompanied by a creamy ribbon of citrus labne studded with diced tomato and red onion, and an oily round of rosemary flatbread. The lamb had a rich tomato flavour, balanced well by the tart labne. Together they were perfectly filling.
Service & other stuff: R and D is relatively new on the scene and the staff are clearly still finding their groove. We were seen by four different people over the course of our meal, leading to the annoying situation of being asked whether we were ready to order quite a few times relatively soon after being given a menu, then ignored once we'd actually made up our minds. It was unclear whether staff had been given sections to serve and the service was friendly but not exactly smooth. Hopefully it's just teething problems, because the food is good enough to merit a return trip.