Address:
33 Jellicoe Dr, Hamilton East
Open:
Wed-Sat 8am-late, Sun + Tues 8am-4pm. Closed Mondays.
Phone:
027 537 1853
Book online
with Restaurant Hub
We spent:
$67 for two
Set up & site:
It used to be at least three things, said the friendly guy at the counter. "A butcher ... maybe a grocer?" Whatever it used to be, what it is now is a terrific suburban cafe. The stripped and polished brick bones of those former neighbourhood shops gleam against a polished concrete floor. Outside, the tables are large and shared; inside you get your own seat (or bar stool) in "rooms" loosely demarcated by stylish dividers. There is plenty of car parking and you're just across the road from the Waikato River walk — meander off those miso potatoes along the prettiest city path in the country.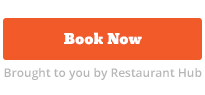 Sustenance & swill:
Yep, they do a sausage-and-free-range-bacon big breakfast (with aforementioned spud), but the mission statement is "robust, creative food". That means baking the pancakes, dolloping tahini yoghurt on the granola and generally thinking beyond poached-scrambled-fried. There were exactly zero faults with the semolina gnocchi that came with mushrooms, porcini cream, crispy cavolo, walnuts and a poached egg ($23 from the 11am-3pm lunch menu). A beer-braised brisket sarnie ($26) featured a behemoth of bread, smoky cheese and splendidly fried pickles. The meat was tangy and smoky — and an extra slice or three would have given all that bread something to do. Easter Saturday, the insanely long hot summer was still in full blast. The tap water comes in bespoke ceramic jugs — cool in every sense of the word — and the coffee is Atomic, but we skipped it in favour of on-tap locals from Good George Brewing. I humbly submit doris plum cider as the new rosé.
Service & other stuff: Don't judge a cafe by its orange block lettering and kombucha. There's a whiff of the hipster about Hayes Common, but at no point is substance over-whelmed by style. Our drinks were delivered in monosyllables but, mostly, the table service was smiling and efficient (and I honestly can't think of a recent daytime meal that has begun with a warmer maitre d's greeting). Google confirms that, way back when, this was a butcher, a grocer and a dairy before it became a pottery studio and a cafe. Locals feared the worst when the newest owners applied for a liquor licence but are, reportedly, won over. I'm not surprised. There is real heart in this delicious neighbourhood eatery.