Meghan Markle didn't attempt to stifle her laughter when her fiance, Prince Harry, was bitten by a naughty Shetland pony as he tried to stroke it.
The two met the Band of the Royal Marines and the mascot of The Royal Regiment of Scotland, Shetland pony Cruachan at Edinburgh Castle.
As the Prince attempted to give the pony a pat, the disgruntled animal gave him what looked like a sharp nip.
Ms Markle was seen laughing as Prince Harry shouted "hey!"
It transpired Cruachan has form for causing mischief at royal events.
The nine-year-old pony famously tried to eat the Queen's posy during the monarch's visit to Stirling castle.
Its handlers told the Press Association he was on his best behaviour today — but Cruachan's actions said otherwise.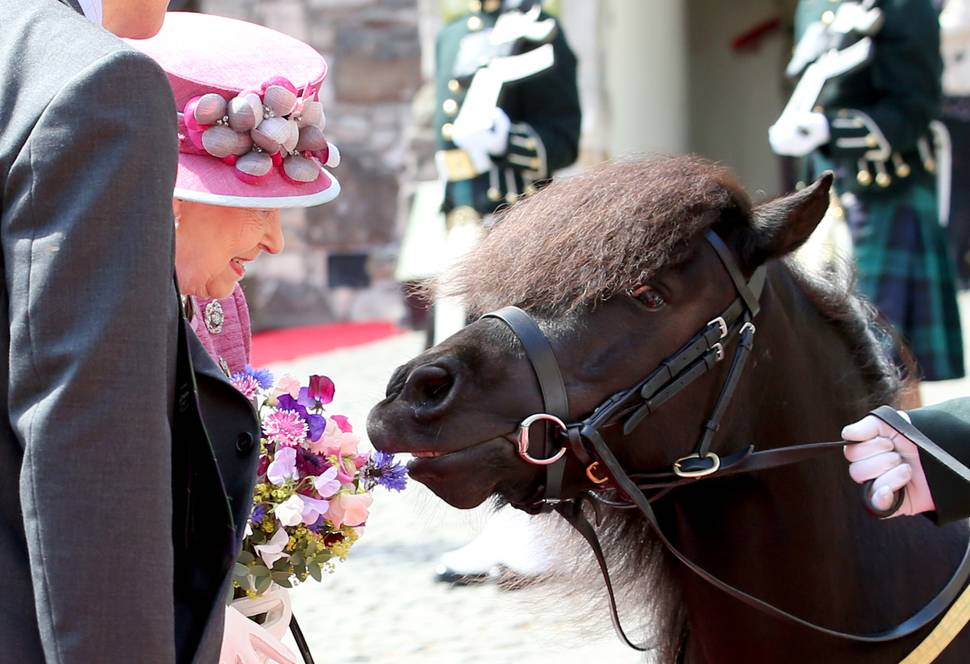 Pony Major Mark Wilkinson, who introduced Cruachan to the Royals, said: "They were asking about him saying he's a wee star, he knows he's on parade and is showing off - they said it was lovely to meet him."
The Royal couple were visiting Edinburgh castle for the start of their visit to Scotland.
READ MORE: • Prince Harry and Meghan Markle given warm welcome on Edinburgh walkabout
The two greeted waiting visitors and sympathised with them about the freezing cold conditions.
Ms Markle revealed she would like to work in a cafe after visiting local enterprise Social Bite, telling kitchen workers it looked like "fun."
The social enterprise cafe distributes 100,000 items of food and hot drinks to homeless people across Scotland each year, as well as employing staff who have experienced homelessness themselves.
Hollywood star Leonardo DiCaprio stopped for lunch at Social Bite venture Home in Edinburgh's west end in November 2016 while the Duchess of Cornwall and George Clooney have been to Social Bite's Rose Street branch.
Prince Harry asked the co-founders of Social Bite: "When are you bringing this down south?"