The student who was caught kissing former First Daughter Malia Obama before a Harvard-Yale football game on Saturday is a British import, DailyMail.com has revealed.
Rory Farquharson was head boy at one of England's most prestigious schools before deciding to continue his studies at the Ivy League university, where he is now in his sophomore year.
The 19-year-old posted a picture of himself at the Cambridge, Massachusetts, school last fall with the three simple words: "So it begins."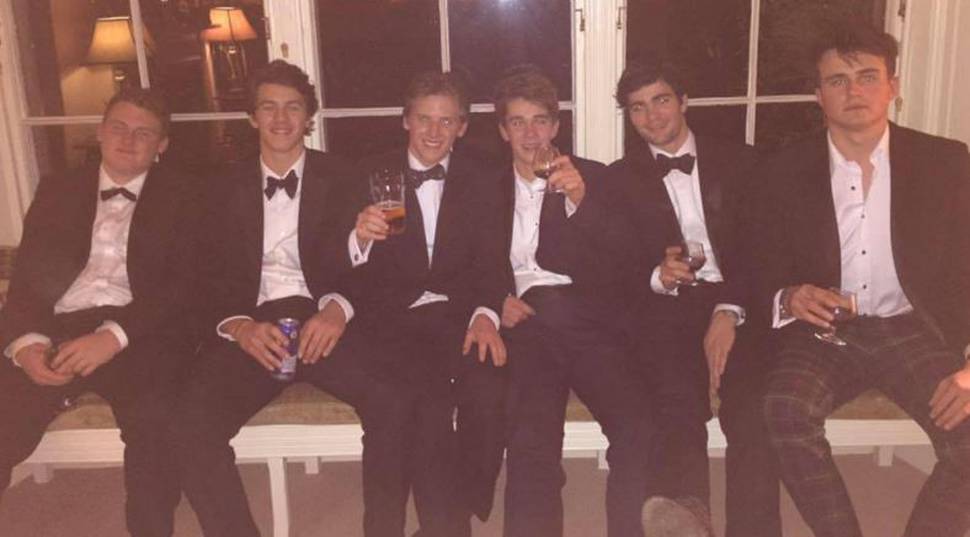 But Farquharson couldn't have known the international media storm that would begin when he made out with President Barack Obama's eldest daughter — and it was all caught on camera.
Farquharson was selected Head of School at Rugby School for the school year 2015-2016.
The position, usually selected by the school principal in British schools, is to provide a link between teachers and students and usually goes to the most outstanding student — both academically and socially — of the year.
The girls all thought him "quite a catch", one school insider told DailyMail.com.
The insider added: "He was very popular."
Rugby is one of the top "public" schools in the United Kingdom, just a rung below the more famous Eton and Harrow.
It charges more than $42,500 (£32,000) a year for tuition and board and is, perhaps, most famous for giving the world the game of rugby.
Farquharson played the sport and was an extra in a rugby video that played in the Rugby World Cup Opening Ceremony in 2015, with Prince Harry also making an appearance in the clip.
The young man also represented the school at golf. He was also a member of the Blue Bunsen Society, a chemistry club.
The elite school was also the setting for the 19th Century novel Tom Brown's School Days which graphically detailed the bullying that went on in public schools at the time.
Farquharson might have some explaining to do if he ends up meeting Obama, seeing that the UK transplant follows President Trump on Twitter, but not Malia's father Barack Obama.
He may have another issue on his hands, as there have been claims Obama is anti-British, due to his Kenyan roots.
Obama's Kenyan grandfather was involved with the nation's independence movement against the British colonial authorities around the 1950s and some claim that he was tortured by them when he was imprisoned.
And further speculation to Obama's true feelings towards Britain grew when he entered the White House and immediately returned a bust of Winston Churchill that was on loan from Britain.
Farquharson spent the summer as an intern with the Centre for Democracy and Peace Building in Northern Ireland.
But according to his Twitter account, he seems interested in following in the banking footsteps of his father, Charles Farquharson who is a chief executive and director of an investment fund management group in London.
With the school year in full swing, Malia appeared to be settling in just fine at Harvard with Farquharson by her side.
She was caught making out with the handsome fellow Crimson fan at the annual Harvard-Yale game.
The 19-year-old former first daughter, who took a gap year before starting at Harvard this fall, looked pleased with herself as she paused to appear for what seemed to be a smoke break.
Video shows the moment Malia reached up and put her arms around the young man before going in for a kiss.
A year ago, her father said that Malia and his younger daughter Sasha had already started dating and that he was 'pretty relaxed' about it since they have Secret Service protection.
"They've had Secret Service. There's only so much these guys can do," Barack joked.