Beloved sausage dog Frank suffered a fractured spine after the car he was in was rear-ended on the Auckland motorway. The much-loved pooch's owners are now hoping kind-hearted Kiwis will help Frank in his road to recovery.
Melanie Joy, 34, was travelling from Ngaruawahia to visit family in Auckland with Frank, who is never far from his parents' side, in his crate in the back seat, when the traffic came to a sudden halt on the southern motorway.
Although she stopped with plenty of room, the driver behind her didn't and ploughed into the back of Joy's car at speed, sending her spinning.
"She spun about five or six times. It was phenomenal she didn't actually hit anyone else around her," said Joy's partner Ewen McBeth.
"If there was someone sitting in the back seat they probably would've been severely injured.
"The car was a complete right off."
Joy was lucky to walk away uninjured but the couple's floppy-eared friend was not so fortunate.
"The force of the impact fractured his L7 vertebrae. He was in a whole lot of pain and going mental," said McBeth.
"If he hadn't been in the crate he would've been a goner for sure."
After X-rays and a CT scan the couple were told if vets didn't operate, two-year-old Frank would live a hard life.
"We said go straight ahead and do it," said McBeth.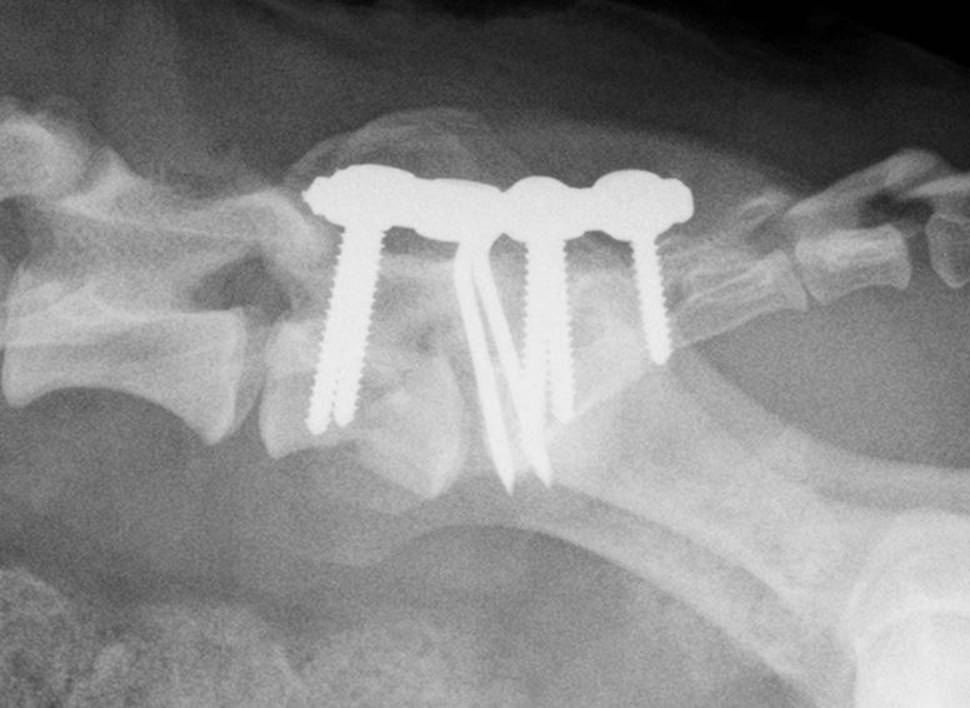 Having recently purchased their first home in Ngaruawahia and living off one income while Joy studies health and fitness at Wintec, the accident could not have come at a worse time. But the pair was not prepared to lose their "child".
"We don't have children and at this stage were not sure whether we will have children or not, so he is like our child. He goes everywhere with us.

"If we were to lose him it would be like losing a child really."
Three months down the track and almost $10,000 later, Frank is on the road to recovery, however with a metal plate, five screws and two pins in his spine he will never be the active pup he once was.

"We've been told he can't really ... run and jump like he did because if he falls the wrong way then it's potentially going to damage [his back] or cause some other complications.
"He is obsessed with balls. Before the accident we would take him to the park and throw a ball in the river and he would swim down the river after his ball and come back. He would do that all day basically, until he fell over."
Frank has been doing canine hydrotherapy - which includes walking on a treadmill in warm water - twice a week to aid his post-op recovery.
McBeth and Joy have been told by police that they don't intend on charging the driver, leaving them to foot the hefty vet bill.
"It's been a traumatic experience for everyone and it's been pretty crap financially," said McBeth. "The emotional trauma for everyone has been worse than the financial part."
The couple have raised almost $3000 on Givealittle.
• To help Frank on his road to recovery, you can donate here.