Embrace cultural diversity but don't be afraid to redefine.
Whenever I'm in Auckland I make a point of visiting a small Asian alleyway that's about a five-minute walk from where I live. There's a great charcoal roast duck shop (they sell the pancakes too), a specialist butcher that does an excellent line in pork, boneless beef shin and black silkie chickens (wu gu ji), and an Asian greengrocer offering glisteningly fresh Asian vegetables and herbs. The selection of fresh seafood at the fish market is excellent and it costs nothing more to get your fish gutted and filleted however you want it. I get all my Asian sauces and grocery items at the tofu shop here, as well as fresh dumpling wrappers, noodles and tofu.
Walking through the alley, you'd swear you were in a far-flung Asian city. The tantalising whiff of barbecue duck rubs up against the slightly funky smells of the fish market, the comforting waft of rice cooking and that ancient apothecary aroma of herbs and dried mushrooms.
At the clean but un-prepossessing food hall here - think strip lighting, formica tables, plastic chairs and big TV screens blaring Asian soap operas - the food is all homemade by people who, as mostly new immigrants to the city, have worked out that if you start cooking the food you know and love, the people will come. I have got to know the gentle Korean woman who has a little shop at the back and become slightly addicted to her bibimbap. I've been trying, wholly unsuccessfully, to make my own kimchi, so I asked her if she could tell me what I was doing wrong. "Of course," she said. "I can show you." So I'm in for a little kimchi lesson.
It's this sense of community, and the pride and passion of these food cultures, that makes Auckland a great city in which to discover authentic Asian food.
Recent research has shown that Auckland is one of the world's most culturally diverse cities. This is great news for foodies, as these many immigrants bring with them a global palette of flavours for us to choose from.
Asian flavours are morphing their way into our pantries via ingredients such as fish sauce, palm sugar, chili oil, lemongrass, Thai sweet chili sauce, miso, kaffir lime, curry pastes and crispy shallots. Using these ingredients and figuring out their flavour profiles and ways they work in a dish opens up our everyday cooking repertoire - mix a drizzle of Thai sweet chilli sauce with a little lime zest and fish sauce as a glaze for chicken or fish, make a dressing with miso, ginger and chillies, or perhaps throw a couple of kaffir lime leaves into a broth.
It's like learning a new chord on an instrument, and in the same way transformational in redefining everyday ingredients into something exotic. This week I'm sharing three Asian prawn dishes to show how the same ingredient can be taken in different directions.
Prawn and Mint Finger Rolls
Prep time 30 mins. Serves 8-10
100g bean thread or rice vermicelli noodles
½ large iceberg lettuce
½ tsp sugar
1 large carrot, peeled and coarsely grated
200g cooked prawn meat, chopped
1 cup (60-70) mint leaves, torn into pieces
3 Tbsp chopped coriander
30 small or 20 large rounds rice paper
½ cup coarsely chopped roasted peanuts, to serve (optional)
Sweet chilli sauce, to serve
Place the noodles in a bowl, cover with boiling water and soak for 5 minutes. Drain the water off and then cut the noodles with kitchen scissors in several places to create shorter lengths. Very finely shred the lettuce and place in a bowl with sugar, carrot, prawn meat, mint and coriander. Mix in the noodles. Dampen a clean teatowel and lay it on the bench. Dunk the rice paper rounds into a dish of warm water one at a time for a couple of seconds each (don't soak them or they will become too sticky), then place them separately on the damp teatowel. Wait for a minute for the rice paper to soften and become flexible. They are ready to work with when they are dimpled and softened. If you try to roll them before this they will split. Place a small handful of the prawn mixture in the centre of each wrapper. Wet your hands to stop them sticking to the rice paper and then roll the wrapper up tightly around the filling, tucking in the sides as you go. Transfer the rolls to a plate, seam-side down, and cover with a damp paper towel. If not serving immediately, they will hold their shape in the fridge for 24 hours. Garnish with chopped peanuts, if using, and serve with sweet chilli sauce.
Annabel says: These look fancy, but they're remarkably easy and inexpensive. Adding lots of mint is the key to their zingy taste. You can substitute cooked chicken breast instead of prawn meat if you prefer.
Thai Prawn Curry
Ready in 30 mins
Serves 4
1 Tbsp neutral oil
2 Tbsp red curry paste
2 cups tomato passata
2 cups coconut cream
2 tsp fish sauce
400g large prawn tails
4 heads bok choy, cut into 2cm pieces or 5 handfuls baby spinach leaves
Salt and ground black pepper, to taste
4 hardboiled eggs, peeled and halved
To serve
Cooked noodles or rice
Sliced long red chilli, coriander leaves, beansprouts and lime wedges, to garnish
Heat neutral oil in a medium pot and gently fry red curry paste until fragrant (1-2 minutes). Add tomato passata, coconut cream and fish sauce and simmer for 10 minutes. Mix in prawns and bring back to a simmer. Cook for 1 minute then mix in the bok choy or spinach. Bring back up to a boil over a high heat. Halve eggs and add to the pot, stirring gently so as not to break up too much. Serve over noodles or rice, garnished with egg, chilli, coriander leaves, beansprouts and lime wedges.
Annabel says: You can make this simplified version of a Thai red curry with shell-on or shell-off prawns. It's also good with tofu, chunks of white fish, very thinly sliced chicken thighs or shredded barbecue duck. Different brands of red curry paste vary in heat, so adjust quantity as required.
Prawn and Carrot Salad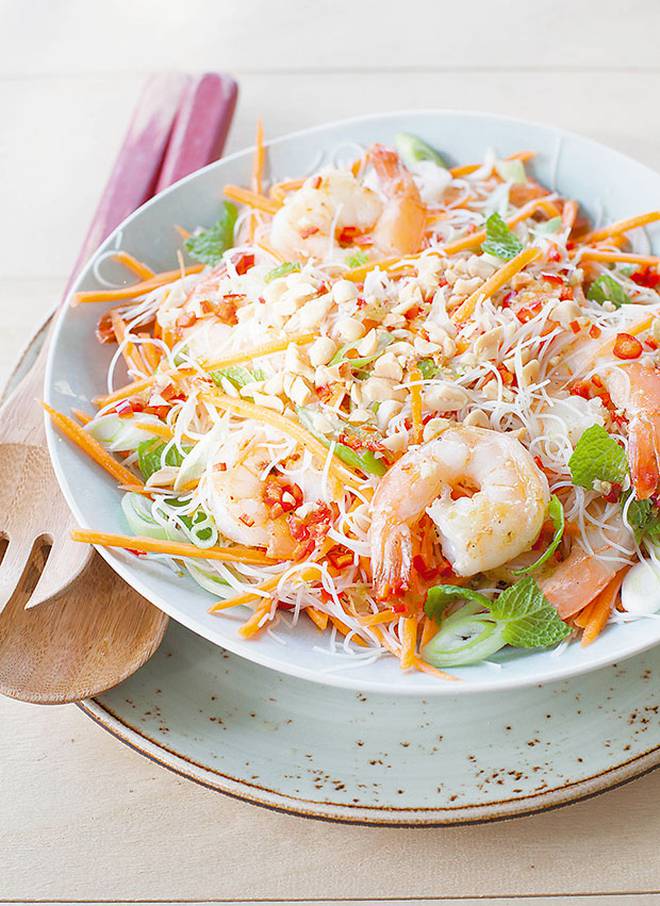 Ready in 20 min. Serves 4.
100g dried rice vermicelli or mung bean noodles
2 long red chillies, finely chopped
2 cloves garlic, finely chopped
Finely grated zest of 1 lime
¼ cup lime juice
2 Tbsp soft brown sugar or palm sugar
2 Tbsp fish sauce
A pinch of salt
A pinch of white pepper
400g cooked prawn tails
3 carrots, peeled and shredded with a spiraliser or shaved into strips with a mandolin or peeler
2 spring onions, very finely angle-sliced
2 Tbsp torn mint leaves
½ cup chopped roasted peanuts, to serve
Cover noodles with boiling water and leave for 10 minutes, then drain. Rinse under cold water, drain well again and cut a few times to shorten for easy eating. Combine chillies, garlic, lime zest and juice, sugar, fish sauce, salt and pepper in a large bowl and mix to dissolve sugar. Add chopped noodles, prawns, carrots, spring onions and mint and toss lightly to combine. Chill until ready to serve - it will hold for several hours. Top with roasted peanuts to serve.
Annabel says: This quick and easy salad balances the heat of chilli with the sourness of lime, the freshness of mint, the sweetness of a little sugar, the saltiness of fish sauce and the umami of prawns. Keep a bag of prawn tails in the freezer so you can make it whenever you like.