They may be royalty but that didn't stop cheeky London marathon runners from splashing Kate and Wills with water as they cheered from the sidelines.
The Duke and Duchess were handing out bottles at a water stop when several runners spotted a golden opportunity to have some fun, according to Daily Mail.
The smiling prince - who has dubbed himself a "modern monarch" - appeared to take the joke slightly better than his other half who seemed less than impressed as water droplets landed on her fleece.
Prince Harry managed to avoid the spray but was seen jokingly shying away from one particularly sweaty runner who wanted to hug him for a selfie.
The royals, who champion the marathon's official charity Heads Together, put their hands together to sound the klaxon and set 40,000 hopefuls on their gruelling 26-mile journey at 10am this morning.
They then watched the race from a half-way point where they gave runners high fives as a radiant Kate waved encouragement with a large blue foam hand.
The royal trio, wearing black Heads Together tops, spent about half an hour chatting to supporters and whooping and clapping as runners sped past.
A water point at the 22-mile mark was the next stopping point, where they handed out refreshments to astonished runners, many of whom did a double take and, forgetting their time, backtracked for a selfie.
William, Kate and Harry stood at the side of the road near Shadwell as a giant sound system boomed out motivational songs including YMCA and Sex On Fire.
They laughed, cheered and whooped as the exhausted participants faced their final four miles.
One runner, dripping with sweat, spotted William and bounded over. "I saw you earlier," he shouted, as he gave the prince a high five.
Many stopped to pose for selfies with the royals or ran over to high five them or shake hands in a more genteel way.
"Wills and Harry!" one runner shouted across to them, waving. Others applauded the trio as they ran by.
"Well done guys," William shouted. "Thank you so much," Kate told some of the 700 competitors running on behalf of the Heads Together mental health campaign.
Prince Harry, who hopes this will be the year of the "mental health marathon", then presented trophies to the top three elites and World Para Athletics Marathon World Cup competitors.
Hundreds of police including armed patrols lined the streets of London for the biggest anti-terror operation in the 36-year history of the race.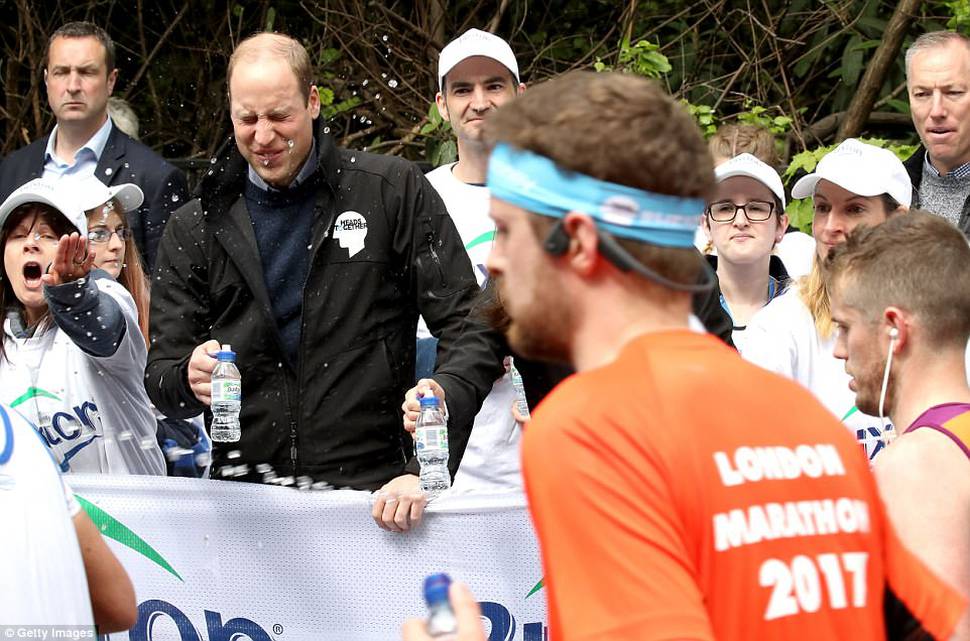 Security barriers were set up near crowded spots including at the race start in Blackheath and at Tower Bridge to stop a Westminster-style vehicle attack. Police have been told they must 'shoot to kill' if they see a terrorist driver.
There were also stringent security checks in place at St James and the Mall as nearly one million are expected to watch almost 50,000 athletes.
It is one month since radical Khalid Masood drove his speeding car down Westminster bridge killing five but the Metropolitan Police told MailOnline: "There is no specific intelligence that the Marathon will be targeted."
A record number of runners are tackling this year's London Marathon. Organisers said a total of 40,382 people collected their race packs on Saturday, meaning the 37th event is poised to outstrip last year's record of 39,140 competitors.
Among the runners undertaking the daring feat this year is 47-year-old Gary McKee, who will be finishing his 100th marathon distance in 100 days.
With an election race in full flow, the annual challenge will also fittingly play host to a record number of MPs.
A total of 16 members - including five from Labour, nine Conservatives, one independent and one from the SNP - joined the throngs of racers.
A host of famous faces were spotted undertaking the gruelling endeavour for good causes, including pop band Scouting for Girls, who are running for the Alzheimer's Society, and radio host Chris Evans, who is running for the third year in a row, raising cash for Children in Need.
Eastenders star Adam Woodyatt faces an emotional challenge as he runs alongside his 19-year-old son Sam, just months after the teenager was hit by a car.