A blind man who had his sight restored earlier this year in an incredible procedure using one of his own teeth said the best part was being able to see his wife again.
Goulburn man John Ings, 72, described his vision as 'a dirty window' to 60 Minutes on Sunday evening, reported the Daily Mail.
But with the help of oral and maxillofacial specialist, Dr Shannon Webber and oculoplastic surgeon, Dr Greg Moloney, Mr Ings is now able to get around easily - and gaze at his wife Berry as much as he likes.
"I'm looking forward to [seeing Berry], to see if she still looks as beautiful as ever," Mr Ings told the program ahead of his surgery.
The surgery took place in four parts - and days after the final procedure his bandages were opened to test his vision.
Heartwarming footage filmed by 60 Minutes shows Mr Ings look at his wife for the first time in a very long time.
Berry is seen leaning in as Mr Ings puts his arm around her, and the pair are both heard sobbing with happiness.
After some time, Mrs Ings leans back and asks her husband: "Well? What do you see?"
Mr Ings answers with just one word: "Gorgeous."
The amazing procedure saw a lens inserted into one of his teeth, which was extracted and then placed into his cheek so tissue would grow around it, enabling its own blood supply.
"We rely on the tooth to gain its own blood and tissue supply so when it is removed from the mouth, what you have essentially is a living complex," Dr Webber told The Courier Mail.
After three months surgeons removed the tooth and inserted it into Mr Ings' old cornea. Skin was then removed from his mouth and placed over the new cornea to seal it.
An opening was made to allow the new lens to work.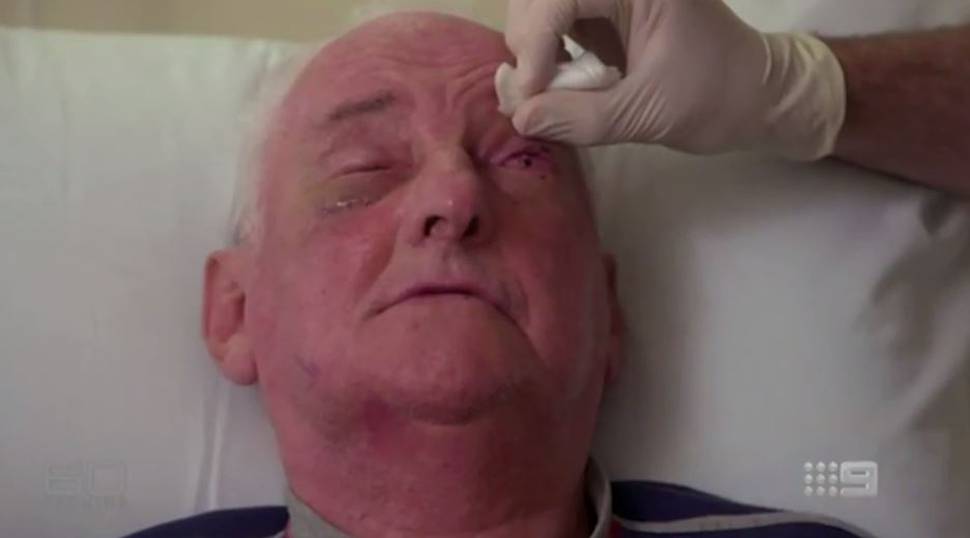 It was the first time the surgery, called osteo-odonto kerato-prosthesis, has been performed in Australia.
Mr Ing damaged his right eye in a childhood accident, and gradually lost vision in the other over the past 16 years because of the herpes simplex virus.
"My vision has been getting worse over the last 16 years to the point where I can't see out of my right eye and hardly at all out of the left eye," he previously told the Goulburn Post.
"The herpes simplex virus has chewed through the cornea over the years."
Since Mr Ings' surgery, a 50-year-old Cairns woman, Leonie Garrett, has also had the procedure and now boasts 20/20 vision, The Daily Telegraph reported.
On both occasions the surgeons were supervised by a German specialist who trained the men after revolutionising the procedure in 2004.
Mr Ings hailed the procedure a success, and warned 60 Minutes it was easy to take eyesight for granted.
"You've got to lose it and regain it to really appreciate it," he said.