It's been a long road littered with setbacks and drama.
But Mama June finally reveals her massive weight loss to the world on this week's episode of Not to Hot, reports the Daily Mail.
While she does eventually unveil the results of her efforts, the 37-year-old reality star starts the episode in a funk.
Though she isn't supposed to be in bed to avoid blood clots, she huddles under the covers and tells her daughters to go away when they try to roust her.
Subtitles remind the audience that only seven weeks remain until ex Sugar Bear's wedding, and that June still weighs 162 pounds (73.5 kg).
"There's so much pressure on me to look good for this photoshoot and Sugar Bear's wedding, but I'm still feeling pain from boob job and tummy tuck I had 4 weeks ago," she laments in voice over.
Worried that she's losing momentum, daughters Alana and Pumpkin arrange for an intervention, where friends and family manage to confront June during a trip to the kitchen.
June is immediately threatened, but everyone starts expressing their worries.
Kenya, her faithful trainer, begs "you can't be pushing us away," while Pumpkin reminds her that "you asked for all this stuff."
She soon starts to come around, saying that "my goal when I started this weight loss journey was to make Sugar Bear kinda jealous, but it's no longer about revenge."
"We'll all be team June," proclaims Pumpkin, as June makes the decision to complete her upcoming round of surgeries, which will remove skin from her neck and arms.
The show then switches gears to Jennifer and fiance Sugar Bear's residence.
Jennifer has many issues with June, and talks about a number of grievances with her soon-to-be husband.
"She's disrespected me for the last time," she tells Sugar Bear, before revealing that she wants to uninvite June from the upcoming nuptials.
Back at Mama's house, June has come around and decided to rehire her manager Gina, whom she fired in the previous episode after feeling to pressured.
After a flight to LA, June goes back under the knife for the skin removal procedure, which runs for being an unanticipated 7.5 hours.
While their mother is away, Alana receives a video call from Jennifer, who proceeds to uninvite Mama June from the wedding. It then becomes Alana's job to share the unfortunate news with her beleaguered mother.
After spending several exceedingly painful weeks in recovery, Mama June returns from Los Angeles with her face still completely bandaged, which proves to be a massive disappointment for the assembled family.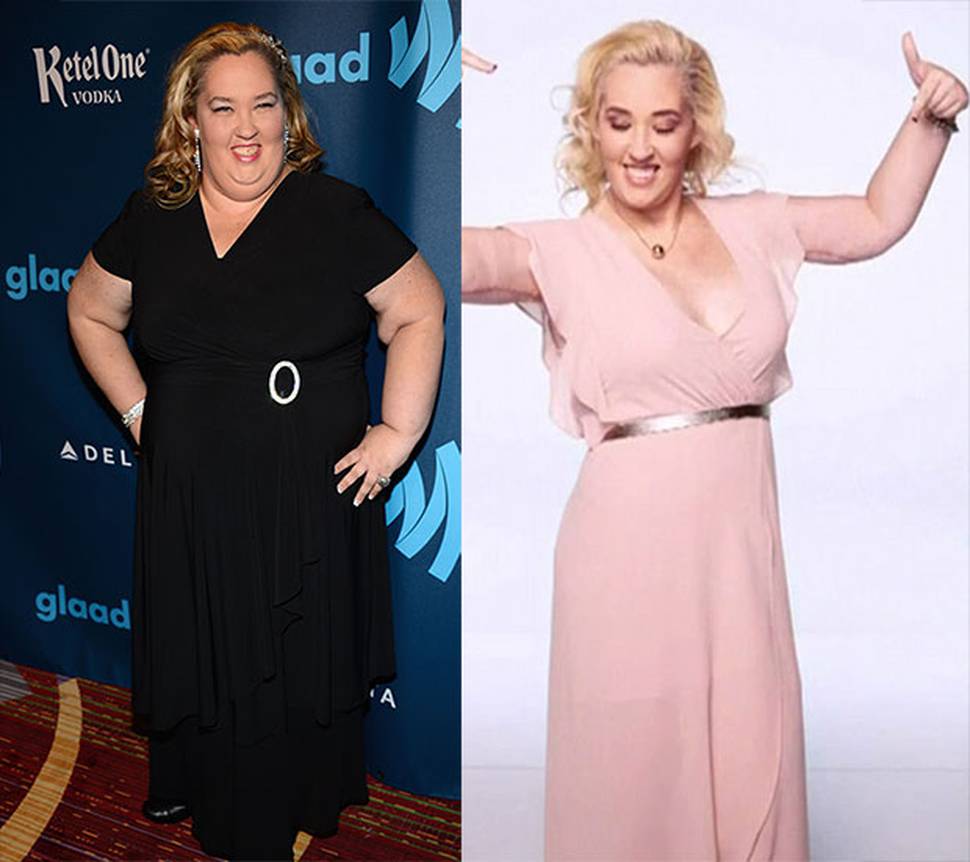 Though she was still very much recovering, June decides to invite over a previous suitor in an attempt to woo him into becoming her date for the wedding.
After their home cooked meal, the "go cart dude" John agrees to try to move a work engagement so he can attend the soiree.
Finally, after months of hard work and unspeakable pain, Mama June attends her photo shoot.
The whole family is assembled for the big reveal, and they are not disappointed.
Mama June saunters into the photo studio in a powder pink ankle length number that shows off her newly acquired svelte figure and ample assets.
Alana exclaims, "She looks like Marilyn Monroe," as the others can't stop gasping at the transformation.
While the shoot is a success, June does receive some less than stellar news, when she takes a call from John, who unfortunately will not be able to make it to the wedding.
She's obviously crestfallen, but of course still doesn't know that she isn't in fact even invited to the wedding.
The next episode will be the season finale, and will see Mama June crash her ex's wedding.