Homemade preserves save on wastage, make out-of-season cooking easier and are delicious
I was listening to a podcast the other day, one of those interesting TED radio sessions that Radio NZ produces on Sunday evenings, and caught American food journalist and author Mark Bittman talking about the con of convenience. Well he didn't phrase it exactly like that but the fact of the matter is that the industrialisation of the food chain that has occurred over the past 100 years, has resulted in all manner of products that we think of as food but that aren't real food.
Taking the dictionary definition of food as something that sustains and nourishes, and nourishment as something that increases your health, Bittman argues that if something doesn't increase your health then it doesn't qualify as food. On this basis, he suggests that more than 40 per cent of what is sold as food in American supermarkets is not actually food.
Roll back 100 years and everything people ate was an ingredient, everyone was a locavore, there were no processed foods and few foods existed with more than one ingredient - as everything came into the home as separate ingredients, to be combined and cooked to order. There were no numbers or additives or preservatives - apart from salt and sun and air.
Perhaps in New Zealand the industrialisation of our food chain is not yet as extreme as it is in the United States (then again, maybe it is if you look at our obesity stats), but the reality is, that for most of us it's an ongoing challenge to manage the busy-ness of life against the trade-offs of convenience. When its 5pm and you still haven't figured out what's for dinner, the chances are you'll go for what's easiest rather than what might be good for your body and the planet.
Over the years, in trying to juggle that particular dilemma, I have found one of the great ways to get dinner on the table easily, as well as saving some money while feeling that I'm doing my bit to reduce wastage, is to preserve some of the season's harvests for winter. A few bottles here and there take up the season's excess harvests and can be made in less than an hour. Right now is a great opportunity to capture some of autumn's rich flavours for later in the year when harvest offerings are meagre. The virtues of having homemade preserves go way beyond money. Making a few special things that you can't buy in the shops (or that are expensive) is a great springboard to effortless cooking and entertaining. It becomes more a matter of assembly to create yummy starters, fillings, condiments, slow-baked casseroles and even dessert, with ingredients that have your individual stamp.
Pointers for perfect preserves
•Sterilise clean jars in a 100C oven for 15 minutes, or dunk into water to wet all over and microwave individually for 1 minute each.
•Re-use cleaned pasta sauce jars, baby food jars or jam jars with pop-top lids that reseal, and cover with boiling water to sterilise before using. If you fill them with hot mixture the lid will pop down in a vacuum, showing that the jar is sealed. If the lids don't seal then chill and use the preserve within a few days or put it back in the pot, bring it back to a boil and re-bottle.
•Check the quality of the produce you're using - using very overripe or fermenting produce creates a risk that the food may not stay preserved. Likewise mould may transfer a mouldy flavour.
Quince Jelly and Paste
Ready in 25-31 hours + cooling
Makes 9 cups jelly and 2 trays paste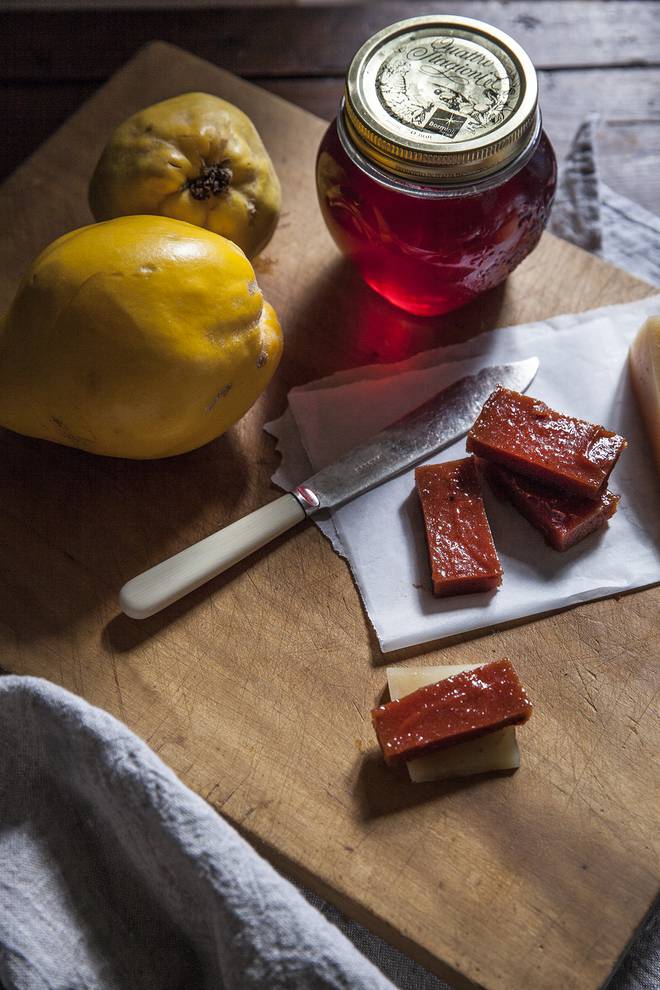 .5kg sugar + about 4 cups extra for Quince Paste
1 litre water
8 medium (2.5-3kg) whole quinces
Bring sugar and water to a boil, stirring to dissolve sugar (15 minutes). Wash the whole quinces, removing any fuzz, and add them to the syrup. Simmer until mixture turns deep, dark red (about 80 minutes), turning fruit now and then so it cooks evenly.
Quince Jelly
Carefully lift fruit from syrup and set aside to make Quince Paste. To test whether the syrup is ready to form a jelly, drop a spoonful on to a chilled saucer and allow to cool for a few seconds. The surface should set - push it with your fingertip; if it wrinkles up, it's ready. If not, simmer a further 10-15 minutes then retest. Pour into sterilised, warm jars and seal tightly while still hot.
Quince Paste
Allow the reserved cooked quinces to cool before removing and discarding the cores. Puree the flesh then measure the puree. For every cup of puree stir in ½ cup sugar. Preheat oven to 50C fanbake and line 2 sponge roll tins or a large roasting dish with baking paper. Transfer the puree to prepared tins and spread evenly - it should be about 3-4cm thick. Bake until firm enough to slice (24-30 hours depending on thickness of puree). Cool, slice and store in a jar of caster sugar in a cool place.
Annabel says: One recipe that delivers two treats - use the syrup to make a crystal-clear ruby Quince Jelly and the quinces to make a melt-in-the-mouth Quince Paste to enjoy with cheese.
Pickled Cucumbers
Ready in 35 mins + cooling
Makes 1 large or 2 medium jars
1kg baby cucumbers or gherkins
2 tsp celery seeds
2 tsp mustard seeds
4 cups white vinegar
2 cups sugar
2 Tbsp salt
If using medium cucumbers, cut them in half, then lengthwise into 6-8 wedges, discarding the seeds. Halve small Lebanese cucumbers or large gherkins lengthwise and leave medium and small gherkins whole. Place in a large pot, cover with boiling water and allow to stand until water is cold. Drain well, then repeat twice (this removes bitterness and semi-cooks them so they can be stored without spoilage). When cool, drain thoroughly and pack into 1 or 2 sterilised jars. Sprinkle celery and mustard seeds into jar or jars. Heat vinegar, sugar and salt in a pot, stirring to dissolve sugar, then boil for 2 minutes.
Pour over cucumbers, overflowing the liquid from the jars. Wipe rims to remove any seeds before sealing with sterilised screw-top lids. Store in a cool cupboard for at least 3-4 weeks before using. Don't panic if they shrivel a bit - they will plump back up and keep for months. Once opened, store in the fridge.
Annabel says: This recipe works equally well with trimmed asparagus spears and can be scaled up if you have a bumper harvest.
Feijoa Chutney
Ready in 1½-2 hours
Makes 8-10 small jars
1.5kg feijoas, peeled and chopped
500g apples, peeled and chopped
500g onions, finely sliced
1 litre malt vinegar
500g brown sugar
1 Tbsp salt
1 Tbsp ground ginger
1 Tbsp crushed garlic
Rind of 1 lemon, grated
½ tsp mace
Place all ingredients in large pan and boil slowly for approximately 1-1½ hours, stirring occasionally, until mixture is thick and brown. Bottle while warm. Keeps for months. Refrigerate once open.
Annabel says: You can make this chutney with pears or even peaches - each will offer its own slightly different flavour. Adding 500g dates or raisins in with the fruit at the start gives a sweeter result, which is good for peach or mango chutney. For peach chutney I also like to throw in a couple of cinnamon quills, a handful of cardamom pods, a big handful of grated ginger, 2-3 fresh chillies and 500g dates. The mixture needs to cook until it is a rich dark brown and is thickened - take care near the end that it doesn't catch.