To the northwest of Naples, about an hour inland in the rolling hill country of Campania, lies the small medieval walled village of Sant'Agata de' Goti. A more perfectly preserved and picturesque town would be hard to find. Glossy-haired beauties saunter their curves languidly along narrow streets under the patina of flaking plastered archways, while young slick-haired bucks whizz by on their Vespas, oozing testosterone. You feel like you have just walked into a 1960s Fellini film set.
I first came here, some years ago, to write about Mustilli, a winery and farmstay located in the heart of the village. This family estate has been growing grapes and making wine here since the 15th century. The grapes are traditional cultivars such as falanghina, greco and aglianico - perfect for the robust wines that match the rich flavours of the Italian table.
Out on the farm, a dozen or so workers were handpicking small bunches of dark red grapes, filling large crates. Life here in the vineyard goes on much as it has for centuries.
On the dot of noon everyone broke for lunch. As I prepared to leave, a couple of the women called for me to join them, patting a muddy upturned grape box for my seat. With nothing to contribute to this shared picnic, I was reluctant to join in, but they insisted, so I stayed, feeling uncomfortable but also excited. I mean how often do you get to eat the country food of the people in places like this?
A few crates were gathered and an old door placed on top to form a makeshift table. One of the women produced a thick rustic homemade loaf, filled with a mixture of wild greens cooked in olive oil with lots of garlic and some chilli. Another had prepared a salad of the sweetest tomatoes, mixed with peppers and onions - all from her garden. It was dressed with nothing more than a squeeze of fresh pulpy tomato juice, salt, pepper and a tangy green olive oil. Someone else had a dish that looked like caponata - chopped eggplant with olives, a little tomato, garlic and capers, cooked, of course, in olive oil.
Olives, anchovies, canned tuna, bread and cheese were added to the table, along with a flask of red wine. As we shared this wonderful picnic I pinched myself for my good luck.
Looking back over the great meals of my life, this experience stands out as one of the best. They say food tastes better when you are happy and this is true. I can remember every detail of that special picnic and have often thought what my contribution would be. It would have to be a cake - a little sweet something to finish the meal. Any one of these would fit the bill nicely.
Hazelnut and White Nectarine Cake
Ready in 1 hour, 35 mins
Serves 8-10
1½ cups hazelnuts
180g butter, at room temperature
1 cup sugar
1 tsp vanilla extract
Zest of 1 orange, finely grated
3 large eggs, at room temperature
1 cup self-raising flour
½ tsp baking powder
8 white nectarines, quartered, stoned and each quarter cut into 4 wedges
Preheat oven to 170C fanbake. Grease the sides of a 23cm springform cake tin and line the base with baking paper. Place hazelnuts on an oven tray and roast for 15 minutes. Tip into a tea towel and rub to remove loose skins. Place hazelnuts in a food processor and whizz to chop coarsely. Remove ¼ cup and put to one side for garnish. Whizz the rest to a fine crumb. Beat together butter, sugar, vanilla extract and orange zest until pale and creamy. Beat in eggs one at a time. Fold in the ground hazelnuts, flour and baking powder until evenly combined, then stir in the nectarines. Spoon into the prepared tin, smooth the top and scatter with the reserved chopped hazelnuts. Bake until the cake is risen and golden and a skewer inserted into the centre comes out clean (about 1¼ hours). Allow to cool in the tin. If not serving the same day it will keep in the fridge for up to 2 days. Bring back to room temperature to serve.
Annabel says: If you haven't got nectarines, any stonefruit is good - it's delicious made with apricots, peaches or plums - and you could even use well-drained preserved fruit or berries.
One-Pot Lumberjack Cake
Ready in 1 hour, 10 mins
Makes 1 medium cake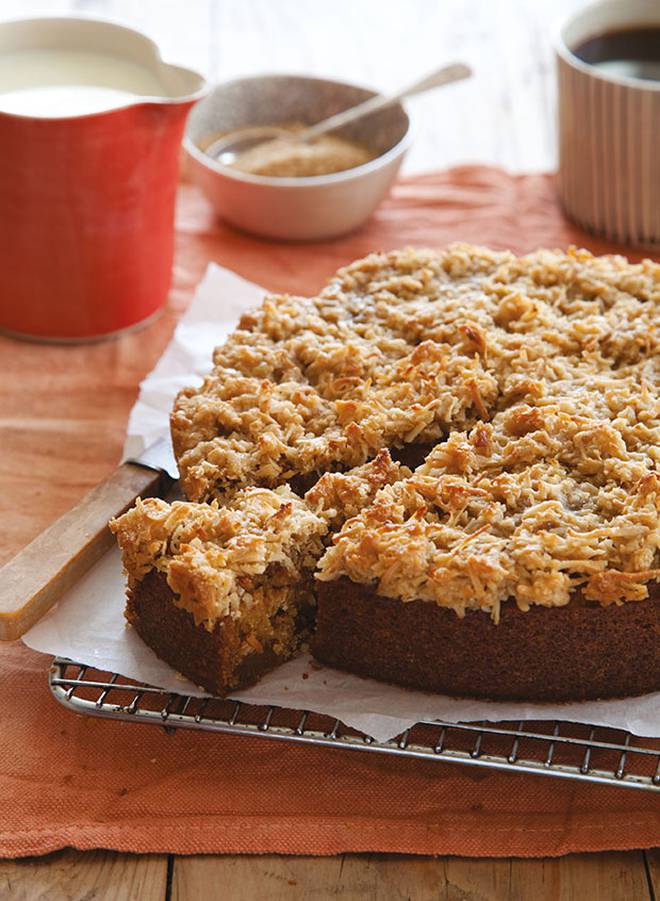 1 cup crystallised ginger or dried fruit, such as dates, coarsely chopped
1 cup water
1 tsp baking soda
¾ cup sugar
220g butter, finely chopped
1 egg
1 tsp vanilla extract
2 cups self-raising flour
Coconut topping
50g butter
3 Tbsp milk
1½ cups shredded coconut
1 cup soft brown sugar
Preheat oven to 160C fanbake. Lightly grease a 23cm-diameter springform cake tin and line the base with baking paper. Place ginger or dried fruit in a large pot with the water and baking soda, bring to a boil and simmer gently until the ginger or fruit is softened (10 minutes). Remove from heat, add sugar and stir to dissolve. Stir in butter until melted, then egg and vanilla. Stir in flour until just combined. Spoon into prepared tin and bake until the top bounces back when pressed and a skewer inserted into the centre comes out clean (about 40 minutes). While cake is cooking, make topping by heating butter and milk until butter has melted. Remove from heat then stir in coconut and sugar. Spread evenly over cooked cake while still hot and return to oven until topping is lightly golden (10-12 minutes). Cool in tin. Store in a sealed container for up to a week.
Annabel says: This brilliant cake takes its cue from the wonderful boiled sultana cakes of old - with the addition of a crunchy topping. The one-pot method guarantees a moist result. If you don't like ginger, use dates, prunes or dried apricots instead.
Black Velvet Cake
Ready in 1 hour
Makes 1 cake or 1 loaf and 12 cupcakes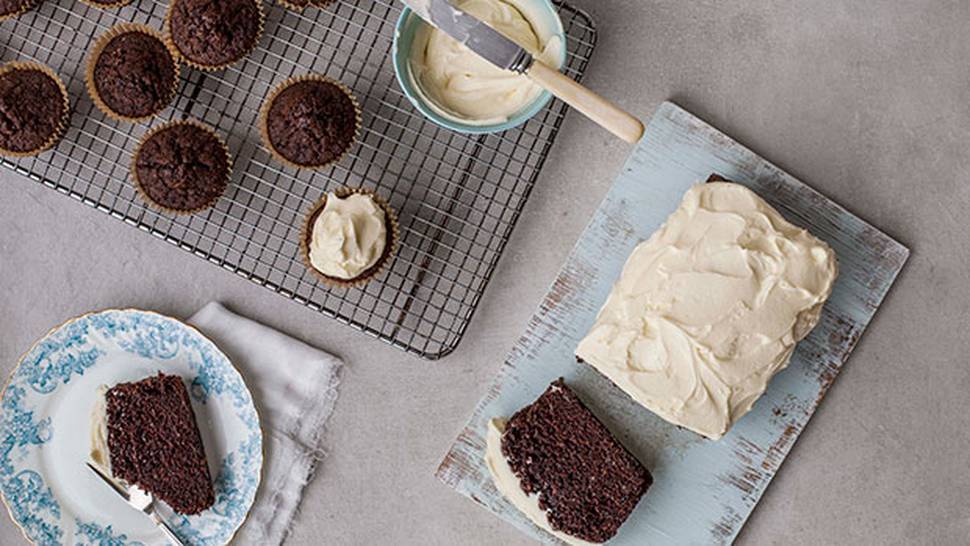 3 medium zucchini
1 cup neutral oil
2 cups raw sugar
4 eggs
1¾ cups wholewheat flour
¼ cup good-quality cocoa
2 Tbsp mixed spice
2 tsp vanilla extract
2 tsp baking soda
1 Tbsp orange juice
Cream cheese icing
100g butter, at room temperature
150g cream cheese
4 cups icing sugar, plus extra to dust
A pinch of salt
2 Tbsp lemon juice
Preheat oven to 160C fanbake. If making one large cake, grease the sides of a 23cm springform cake tin and line the base with baking paper. If making a loaf and 12 cupcakes, grease the sides of a 5 cup-capacity loaf tin and line the base with baking paper, then line a 12-hole muffin tin with paper cases. Grate the zucchini on to a clean tea towel (you should have about 3 cups), pull up the sides, twist and squeeze tightly over a sink or bowl to remove liquid. Beat oil and sugar in a food processor, mixer or large bowl. Beat in eggs, then stir or pulse in flours, cocoa, spices, vanilla and squeezed zucchini. Dissolve baking soda in orange juice and fold or pulse in very briefly so as not to over-work the gluten (this will make the cake tough). Pour into prepared cake tin or pour half into the prepared loaf tin and divide the rest between the cupcake cases (it will be a very wet batter). Bake until the top springs back when pressed and a skewer inserted into the centre comes out clean (20 minutes for cupcakes, about 45 minutes for the loaf and about 1 hour for the cake). Allow to cool a little before turning out onto a rack. Store in a sealed container in a cool place for up to a week. To make icing, blend butter and cream cheese in a mixing bowl or food processor until smooth. Beat in icing sugar, salt and lemon juice, adding a little more icing sugar or water if necessary to achieve a spreadable consistency. Spread over cake or loaf and cupcakes.
Annabel says: This cake is moist yet light, and easy to make. It can be cooked as one large cake or divided in half and cooked as a loaf and 12 cupcakes. It keeps well for several days in a sealed container and can be frozen, iced or plain.