There's more to cooking eggs than meets the eye, but tips are at hand.
Every now and then I come across someone who says they can't cook even an egg. It might seem surprising, but if you have never hung out in a kitchen or watched television cooking shows, even cooking something as simple as an egg can feel like attempting to interpret hieroglyphics. And actually there's more to cooking eggs than you might imagine, from finding yourself with a weepy meringue because the eggs you used were too fresh to having your poached eggs fall apart because your eggs aren't fresh enough!
The language of cooking is something I have spent my life exploring and learning. Having never learnt to cook in a formal way, it's been an ongoing process of experimentation to see what works and why. And there is always more to discover and learn.
Twenty years ago, when I wrote my book The Best of Annabel Langbein: Great Food for Busy Lives, I set out to demystify the cooking process with as many tips and hints as I then knew, to help make cooking easier and more interesting. My Best Of book sold hundreds of thousands of copies here in New Zealand and I've lost count of the number of people who have told me it's their favourite and most useful cookbook ever.
My new book, Essential Annabel Langbein, in addition to containing more than 650 of my very favourite savoury recipes, is also a download of everything I have learnt and discovered in the kitchen - a lifetime of hints, tips and know-how that takes up from where The Best of Annabel Langbein left off, all those years ago.
To give you a taste of what's inside, this week I'm sharing four recipes for an eggy weekend breakfast or brunch. First I'll show you how to cook the perfect poached eggs and a simple omelette (a few little tricks make all the difference), then once you've mastered those springboard techniques I'll help you make them your own by using the poached eggs in a Breakfast Salad and adapting the omelette to suit Asian flavours.
Essential Annabel Langbein comes out next week, and I'm looking forward to it becoming your go-to cooking companion and recipe compendium so that you can feel like a star in the kitchen every day.
Perfect Poached Eggs
Ready in 5 mins
Serves 2
1 tsp salt
A splash of white vinegar
2-4 eggs, at room temperature
To serve (optional)
Buttered toast or toasted muffins or bagels
Sliced avocado
A few microgreens
Salt and ground black pepper, to taste
Fill a frying pan or non-stick saucepan with water to 5cm, add salt and a splash of vinegar (this seals the egg white and prevents it from spreading) and bring to a rolling boil. Reduce heat to a light simmer. Break eggs into a cup one at a time, slide into the water and poach for 3 minutes or until done to your liking. Lift out with a slotted spoon. If desired, top toasted bread, muffins or bagels with avocado slices, add the poached eggs, garnish with microgreens and season with salt and pepper.
Annabel says: Poached eggs are a brilliant base recipe to master so you can then use them to add some extra protein to other meals. They make a great topper for crispy, crunchy hash browns or as part of a breakfast salad (see right). Super-fresh eggs are best for poaching, but a splash of vinegar in the water helps to hold older eggs together.
Herb Omelette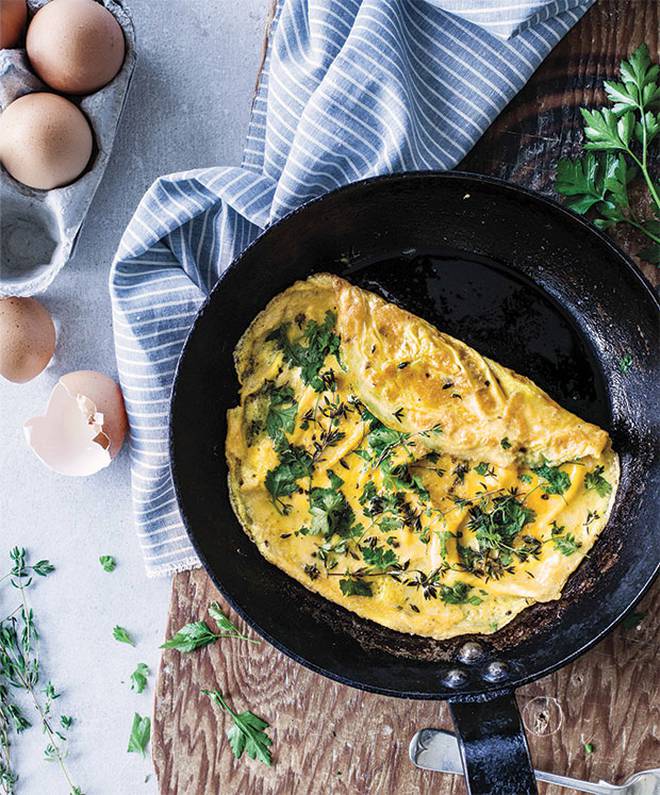 Ready in 5 mins
Serves 1
2 eggs
1 Tbsp water
½ tsp salt
Ground black pepper, to taste
1 tbsp neutral oil or butter
2-3 Tbsp chopped fresh herbs, such as thyme, chervil, parsley or basil leaves
Break eggs into a bowl and use a fork to lightly whisk with water, salt and pepper until evenly combined.Heat a small frying pan over a high heat, then add oil or butter, swirling to coat the base. Just as the oil starts to shimmer or butter starts to brown, add egg mixture to pan, tilting the pan to coat the base evenly. Use a fork or spatula to loosen the egg from the base of the pan as it sets, drawing it from the outside toward the centre until it is almost set. Sprinkle with herbs, reserving a few for garnish, and fold in half. Transfer to a plate and garnish with extra herbs.
Annabel says: Omelettes are so easy - you can get a yummy meal on the plate in just a couple of minutes. Once you've mastered this simple herb omelette, try other fillings, such as grated cheese, chopped ham, cooked bacon, baby spinach or tomato slices over half the omelette base before folding in half. Or see p.22 for an Asian twist.
Breakfast Salad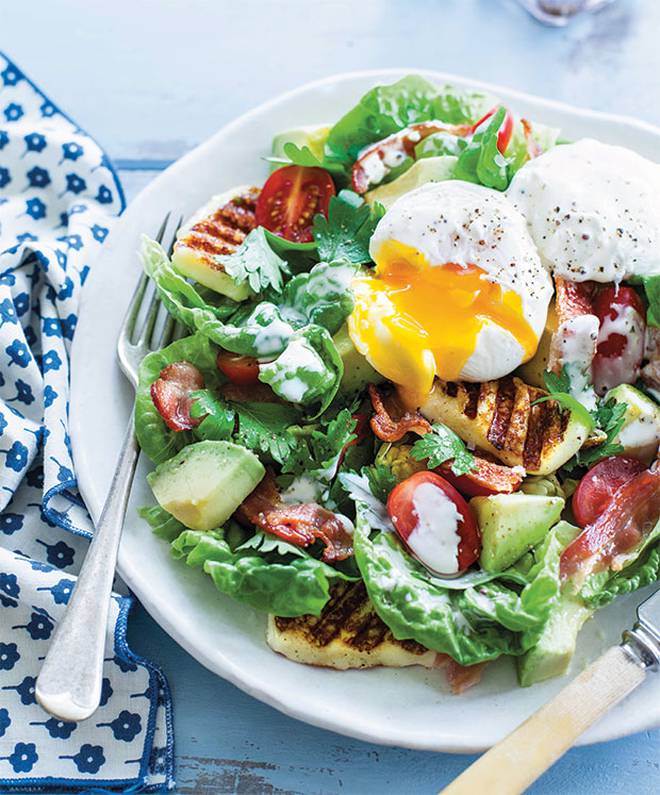 Ready in 25 mins
Serves 4
4 handfuls salad leaves, such as baby cos, iceberg or baby spinach leaves
About 20 cherry tomatoes, halved
Flesh of 2 just-ripe avocados, cut into bite-size chunks
1 Tbsp chopped parsley leaves
8 rashers streaky bacon
200g halloumi, sliced (optional)
4-8 eggs
2 Tbsp good-quality mayonnaise or aioli, thinned with 1 tsp water
Salt and ground black pepper, to taste
Toss together the lettuce, tomatoes, avocado and parsley, then divide between 4 serving plates. Grill or fry bacon until crispy and halloumi, if using, until lightly golden, then drain on paper towels. Soft-poach eggs in lightly salted water for 3-4 minutes. Divide bacon, halloumi and eggs between salad plates, drizzle with thinned mayonnaise or aioli and season with salt and pepper. Serve immediately.
Annabel says: I like to put together a brunch or lunch salad on days when I feel like a special breakfast without the weight of a fry-up. It's just as good without halloumi or eggs, or you can omit the bacon for a vegetarian version. Top with crumbled feta instead of halloumi if you prefer.
Asian Prawn Omelette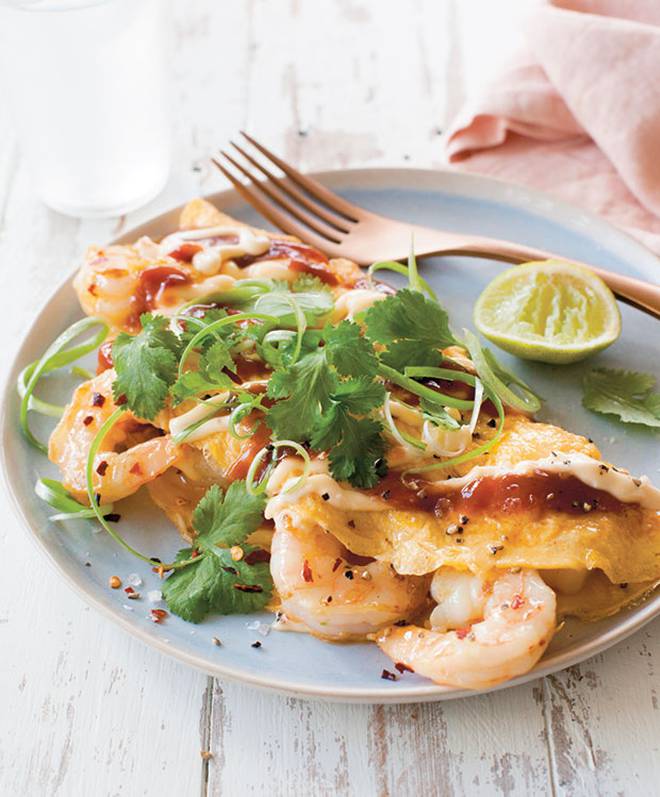 Ready in 10 mins
Serves 1
8 medium prawns, shells off
Zest of ½ a lime, finely grated
1 Tbsp neutral oil
1 generous pinch of salt
1 pinch of white pepper
1 pinch of chilli flakes
3 eggs
1 tsp fish sauce
Ground black pepper, to taste
To serve
1 Tbsp lime juice
Hoisin sauce
Japanese mayonnaise
½ spring onion, finely shredded
1 handful of coriander leaves
Combine prawns, lime zest, half the oil, salt, white pepper and chilli flakes in a bowl and toss to coat. Heat a heavy-based frying pan and stir-fry prawns until cooked through (2-3 minutes). Transfer to a small bowl and set side. Wipe out the pan. Whisk together eggs, fish sauce and black pepper in a bowl. Heat the remaining oil in the frying pan and tip in the egg mixture, tilting pan to spread egg evenly. Shake the pan a couple of times or loosen under the egg with a knife or spatula at the start of cooking to allow raw egg to run to the base of the pan. Once egg is almost fully set, arrange the prawns over one half of the omelette and fold the other half over on top. Slide on to a plate, drizzle with lime juice, squiggle with hoisin and mayo, then scatter with spring onion and coriander.
Annabel says: It's easy to adapt the basic omelette technique to a range of flavour families, including this delicious Asian version, which makes a great brunch, lunch or light dinner. If cooking this omelette for more than one, have the prawns cooked so it's really quick to cook each one, fill, fold and serve.