Address: 68 Sale St, Auckland
Phone: (09) 216 8441
Open: Brunch menu available 7am-3pm weekdays, 9am-3pm Saturdays
Cost: $58 for two

SET UP & SITE
There's a lot going on in Sale St right now, most particularly a lot of loud banging, accompanied by hard hats. Have you heard the news? There's a housing shortage in Auckland, and I'm pretty sure Nick Smith thinks the solution is to be found in Sale St. We enter Giusto through scaffolding about 11am on a Saturday. I guess it's not such a surprise we're the only ones who have made it in. No wait for a table here. They have courtyard seating but the waiter suggests we may find it more ... relaxing inside. The look is industrial - exposed ceilings, polished cement floors, and quite lovely glass pendant lighting.
SUSTENANCE & SWILL
Giusto operates from morning until late most days (they are closed on Sundays). There's hot and cold counter food, with an emphasis on the healthier end of the spectrum - nothing deep-fried and there are plenty of gluten-free and vegan options. The brunch menu offers seven dishes. If you read them quickly enough they all appear extraordinarily healthy, with smatterings of kale, garden greens and sprouts throughout the menu. It was enough to persuade me to order the chargrilled gammon (yes, that's ham), with poached eggs, pea polenta, baby tomatoes, micro herbs and and shaved pecorino ($19). It was a big, fat dish: a slab of cooked ham, with two poached eggs, plus a slightly-too-salty pea polenta, which almost had the consistency of a very soupy risotto, a good thing indeed. My friend ordered the textures of tomato with coconut ricotta, basil oil and kale crisp ($18), which hit the trifecta: healthy, vegan and gluten-free. Though don't panic, it also came with a fantastic, carby (not so gluten-free, this bit) toast. She said it was delicious, especially the coconut ricotta. We washed our meals down with some quite tasty pineapple juice ($8).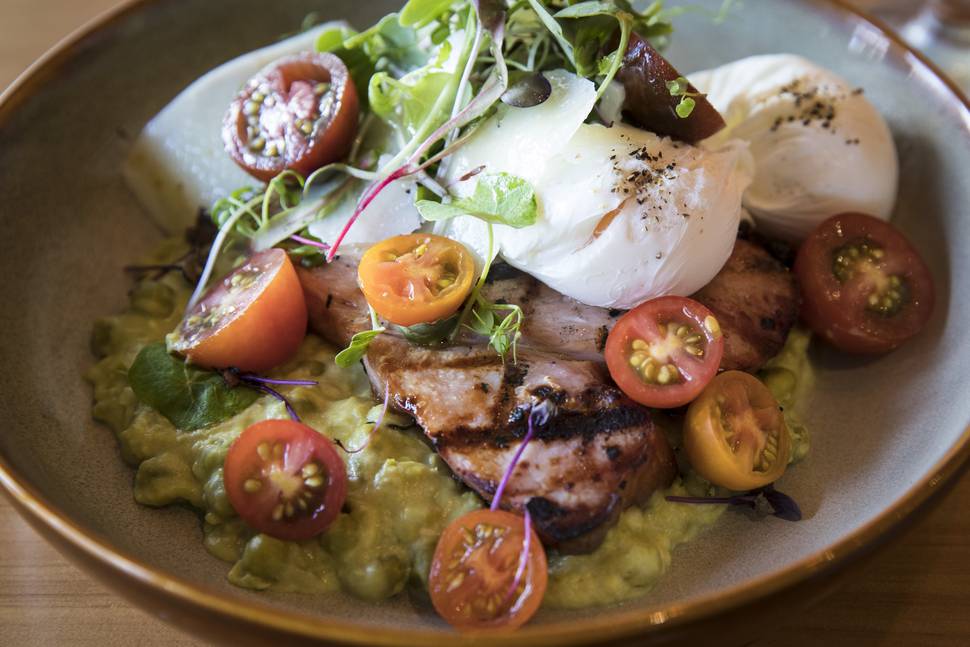 SERVICE & OTHER STUFF
Honestly, if you can't get reasonably stupendous service when you're the only customers, then something is wrong, though it has happened to me in the past. Not here. Just on the right side of puppy-dog friendly, in fact, with a bit of friendly banter to start and an unfailingly positive attitude. When I remarked that all that construction work must be hard on the business, the response given was that come a year's time, there would be hundreds of apartment-dwellers looking for somewhere to eat. Let's hope they make it to Giusto.