The most glamorous night in Hollywood has kicked off with stars taking to the red carpet for the 89th Academy Awards ceremony.
And if there's one thing we've learned, it's that even A-listers well versed in red carpet dressing can get it wrong. This year, from Emma Stone to Chrissy Teigen, the colour of choice looks to be champagne with a clear trend in soft, ethereal fabrics.
READ MORE:
• The best Oscars dresses ever
• Meryl Streep: My Oscars are ruined
• Crazy things celebrities do to get red carpet ready
While big names such as Meryl Streep and Natalie Portman, both contenders for Best Actress, were near no-shows on the carpet, it's been a lively parade complete with garish couture and a shocking wardrobe malfunction.
Here is the best, worst and weirdest in Oscars fashion, as it happens.
Emma Stone
Hollywood's golden girl, Emma Stone has made a timeless choice with this simply cut, metallic dress offset by classic waves and a bold lip.
Priyanka Chopra
Possibly the most futuristic dress among a sea of old Hollywood style gowns, Priyanka stands out in this architectural, textured number.
Halle Berry
An example of taking 70s disco a little too far, we're having trouble focusing on Berry's dress thanks to her wild 'do.
Jessica Biel and Justin Timberlake
They may be one of Hollywood's best looking couples, but Biel's confusing combination of a camo-gold dress adorned with a spiked choker is a let down from this seasoned red carpet goer.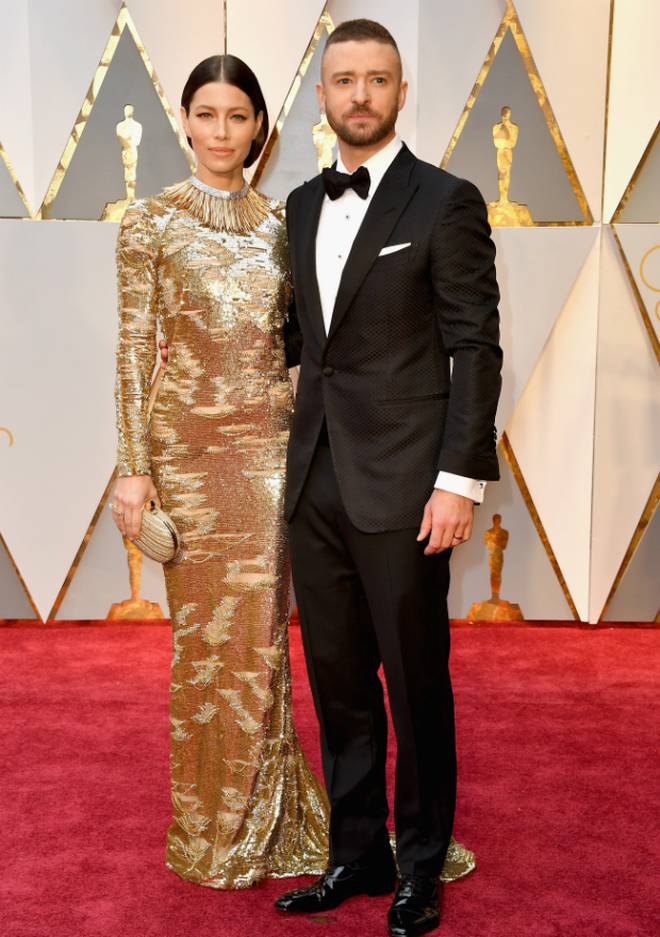 Janelle Monae
It may be couture but there's just too much going on with this sheer, applique, striped, spiked, belted ... dress.
Michelle Williams
It is sleek and chic, but for an Oscars dress, this is a little too casual.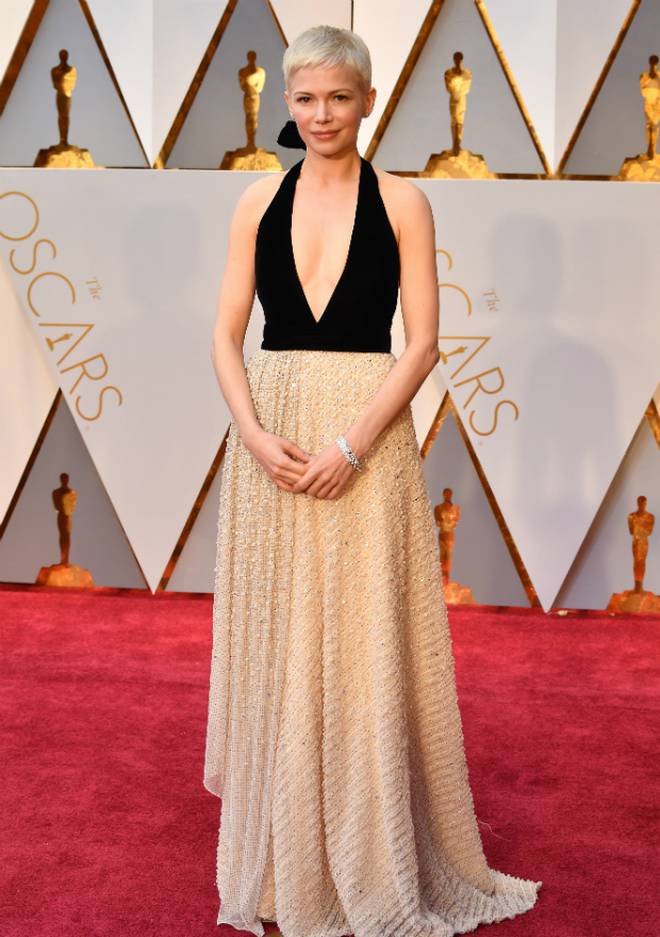 Alicia Vikander
Vikander created a hard act to follow when she hit last year's Oscars carpet in a stunning pastel yellow gown. This year's look is a little too flamenco dancer and not enough glam.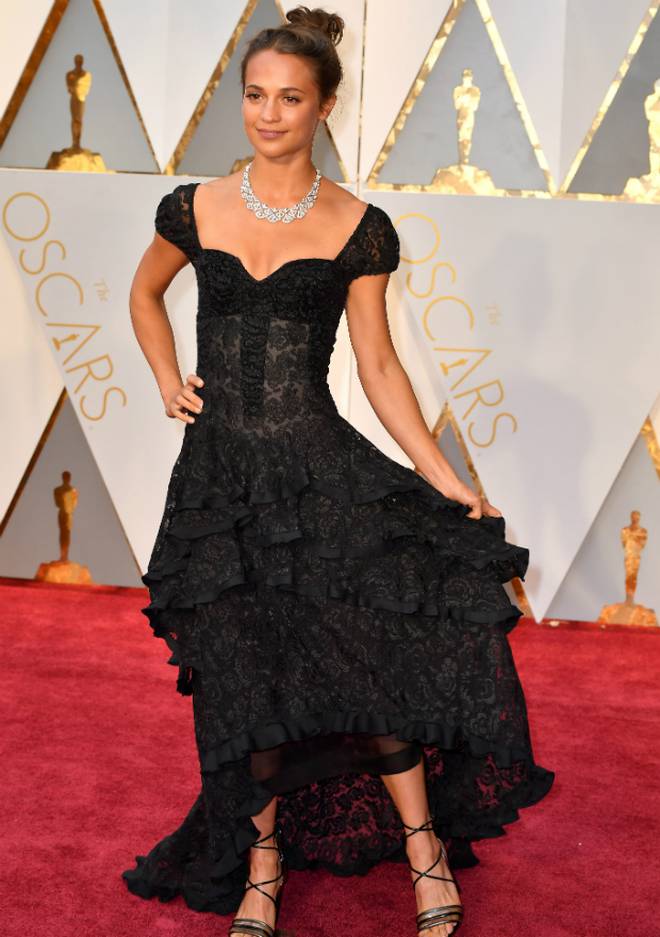 Chrissy Teigen
Always a stunner, Teigen's figure-hugging silk gown - in what looks to be 2017's Oscars colour of choice - is perfection.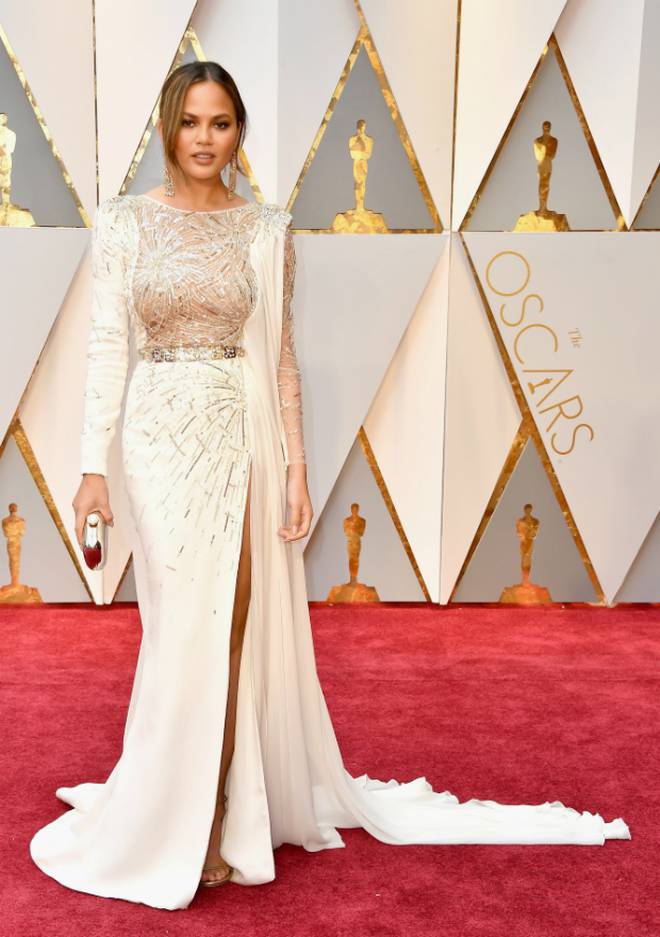 Kirsten Dunst
Opting for black sets Dunst apart from the vast majority who went for soft fabrics and shades on this year's carpet. The full skirt, drop hem and impossibly cinched waist make for a modern update on an old Hollywood look.
Ryan Gosling
Ever the dapper dresser, Gosling puts a fun spin on the usual suit with a frilled shirt and bow tie.
Octavia Spencer
Hidden Figures
star Octavia Spencer is regal in this feathery dove grey gown. Her hair and makeup work well to complete the look.
Dakota Johnson
An odd choice from the star of Fifty Shades Darker, Johnson looks washed out in this Star Wars-esque number.
Hailee Steinfeld
Teen singing sensation and star of The Edge of Seventeen, Steinfeld is stunning in this dreamy floral number with ruffled collar and dramatic train.
Nicole Kidman
She's made some odd red carpet choices this year, but today Kidman strikes it right in this delicately beaded dress.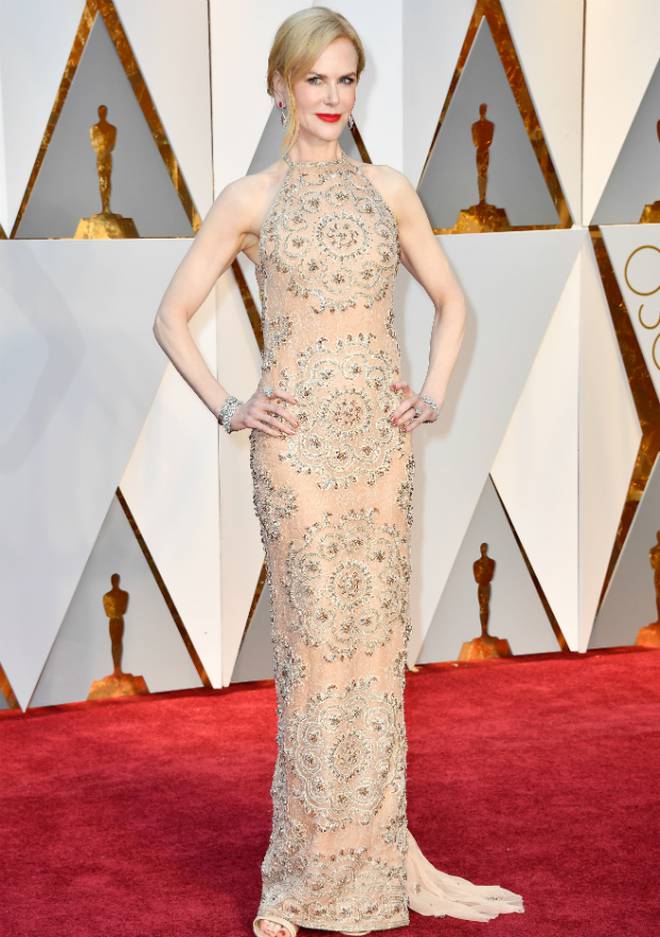 Emma Roberts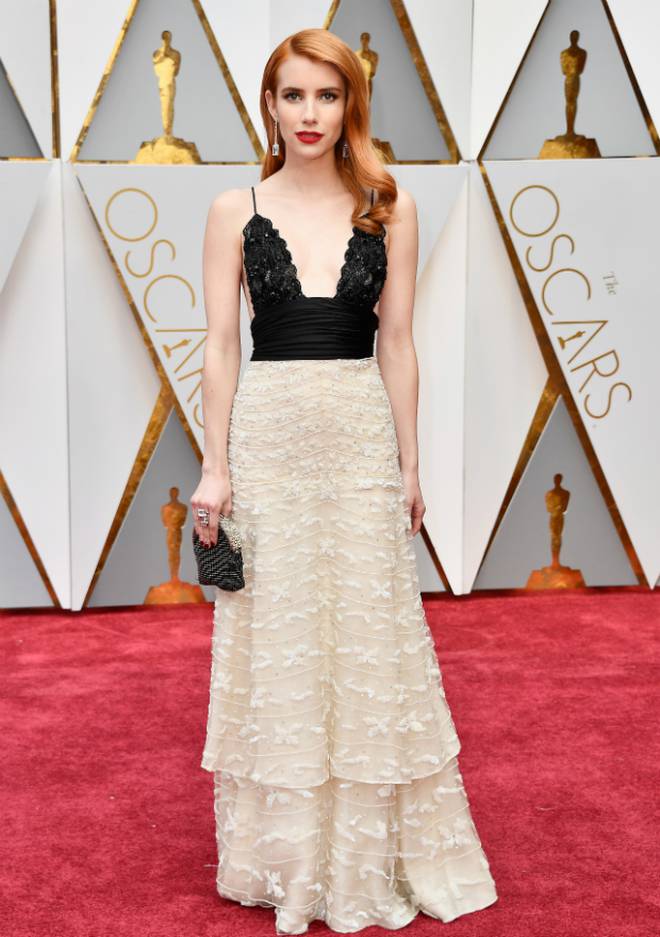 Roberts opted for vintage Armani Prive with this closely cut, two-toned look she explains is a "sustainable" dress.
Sunny Pawar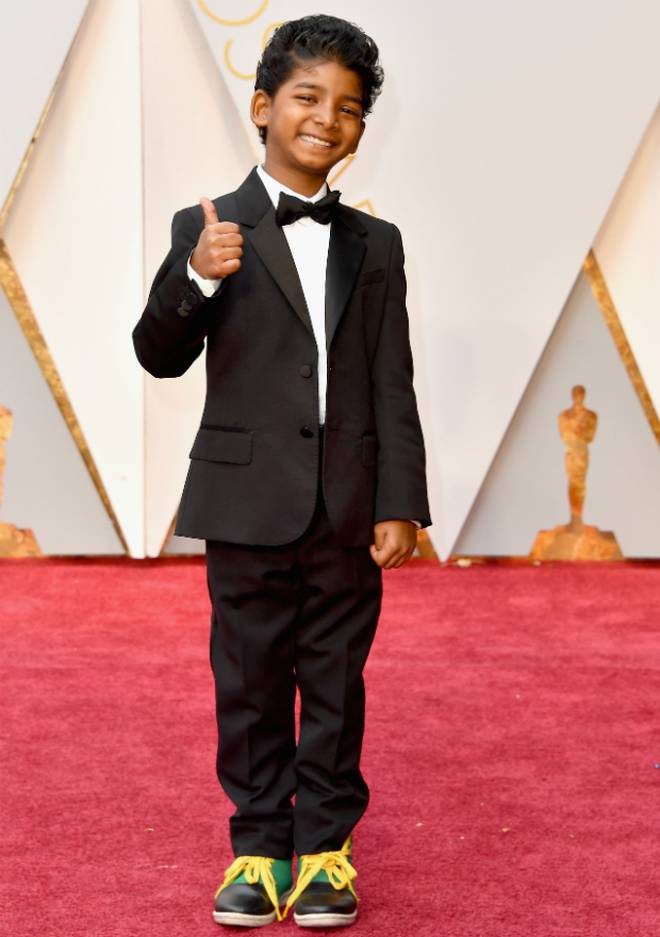 This year's cutie on the carpet, the young star of Lion looks right at home as he poses in his suit and colourful kicks.
Felicity Jones
Rogue One
star Felicity Jones looks like a ballerina in this soft tulle dress with delicate details. We're predicting this champagne shade will be a trend on this year's carpet too.
Jackie Chan
Explaining to Ryan Seacrest that his bears go everywhere he goes, Chan's own outfit is lost to his panda plush toys dressed in space boots and rain coats.
Nancy O'Dell
Entertainment Tonight host Nancy O'Dell puts an architectural spin on a classic red corset gown.
Ryan Seacrest
Seasoned red carpet host Ryan Seacrest is the epitome of old Hollywood glam in this cream and black tux.
Giuliana Rancic
Last year fellow red carpet veteran Giuliana Rancic announced capes were "so 2015", so we're surprised to see she's bringing the look back a year later.
Blanca Blanco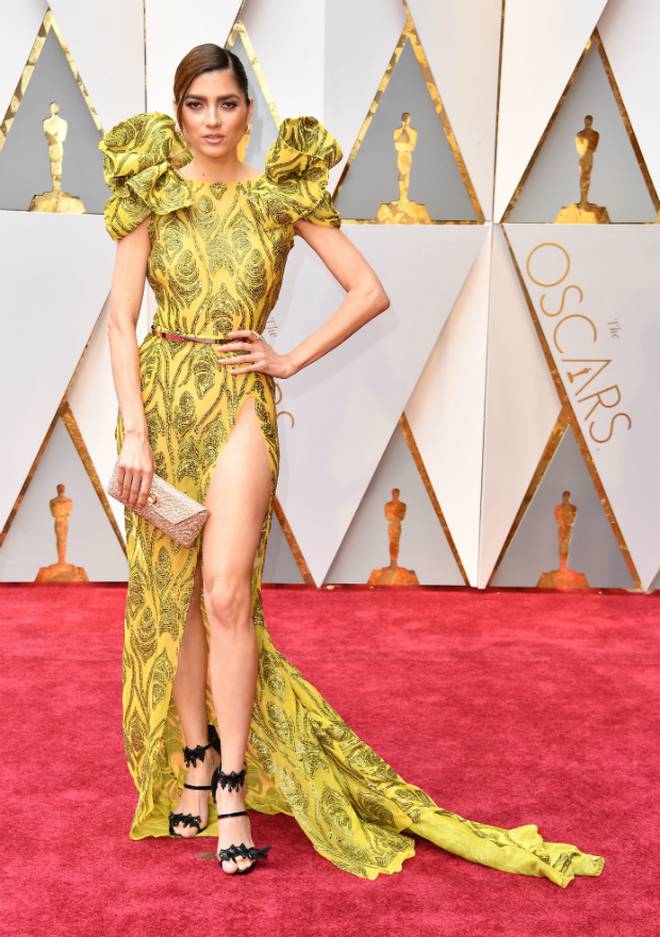 The exaggerated puffed-sleeve and stand-out chartruese shade aren't enough to distract from how revealing this actress' dress is. Could this be a wardrobe malfunction just 10 minutes in?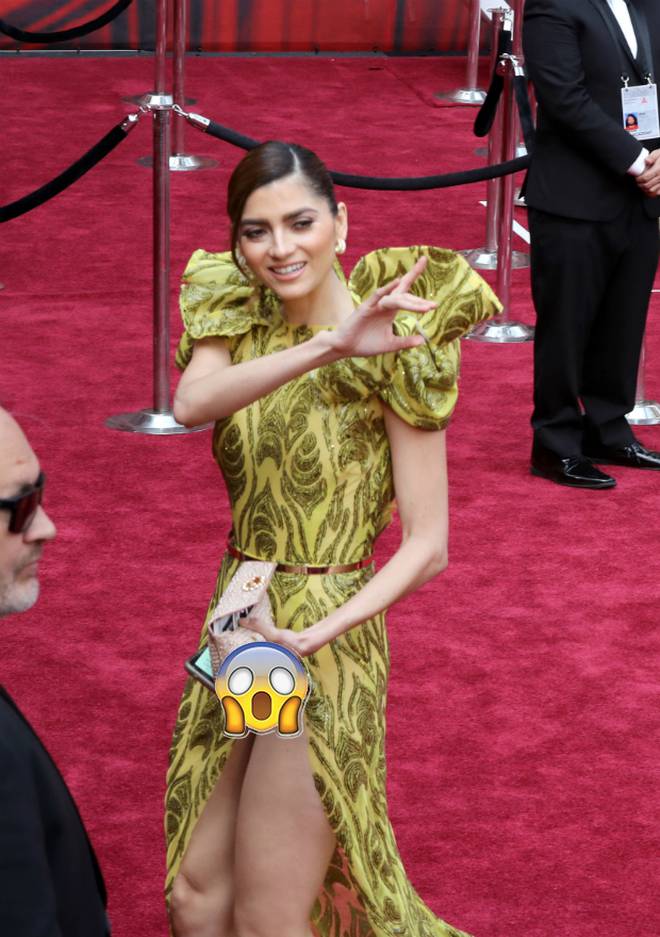 Zuri Hall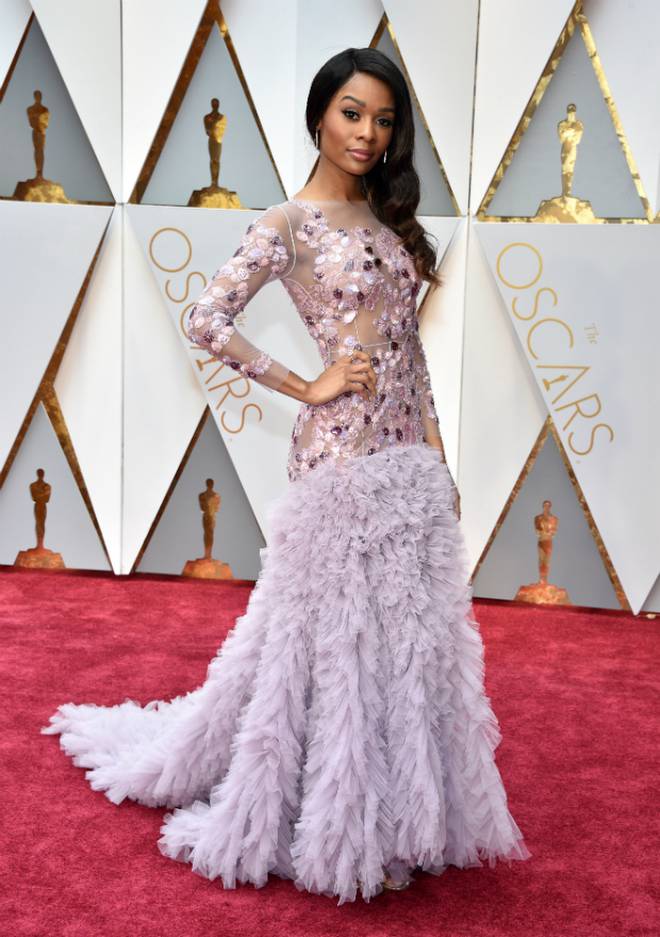 One of the first looks to hit the carpet, TV presenter Zuri Hall signalled an interesting line-up with this frothy lavender number.