Mix and match herbs and spices to take dressings around the globe.
I love the chop-and-toss approach to summer cooking, those one-dish meals you can throw together with the bounty of summer produce that don't require any cooking, except perhaps some quickly grilled meat. When it's hot and I don't feel like cooking, this is my favourite way to eat.
Now that my garden is in full summer production I've been on a run of various iterations of this theme. If we have steak at hand, it often ends up in a Thai-style beef salad. I start with a big bowl of chopped cucumber and tomatoes, thinly sliced red peppers and spring onions, some crunchy lettuce and loads of fragrant herbs such as basil, mint and Vietnamese mint. The steak goes on the barbecue and, after it has rested, is thinly sliced and added to the salad, then the whole lot gets tossed together with a zippy Asian dressing. In less than 15 minutes dinner is on the table and, best of all, there are no pots and pans to clean up.
Regardless of the kind of salad you're planning, the dressing is the essence of the whole thing. With a good dressing, even the simplest of salad ingredients shine.
I find that working in flavour families is the best approach. If I'm using plain yoghurt as a base and looking for a Middle-Eastern flavour, I always add garlic crushed with salt, lemon, perhaps a spoonful of tahini and a little cumin, Moroccan spice mix or smoked paprika. Dill, mint or parsley are all good herbs to complement the flavours.
If it's an Indian-style yoghurt dressing I want, then coarsely ground toasted spices such as cumin, coriander and a little fennel or fenugreek will deliver the right balance, along with garlic, ginger and turmeric for colour. Coriander leaves work well too.
Mediterranean dressings usually involve olive oil and wine vinegar or sherry vinegar, salt, pepper and a good dollop of Dijon mustard to make the mixture emulsify. Garlic is optional. Often I will turn this mixture into more of a deli dressing by adding chopped Kalamata olives, capers and semi-dried tomatoes. If Italy is where my palate is heading, then pesto is a good base, thinned to a drizzle with extra-virgin olive oil and seasoned with a little salt, lemon zest and, perhaps, some parmesan.
For Southeast Asian flavours it's all about chillies, fish sauce, vinegar or lime juice with added aromatics such as garlic, lemongrass, ginger, lime zest and shredded kaffir lime leaves. And to go Japanese I look to soy sauce, ginger and sesame - either in a vinaigrette or mixed into a mayo - to take the flavours in the right direction.
Chilli Jam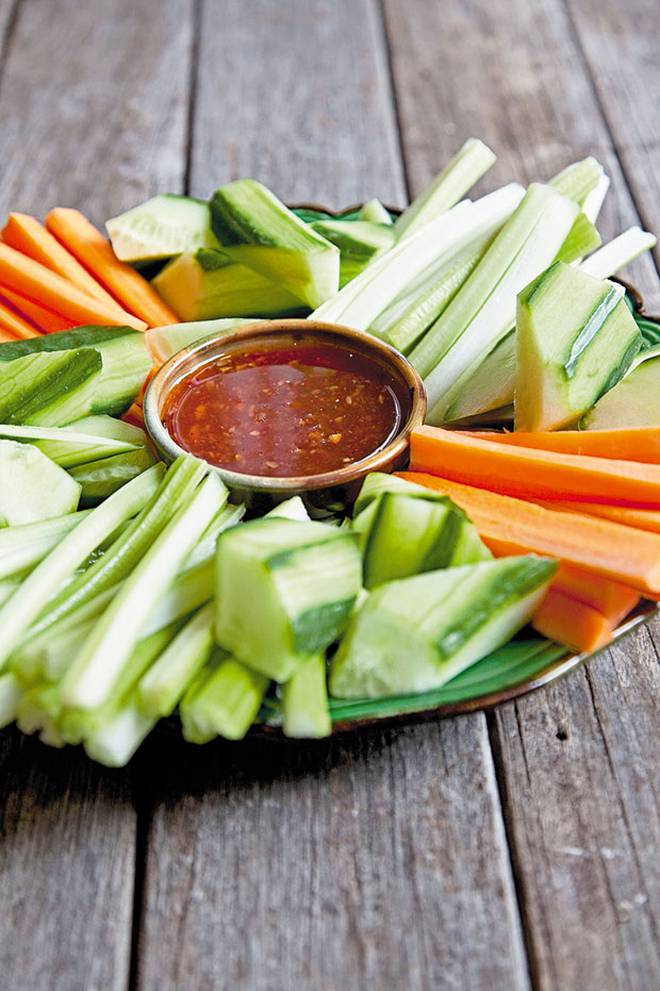 Ready in 20 mins
Makes 1 jar (2 cups)
200g fresh ginger, peeled and coarsely chopped
6-8 long red chillies, coarsely chopped
2 double kaffir lime leaves, de-veined (optional)
1 head garlic, cloves peeled
Zest of 4 limes, finely grated
2½ cups caster sugar
½ cup water
½ cup rice vinegar
3 Tbsp fish sauce
1 tsp soy sauce
Sterilise a 2-cup capacity screwtop jar and its metal lid. Puree the ginger, chillies, kaffir lime leaves and garlic if using, to a coarse paste. Place in a pot with the lime zest, sugar, water, rice vinegar, fish sauce and soy sauce. Stir over a medium heat until the sugar dissolves, then boil for about 10 minutes until reduced by a third. It will bubble up like jam. Spoon the hot chilli jam into the warm, sterilised jar until it is filled to within 3mm of the top. Seal with the screw lid. Once opened, store chilli jam in the fridge. It will keep for months.
Annabel says: Now that chillies are in season it's a great chance to make up a big batch of chilli jam. There are lots of varieties of chillies, all with different levels of heat. The rule of thumb is usually the smaller, the hotter. If you prefer a milder sauce, use 2-3 chillies and a large red pepper. I use this Chilli Jam as a dipping sauce for vegetable bites, or to tin it out for a dressing I add 2 tbsp rice vinegar and 1 tbsp fish sauce for every ¼ cup of Chilli Jam. You could use a commercial thai sweet chilli sauce instead, but the homemade version is much punchier and more aromatic. It's fabulous over a Thai beef salad or any Asian noodle salad.
Lemony Tahini Dressing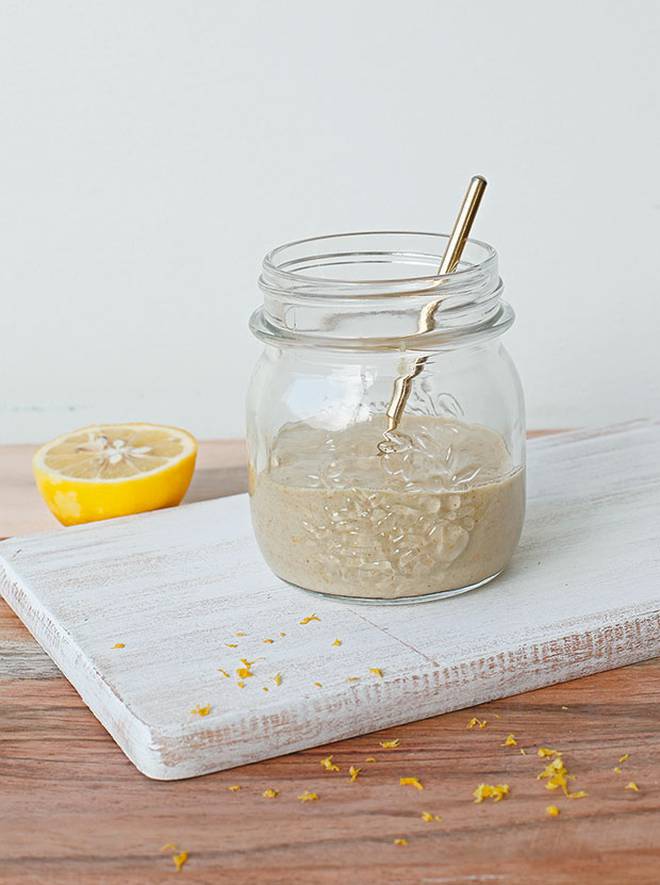 Ready in 5 mins
Makes about 1 cup
1 fat clove garlic, crushed
3 Tbsp lemon juice
2 Tbsp soy sauce
2 Tbsp tahini
2 Tbsp water
Shake all ingredients together in a jar.
Store in the fridge for up to a week.
Annabel says: I always keep a big jar of tahini in the fridge - it goes well with both Middle-Eastern and Japanese flavours when you are using sesame seeds or sesame oil. Give it a good stir before you use it as, like peanut butter, it gets very solid at the base. This makes a great creamy dressing for any kind of grain, rice or spinach-based salad, and also goes well with roasted vegetables, lamb and chicken.
Provençal Dressing
Ready in 5 mins
Makes 1½ cups
1 large tomato, finely chopped
Zest of 1 lemon, finely grated
¼ cup boutique extra-virgin olive oil
2 Tbsp lemon juice
2 Tbsp chopped parsley leaves
1 Tbsp chopped black olives
1 Tbsp chopped capers
Salt and ground black pepper to taste
¼ cup slivered almonds, roasted
Place all ingredients except almonds in a small jar and shake to combine. The dressing can be made in advance and stored in the fridge until needed. Just before serving add almonds and shake to combine.
Annabel says: This fantastic chunky dressing brings the taste of summer to all kinds of salads and vegetable dishes. It works wonderfully with lamb, grilled eggplants and peppers, couscous, pasta and quinoa salads. Add some crumbled feta if desired.