One of New Zealand's most fashionable events, the Landrover NZ Polo Open 2017 is just around the corner.
Viva magazine's Fashion in the Field has an incredible array of prizes including Best Dressed Woman, Best Dressed Man and Best Shoe.
When it comes to polo fashion think cool and breezy dresses. Mix white with soft, pastel pieces, while romantic florals give true feminine appeal.
Dione Ties dress in pink $599
Lurex gold socks $49
Both from Kate Sylvester
If you're heading for the Veuve Clicquot Rose Garden Marquee, this is the perfect choice. Its hue will match the divine blooms on display. Team with a wide-brimmed floppy hat.
Pool shirt $349
Lucy culottes $299
Both from Ingrid Starnes
Culottes are a great way to beat the heat while still remaining chic. Swap the heels for a terrain-friendlier pair of wedges and get ready for the traditional "stomping of the divots".
Camilla & Marc Evie draped dress $716
Makeup at the polo is all about a fresh, luminous complexion. Create gorgeous radiance by using an illuminator under or on top of your foundation
First Glimpse top $129
Ebony skirt $159
Both from Blak
An off-the-shoulder piece works well in highlighting a beautiful decolletage. Buff skin with an exfoliator then add a bronzing product for a sun-kissed glow.
Rosa playsuit $199
Bambi heel $299
Both from Ruby
Prepare for a hot day and choose a fun, breezy playsuit. High-waisted shorts elongate the legs making it a great choice for petite ladies.
Madeline in ivory $550
Double pearl earrings $45
Both from Natalie Chan
Fresh white is great in summer. Add polo-worthy accessories. A woven clutch bag, tan leather belt, equestrian-chic style loafers and a straw boater all help create a bold statement.
Ammie dress by Adrianna Papell $549
From Glamour Boutique
Lead the field in the style stakes with this 50s-style floral dress. This design looks particularly incredible on those with hourglass figures.
Polo essentials for him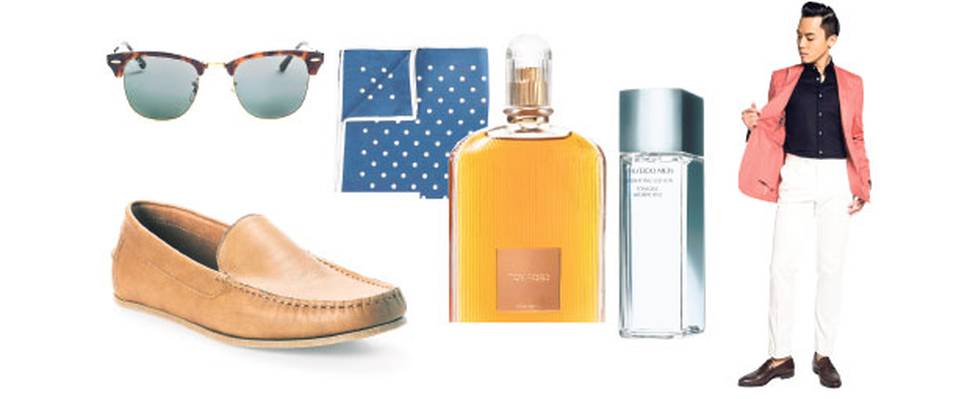 Ray-Ban Clubmaster Tortoise/Arista Crystal Green $240 from Superette
Drake's Navy Spot Pochette $139 from Crane Brothers
Country Road Burley driving moccasin in tan $179
Tom Ford for Men 100ml Eau De Toilette $190
Shiseido Men Hydrating Lotion 150ml $51
Omodeo jacket $1295
Lugano shirt $295
Larvotto trousers in bone $395
All from Crane Brothers
Polo essentials for her
Sass and Bide Faded Bloom sunglasses $269
Kathryn Wilson Lauren loafer $399
Louis Vuitton Rose de Vents perfume 100mls $420
Too Faced Papa Don't Peach peach-infused blush $47 From Mecca Beauty
Zoe & Morgan Chandra earrings in gold $359 (Available from February 20)
Natalie Chan Ciao Bella boater in vanilla $420