A tantalising trio of taste bud tempters for that special meal.
In her book The Alphabet for Gourmets, American writer M.F.K. Fisher wrote a brilliant essay entitled "How to UnSeduce". This provided all the guidelines for discouraging an amorous suitor - Fisher was famous for her liaisons and very much the female Casanova. In such a situation she would invent a menu that would "floor him like a stunned ox, and turn him, no matter how unwittingly on his part, into a slumberous lump of masculine inactivity".
A great deal of booze appears to be involved, along with an assortment of dangerously rich foods ... "I would serve one too many martinis, that is, about three. Then while his appetite raged, thus whipped with alcohol, I would have generous, rich, salty Italian hors d'oeuvres: prosciutto, little chilled marinated shrimps, olives stuffed with anchovy, spiced and pickled tomatoes - things that would lead him on. Next would come something he no longer wanted, but could not resist, something like a ragout of venison, or squabs stuffed with mushrooms and wild rice, and plenty of red wine, sure danger after the cocktails and the highly salted appetizers. I would waste no time on a salad, unless perhaps a freakish rich one treacherously containing truffles and new potatoes. The dessert would be cold, superficially refreshing and tempting, but venomous: a chilled bowl of figs soaked in kirsch, with heavy cream. There would be a small bottle of a Sauterne, sly and icy, or a judicious bit of champagne, and then a small cup of coffee so black and bitter that my victim could not down it, even therapeutically.
"All of this would be beautiful fare in itself and in another part of time and space. Here and now it would be sure poison - given the right man. I would, to put it mildly, rest inviolate ... "
Come Valentine's Day, most of us are looking for food that will create the opposite effect - a light and tantalising menu that avoids any soporific effects is the order of the day. It's important that the food makes you look proficient - you don't want to leave the person you're entertaining twiddling their fingers while you toil away getting sweaty over the stove. So here's the plan - an impressive starter that can be assembled ahead of time, a light, stylish main of crusted lamb that, again, can be prepared in advance ready to pop in the oven, and a dessert that requires only three ingredients. I've even provided a foolproof prep plan to guide your way. Here's a toast to Cupid!
Countdown plan
In the morning
• Make chocolate mousse
• Make beetroot confit
• Coat lamb in pistachios, cover and chill
• Prepare avocado towers and chill
• Prepare salad greens and chill in a bag to keep crisp
• Make dressing
• Scrub new potatoes and place in a pot of cold water with a little salt
To serve
• Bring lamb to room temperature, roast then remove from the oven, cover and rest
• Boil potatoes until tender then remove from the heat and let them stand in the cooking water
• Serve the starter
• Dress salad just before serving with the lamb and potatoes
• Serve chocolate mousse
Salmon and Avocado Towers
Ready in 10 mins
Serves 2
100g raw salmon, gravlax or cold-smoked salmon, finely diced
Zest of ½ a lemon, finely grated
2 tsp chopped dill or tarragon
Salt and ground black pepper, to taste
Flesh of 1 large, just-ripe avocado
1 Tbsp lemon juice
¼ cup peeled and finely diced cucumber
½ spring onion, finely chopped
A small handful of microgreens or basil leaves, to garnish
A drizzle of extra-virgin olive oil or lemon-infused oil, to garnish (optional)
Mix salmon with lemon zest, dill or tarragon and salt and pepper to taste. In a separate bowl, mash avocado with lemon juice until creamy and smooth. Mix in cucumber, spring onion and salt and pepper to taste. Place two 6-8cm ring moulds on to two small serving plates (cleaned 7cm-diameter tin cans with both ends removed work well but watch out for sharp edges). Divide half the avocado mixture between the two moulds and press gently with the back of a teaspoon to form an even layer. Divide the salmon mixture between the moulds on top of the avocado and smooth down evenly. Divide the remaining avocado on top of the salmon and smooth the tops. Chill until ready to serve. When ready to serve, simply lift the moulds up to reveal the towers. Top with a garnish of microgreens or basil and a sprinkle of salt and pepper. Drizzle a little extra-virgin oil or lemon-infused around the plate if desired.
Annabel says: These look impressive, taste great and are an easy make-ahead assembly. Form the mixture into the moulds on serving plates and chill until you're ready to serve them. To serve just remove the moulds and garnish.
Pistachio-Crusted Lamb Loin with Beetroot Confit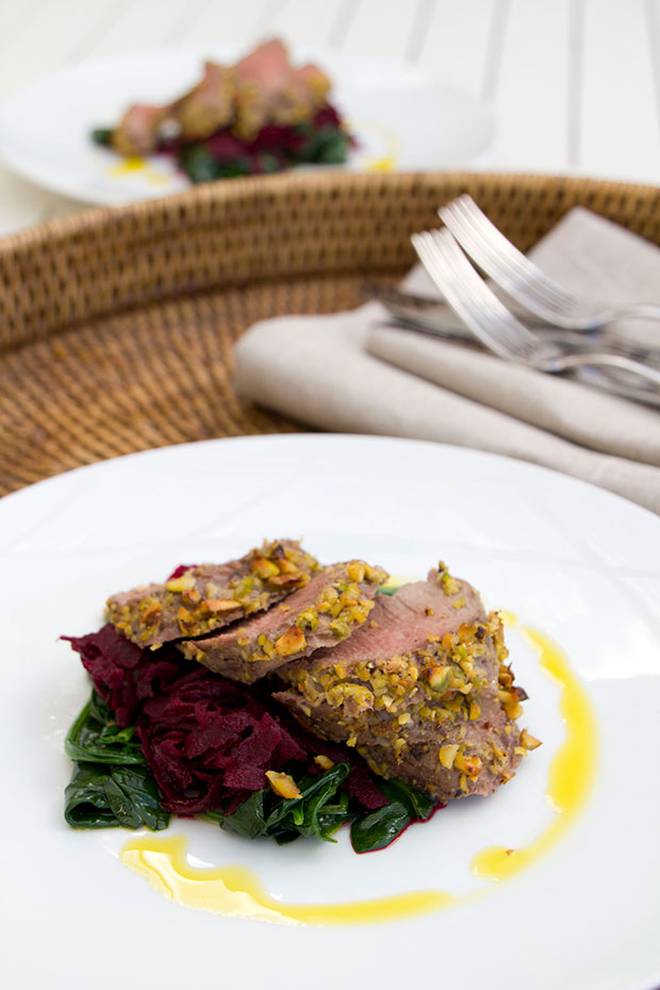 Ready in 30 mins
Serves 2
300-350g lamb loin
2 Tbsp very finely chopped pistachios
Zest of ½ lemon, finely grated
Salt and ground black pepper, to taste
1 egg white
120g fresh spinach, tough stalks removed
A splash of extra-virgin olive oil
2 tsp boutique extra-virgin olive oil
Beetroot confit
2 medium beetroot
2 bay leaves
A sprig of mint
2 Tbsp extra-virgin olive oil
2 Tbsp red wine vinegar
2 Tbsp sugar
½ tsp five-spice powder
Salt and ground black pepper, to taste
½ cup water
To make the confit, peel and grate the beetroot and place in a pot with all other ingredients. Cover and simmer until tender, then remove the lid and cook until the liquids have evaporated (12-15 minutes total). Lift out and discard bay leaves and mint. Serve at room temperature. Beetroot confit keeps for 2-3 days in the fridge and any leftovers are good cold in sandwiches or with cold meat. To make the lamb crust, mix pistachios and lemon zest with a little salt and pepper on a chopping board. Lightly whisk the egg white in a shallow dish. Coat the lamb fillets in the egg white, shaking off any excess, then roll them in the pistachio mixture to coat. Place the lamb on a roasting dish lined with baking paper for easy clean-up. It can be prepared ahead to this point, stored in the fridge for up to 8 hours and brought back to room temperature for 30 minutes before cooking. To cook the lamb, preheat the oven to 240C fanbake. When the oven is super-hot, roast lamb until cooked to your liking (about 8 minutes for medium-rare). Remove from the oven, cover and rest for 5-10 minutes. Just before serving, place washed spinach into a pan with a splash of olive oil and a little salt and pepper. Cover and cook until wilted (about 1 minute). Divide wilted spinach between 2 heated plates and top each plate with a mound of beetroot confit. Angle-slice lamb loin thinly and divide between plates. Drizzle 1 tsp of boutique extra-virgin olive oil around each plate and serve.
Annabel says: Lamb loins are a real treat - sweet, tender and not a skerrick of fat. Take care not to overcook them, as they are nicest slightly rare. This whole dish can be prepared ahead of time ready for a quick flash in the oven. It's great served with boiled new potatoes and a crisp green salad. Keep the leftover beetroot confit in the fridge for sandwiches.
Three-Ingredient Chocolate Mousse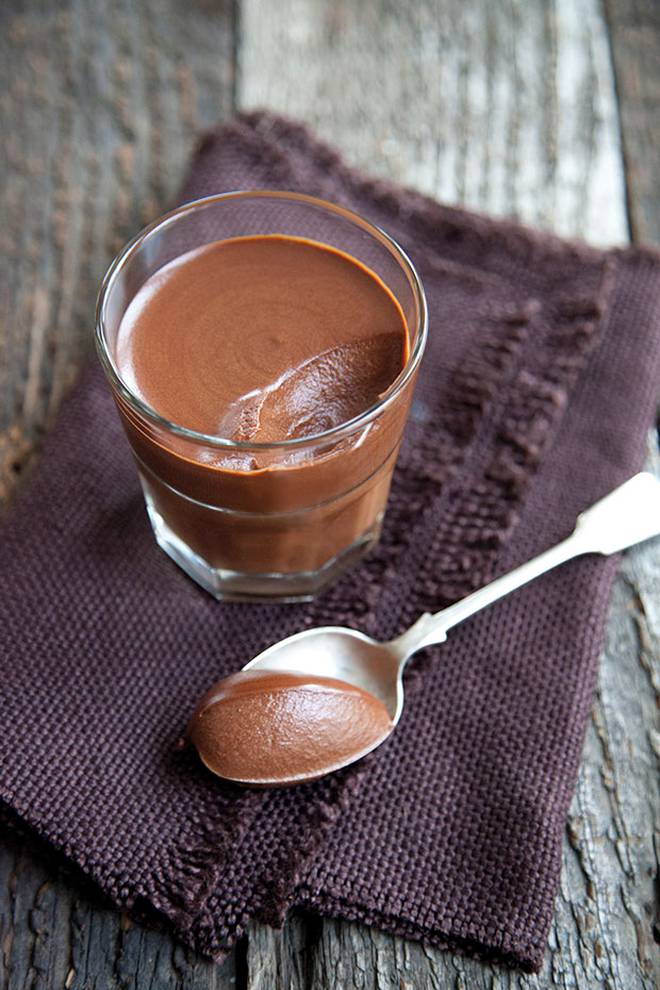 Ready in 15 mins + cooling + setting
Serves 2
100g dark chocolate (ideally at least 70% cocoa solids), coarsely chopped
1 cup cream
½ cup chopped marshmallows
Heat chocolate, half of the cream and marshmallows in a dry, heatproof bowl over a pot of simmering water, stirring until melted and smooth (about 10 minutes). Remove from heat and allow to cool to room temperature. Beat remaining cream to soft peaks and fold through chocolate mixture. Divide between 2 or more glasses or bowls and refrigerate for at least 6 hours or overnight before serving.
Annabel says: This delicious silken chocolate mousse is very rich, so you'll need only a small glass or bowl each.