Address: 82 Hinemoa Street, Birkenhead Point
Phone: (09) 419 9082
We spent: $225 for two
Rating out of 10: Food: 8.5 Service: 8 Value: 8 Ambience: 8
The tables are pale pink. My lemonade is pale pink. There is, possibly, more pastel in this room than a mid '80s Fashion Week.
Verdict: Gorgeous.
Moxie Restaurant is not funky or edgy or difficult. The food comes on plates, the drink comes in glasses and the chairs have backs on them. It's Miami Vice meets The Hamptons and also proof that it's possible to open a new restaurant without exposing the heating ducts or forcing the waitstaff to wear plaid.
Shoreites may recognise the Hinemoa St address as that of the frequently feted Eight.Two. This reincarnation stakes a claim in the $32-$36 mains market, but it also does a stellar bowl of properly crispy and fluffy fries (with kewpie mayo and a sprinkle of furikake rice seasoning) for eight bucks. Grab a beer - the list includes a hyper-local IPA from the Birkenhead Brewing Company - and a seat in the front or back courtyards for not-your-average $12 bar snacks - salmon wings with xo sauce, spiced date and pistachio with smoked labneh, etc.
It was high summer in Auckland, so we sat inside for our three-course affair. The best seat in the house is actually a stool, at a table in the bar that looks straight out to Rangitoto. There would be few finer places to be sipping a signature cocktail when the Wilberforces return.
In the main dining room, my $16 Moxie Lemonade (camapari, vodka and Bundaberg lemonade) matched the decor. Prettily delicious.
A word about how the menu works: It's designed so each person can choose an item that will be delivered, exclusively, to the space between their knife and their fork. Revolutionary!
You can divvy your entrees if you want to, but rest assured nobody is going to deliver a five-minute treatise on the definition of "shared" - quite possibly a word you've probably been using since pre-school.
Milk buns did not turn out to be the new sliders. They turned out to be sliders. Three small, soft white buns ($18) were packed with juicy, sticky pork, fresh mung beans and citrus zest. A meaty, fatty, nutty farmhouse terrine ($18) was cut with an excellent ginger-spiked peach chutney and came with enough toasted pumpernickel soldiers that we did not have to order extra. Revolutionary!
Moxie is doing so much right for diners who just want nice food in nice surroundings. This is suburban dining, but the dishes were infinitely more finessed than, say, a neighbourhood pub, where steak and chips have begun to routinely push $30-plus dents in the wallet.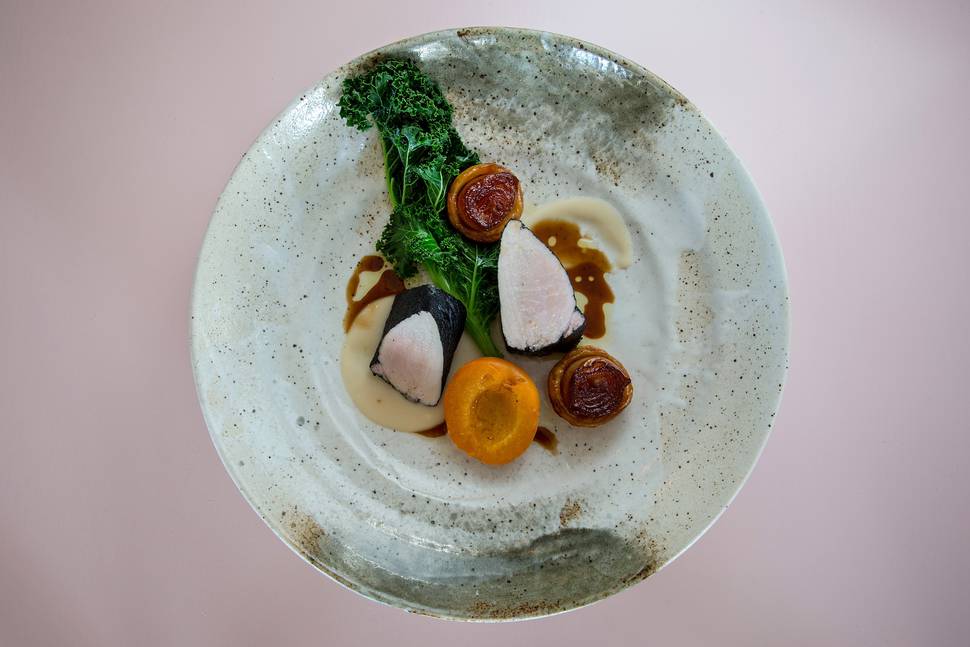 I ordered the market fish ($36) - a slab of perfectly cooked hapuka with a tapenade-style topping that blurred into piles of roasted peppers, dabs of basil pistou and a scattering of chorizo. A robust Mediterranean-flavoured smack in the mouth.
The pork loin, which was rolled in a burnt-leek ash, had maybe spent some time in a sous-vide machine - how else to explain its obscenely moist interior? It came with a white-bean puree and a roasted apricot, which lent an unexpected old-school grace to an otherwise modern plate.
Fresh and clean flavours were a hallmark of all our choices, served in a light, bright room that makes you feel like you're beachside. I wonder how the high-pitched ceiling acoustics would cope on a really busy night, but mid-week, with a smallish crowd that included kids and couples, we could still hear ourselves thinking about dessert.
Actually, I'm still thinking about dessert. The gingernut base on a banana parfait nearly bent my spoon, but across the table, the chewy strands of malibu-infused fresh coconut made a yuzu-topped semolina cake ($15) wildly more interesting than your average night in the 'burbs.