Choose carefully and you can enjoy the bounty of kai moana.
My grandfather, Put, was a mad-keen fisherman. In summer we would take the world's worst road to Tennyson Inlet in the Marlborough Sounds, where his launch, the Shangri La, was moored.
We would load our supplies on board and head to D'Urville Island at the outer west of the sounds to fish the groper holes there for a few days. I remember my grandfather coming up from the galley with big platters of the most delicious hot crispy battered cod he had whipped up.
"So fresh its next of kin haven't been notified," he would say.
Back in Wellington, where we lived, there was always a weather watch for fishing. When the wind swung around to blow offshore, my uncle Tony would call and we would all head off to the beach to help put his Kon-tiki raft out. I remember he used a barley sugar to hold the line of hooks on the raft. By the time the sweet had melted in the salt water the contraption would be way out in the deep briny, and the line would drop down with all its baited hooks.
We would sit on the beach and have a bit of a picnic, waiting for a few hours before winding the whole thing in again. It was always such a thrill seeing what came back in, be it snapper, tarakihi or gurnard - and even the odd shark.
These days many of our favourite fish species are under real pressure, so to ensure our kids and their kids will still be able to enjoy the pleasures of fishing we need to think about the way we fish and the types of fish we eat.
All over the globe, organisations are working to provide education and support around sustainable fishing practices, as well useful information to help consumers to make good choices.
Here in New Zealand, Forest & Bird has recently updated its Best Fish Guide using the best available science, independently reviewed by expert marine scientists. It uses a traffic-light system (red means stop, amber means proceed with caution and green means you're good to go) to rank more than 85 commercial species of fish and seafood according to which are "good choice" options and which to avoid.
Available to download from their website or as a free cellphone app, it's useful to guide your choices when you're at a fish shop, supermarket or restaurant, and also includes free recipes (including some of mine) for cooking the species with a green or amber rating. Find out more at bestfishguide.org.nz. In the meantime, take a fresh look at some of our more sustainable varieties with these easy summer ideas.
Lemony Shellfish Risotto
Ready in 40 mins
Serves 4
1.5kg cockles or small mussels
1 cup white vermouth, white wine or water
3 Tbsp butter
1 onion, finely chopped
2 tsp thyme leaves
2 cups risotto rice
½ cup white wine
Finely grated zest of 1 lemon
A pinch of chilli flakes
4 cups fish or chicken stock
3 Tbsp lemon juice
¼ cup chopped parsley leaves
Salt and ground black pepper, to taste
Rinse shellfish and discard any that don't snap shut when run under cold water or tapped. Place in a large pot with vermouth, wine or water, cover and cook until they just open (about 3 minutes). Remove from heat and allow to cool.
To make the risotto, melt butter in a large, heavy-based pot over medium-low heat and cook onion with thyme until softened but not browned (5-6 minutes). Add rice and stir over heat to coat in the buttery onion mix. Add wine and cook for another minute until evaporated. Stir in lemon zest, chilli flakes and stock, bring back to a simmer and simmer gently for 15 minutes, stirring occasionally.
While rice is simmering, measure out 1 cup of shellfish cooking liquid. Remove shells from most of the shellfish, reserving a few in the half shell to garnish the dish.
Add the reserved cup of shellfish cooking liquid to the risotto and bring back to the boil. The rice should be tender but al dente - to test, crush a few grains with the back of a heavy knife. There should be only a pinhead of hard white core in the centre of each grain - any more and it needs to cook for another few minutes.
Add the shelled shellfish and bring the risotto back to a simmer. Stir in lemon juice and parsley, adjust seasonings to taste and serve topped with reserved shellfish in the half shell.
Annabel says: Cockles and mussels (both rated green in the Best Fish Guide) are affordable and sustainable seafood options. If you are gathering your own shellfish be sure to source it from areas with no risk of pollution as shellfish are filter feeders and can easily acquire toxins.
Fish Sliders
Ready in 15 mins
Makes 6-8 sliders
4 skinless, boneless fillets firm white fish or salmon
2 Tbsp extra virgin olive oil
Finely grated zest of 1 lemon
1 Tbsp finely chopped parsley leaves
Salt and ground black pepper, to taste
Tartare Sauce
1 cup mayonnaise
1 Tbsp finely chopped gherkins
1 tsp finely chopped capers
1 spring onion, finely chopped
1 Tbsp lemon juice
Salt and ground black pepper, to taste
To serve
6-8 slider buns or soft baps
Salad fixings, such as finely shredded purple and/or white cabbage or salad leaves, and tomato, cucumber and/or radish slices.
To make Tartare Sauce, shake or stir together all ingredients.
To prepare the fish, combine oil, lemon zest, parsley, salt and pepper in a shallow dish or tray, add fish fillets and turn to coat. Heat barbecue hotplate and grill, turning once, until just cooked through (2-3 minutes each side).
To serve, slice slider buns in half horizontally, leaving a little attached at the back as a hinge. Spread with Tartare Sauce then layer with salad fixings. Divide fish between buns, top with a little more Tartare Sauce and serve immediately.
Annabel says: Blue cod (amber rating on the Best Fish Guide) has a nice soft flake and would be great in these sliders. You could also use salmon (green or amber, depending on where it is farmed). Be sure to use a good-quality mayonnaise or make your own - it's super quick and much more economical.
Moroccan Fish Skewers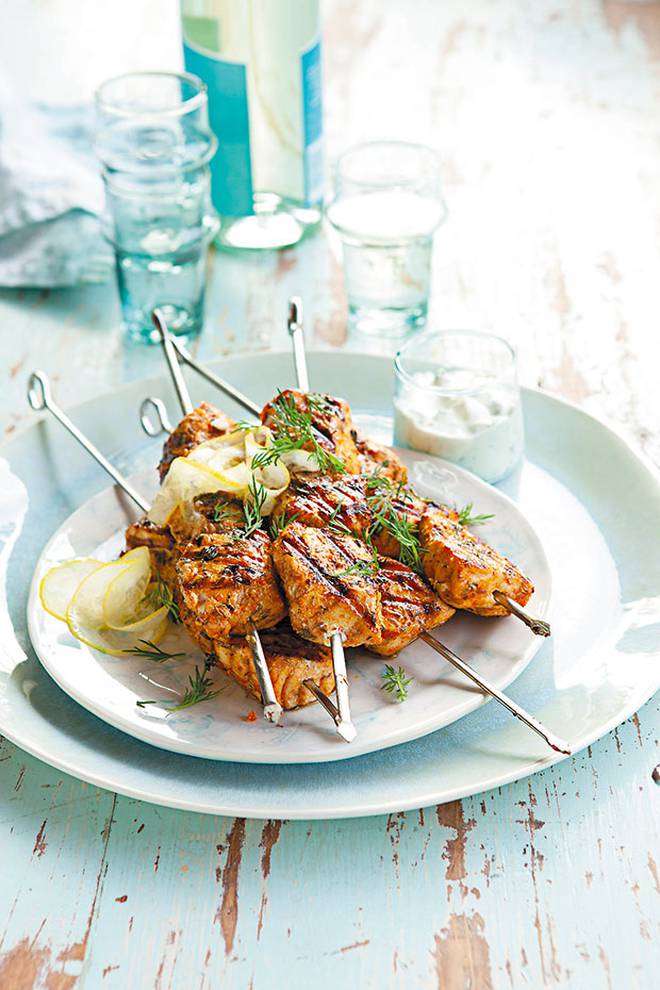 Ready in 20 mins
Serves 4
1kg skinless, boneless salmon, tuna or firm white fish, cut into bite-size chunks
4 Tbsp extra virgin olive oil
Finely grated zest of 2 lemons
2 tsp smoked paprika
2 tsp ground cumin
2 Tbsp fresh or 1 tsp dried thyme or oregano
Salt and ground black pepper, to taste
Dill sprigs and very finely sliced lemon, to serve
Dill and Lemon Yoghurt
½ cup natural yoghurt
2 tsp finely chopped dill
Juice of ½ a lemon
To make Dill and Lemon Yoghurt, stir together all ingredients in a small bowl. Serve skewers garnished with dill sprigs and lemon slices and accompanied by Dill and Lemon Yoghurt.
Place fish in a bowl with oil, lemon zest, smoked paprika, cumin, herbs, salt and pepper and toss to coat. Thread onto 8 barbecue skewers and grill over medium-high heat until cooked (about 2 minutes each side). Garnish with dill and lemon and serve with Dill and Lemon Yoghurt on the side.
Annabel says: The gutsy flavours of smoked paprika and cumin go well with salmon, fresh tuna (skipjack and albacore both get the green light from Forest & Bird) or game fish such as trevally or kahawai (amber rating). If using tuna or game fish, sear the kebabs very quickly so the fish stays really rare - that way it will be buttery and tender inside.