Getting back to our gastronomic roots.
I've been reading Catching Fire: How Cooking Made Us Human, by Richard Wrangham, a book that hypothesises (very eloquently) that the single thing that made us human stemmed from the control of fire and the advent of cooked meals.
Wrangham talks about cooking being responsible for changing the shape of our bodies and our brains, our use of time, our social habits and, perhaps most importantly, the nutritional value of our food. He argues that the extra energy from cooked food gave the first cooks a biological advantage that made them stronger and able to reproduce better.
Popular thinking has the start point of humans' relationship with food and fire as a relatively new activity on the evolutionary scale - some time in the past 100,000 years - and thus not that relevant to our evolution. Homo sapiens stepped on the scene some 200,000 years ago but new evidence shows that our early predecessors, the prehistoric hominins, were using controlled fire much, much earlier. In an ancient cave in Israel that was home to several lineages of prehistoric hominins, artefacts have recently been found that suggest that the controlled use of fire became routine about 350,000 years ago.
It's little surprise that we are so enamoured with barbecueing - it's almost programmed into our DNA in that ancient brain we still carry around. Add in the wonderful sociability of standing around a barbecue as the food pretty much cooks itself, and, of course, the aromas - we sniff the air, our saliva glands kick in, our stomachs rumble, we just want to get in there and start gnawing on bones and licking our fingers. It must always have been this way, the appetising aromas of food cooking over the fire bringing people together - and then the conversation, the ideas, the camaraderie, the shared pleasure of eating together.
As a cook, there's something inherently feel-good about the idea that our humanity could be pinned through time on the cooks of the world. We are the only species on earth that cooks - and barbecue is the world's oldest cooking method. With Labour Weekend kicking off the barbecue season, it's time to fire up the grill and get back to your roots.
Annabel's Top Tips for Grilling
The fire.
Start a charcoal fire a good hour before you plan to be cooking and don't use lighter fluid or treated wood. Coconut fire starters are great and fruit woods, including grape prunings, make the best barbecues. Once you've lit the fire and got it stoked don't disturb it until you have a good bed of glowing red embers. If flare-ups occur, douse them with a little water spray. On a gas barbecue, use a bed of rosemary or thyme branches between the grill and your food to infuse herby, smoky flavours.
The salt. Brining keeps the moisture in and works well for pork and chicken. Be generous when salting meat and vegetables.
The vegetables. It's not just about the meat. Broccoli and cauliflower caramelise fabulously on the grill, as do zucchini, corn, peppers, eggplant, fennel and thin slices of pumpkin, kumara and potatoes. If you want to speed things up, blanch vegetables, dry, lightly oil and season before grilling.
The marinades. Marinades are the key to making barbecues interesting and there are a world of flavours to choose from. Go easy on the sugar though - whether you're using it in the form of sugar, honey or syrup - too much will make your food burn.
Mediterranean Lamb Salad
Ready in 35 mins + marinating. Serves 6
8 lamb fillets
2 tsp chopped rosemary
Zest of 1 lemon, finely grated
2 cloves garlic, crushed
1 Tbsp olive oil
Salt and ground black pepper
6 tomatoes
4 roasted peppers, peeled and sliced into strips
1 cup kalamata olives
1 large bunch basil leaves
¼ cup caperberries
¼ cup semi-dried tomatoes, thinly sliced
2 smallish long asian eggplants
Basic Vinaigrette
3 Tbsp lemon juice
½ cup olive oil
½ tsp mustard
½ tsp sugar
1 clove garlic, crushed
Salt and ground black pepper, to taste
To make marinade for the lamb, combine rosemary, lemon zest, garlic, olive oil and salt and pepper to taste. Mix through lamb and marinate for at least 15 minutes or up to 4 hours in the fridge.
While lamb is marinating, prepare the salad. Core tomatoes, cut into wedges and place in a serving bowl with roasted peppers, olives, basil, caperberries and semi-dried tomatoes.
To make the vinaigrette, combine lemon juice, olive oil, mustard, sugar, garlic and salt and pepper to taste in a small jar and shake until combined. Angle-slice eggplants into finger-wide slices. Brush or spray with a little oil and barbecue over a medium heat until golden brown (about 5-6 minutes each side). Stack on a plate and cover with a clean tea towel so they steam and soften further as they cool.
Barbecue lamb over high heat until done to your liking (about 2-3 minutes each side for medium-rare). Set aside to rest for at least 5 minutes. When ready to serve, cut lamb into finger-wide strips on the diagonal. Add to salad with eggplant and Basic Vinaigrette and toss gently to combine. Any remaining vinaigrette can be stored in the fridge for later use. It will last for several weeks.
Annabel says: This salad brings together my favourite high-summer flavours. Tuna steaks are a delicious alternative to lamb, or use extra eggplant for a vegetarian version.
Chicken Tikka Kebabs
Ready in 20 mins + marinating. Makes 18-24
12 boneless, skinless chicken thighs
4 cloves garlic, crushed
2 Tbsp finely grated fresh ginger
1 tsp chilli powder
1 tsp turmeric
1 tsp mustard seeds
1 tsp soft brown sugar
½ cup plain yoghurt
Salt and white pepper, to taste
Cut each chicken thigh into 3 or 4 strips. Place in a bowl or clean plastic bag and add all other ingredients. Mix through to coat evenly, then cover and chill for at least 1 hour or up to 24 hours.
Thread 2 strips of chicken on to each of 18-24 metal skewers or soaked wooden skewers and barbecue over a medium heat or bake in an oven preheated to 250C until the juices run clear when chicken is pierced with a knife (10-15 minutes).
Annabel says: Yoghurt is such a great marinade ingredient - as well as taking up different flavour profiles, it delivers tenderness and juiciness to any kind of protein.
Grilled Flank Steak with Quick Green Sauce
Ready in 20 mins + resting. Serves 4-6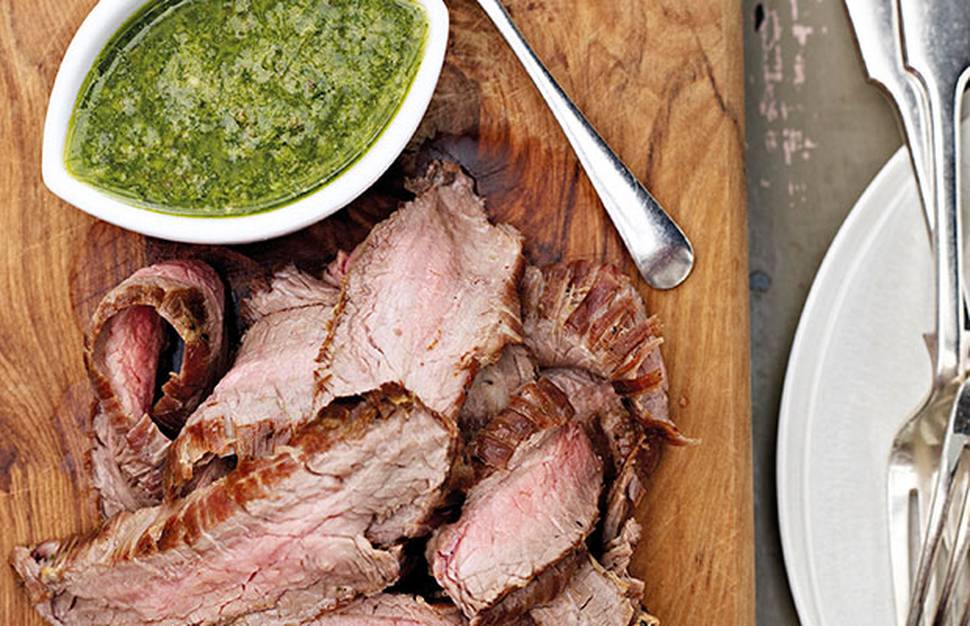 600-800g piece of flank steak
Olive oil, for grilling
Salt and ground black pepper, to taste
Quick Green Sauce
1 tightly packed cup rocket or watercress leaves
Green tops of 1 spring onion or a small bunch of chives
2 tsp capers
1/3⅓cup olive oil
Salt and ground black pepper, to taste
Rub the steak with a little olive oil and season with salt and pepper to taste. Heat the barbecue and cook steak over a high heat until done to your liking (about 5-7 minutes each side for medium-rare). Rest for 10 minutes.
To make Quick Green Sauce, place rocket or watercress leaves, spring onions or chives, capers, olive oil and salt and pepper to taste in a food processor and puree to form a smooth, vibrantly green sauce. When ready to serve, thinly angle-slice the steak across the grain. Serve with Quick Green Sauce on the side. Any remaining sauce can be kept in a jar in the fridge for up to a week.
Annabel says: Flank steak isn't the tenderest of beef cuts, but it has great flavour so it's perfect for cooking on the barbecue and serving with a gutsy sauce and a selection of salads.