Give your taste buds a thrill with this umami-filled paste
In my early 20s when I was running my first business, making croissants in Brazil, my weight ballooned to over 90kg. My friends affectionately called me La Gordita — the plump one.
On my return to New Zealand I tried all kinds of binge diets — eating only liquorice and lemons was all the rage at the time — but as is the way with any so-called "diet", any short-term loss was rapidly returned.
A couple of years later I moved to New York and enrolled in two courses at the Culinary Institute of America in upstate New York. One was a residential course for chefs on nutrition.
At our first lecture we were presented with a long table holding 100 plates, each containing a different ingredient with a value of 100 calories. Some plates were piled high with food — all vegetables — while others held a scant handful of nuts or potato chips, or a little pat of butter or cheese. And just like that, it became 100 per cent clear to me that all foods are not created equal.
During the course we learned to prepare food that was low in fat but high in complex carbs, learning lots of tricks along the way for making "low fat" food tasty. Fat has a beguiling effect in cooking — not only does it carry flavours but it gives food mouthfeel, that appealing fullness on the palate. Take it out and food can taste flat and bland, so this is where ingredients like miso come in. The secret is umami, a natural glutamate that gives food a satisfying richness and depth of flavour without actually being fatty.
Don't get me wrong, I love butter, cream and olive oil, but if you rely on them alone to deliver great flavour in your cooking, then you end up inhaling too many calories.

Umami, which translates roughly from Japanese as "savoury deliciousness", is found in a variety of foods — mushrooms, anchovies, tomato paste, parmesan, chicken and beef stocks and fish sauce, to name a few. Miso is full of it, which is why a little miso paste mixed into a dressing or sauce gives it a deeply layered taste. Miso is also packed with protein, which makes a bowl of miso soup the ultimate hangover cure.

Roasted Mushroom and Miso Soup
Combining miso, fresh and dried mushrooms and parmesan, this soup is an umami bomb of flavour. To turn it into a meal add some cooked noodles and bok choy or spinach.
Ready in 45 mins. Serves 6
3 Tbsp butter
800g fresh mushrooms, quartered
2 cloves garlic, crushed
Zest of 1 large lemon, finely grated
Salt and ground black pepper, to taste
¼ cup dried, sliced mushrooms soaked in ½ cup boiling water, or 4 tsp mushroom powder
2 tsp thyme leaves, chopped
1.5 litres water
3 tsp miso
6 Tbsp finely grated parmesan
2 Tbsp chopped chives
Pre-heat a large roasting dish in a 200C oven. Remove dish from oven, add butter and when melted add mushrooms, garlic and lemon zest. Season with salt and pepper. Toss to coat mushrooms evenly and spread out in dish. Roast until mushrooms are golden and starting to shrivel (about 20 minutes). Transfer roasted mushrooms to a pot and add soaked mushrooms and their soaking liquid (or powdered mushrooms), then thyme and 1.5 litres water. Simmer for 15 minutes. Remove from heat, mix a little of the hot liquid into the miso to loosen it, then add it to the soup with the parmesan. Stir to fully dissolve. Adjust seasonings to taste, divide between heated bowls and garnish with chives. This soup reheats well.

Miso-Marinated Skirt Steak
This miso marinade is so useful - it's wonderful with fish, chicken, pork, beef and even tofu. Its rich umami flavours work best if left to do their thing over a day or overnight. You can store it in a jar in the fridge until needed - it will keep for several weeks. If you don't have sake you could use sherry instead. I like to use it with skirt steak as it's so flavoursome, and provided you cook it hot and fast and serve it rare it is juicy and tasty. The trick is to have it only about 2-3cm thick so it browns nicely on the outside while still being rare in the middle.
Ready in 20 mins + marinating. Serves 4-6
800g skirt steak, approx
A little neutral oil, to brush or spray
Monica's Miso Marinade
¼ cup each sake and mirin
2 Tbsp honey
¼ cup white or light miso
1 Tbsp finely grated ginger
2 tsp soy sauce
To make sauce, place sake, mirin and honey in a small pot and simmer for two minutes. Remove from the heat and stir in miso, ginger and soy sauce, stirring until miso has dissolved. Combine steak and the marinade and chill for at least six hours or up to 48 hours. When ready to cook, pre-heat a barbecue hotplate or heavy-based frying pan over a very high heat. Brush or spray the hotplate or pan with a little oil and cook beef over high heat until just medium rare (about two minutes each side). Allow to rest, then thinly slice against the grain to serve.

Asian Greens with Ginger Miso Sauce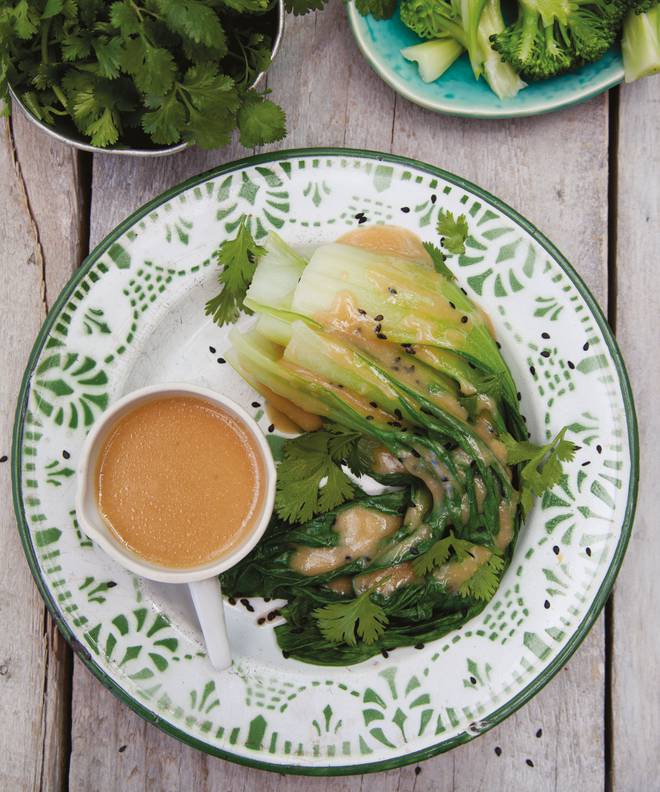 Many asian greens come from the brassica family, and as such have a slightly mustardy, clean taste, so are good partners to any rich, slow-cooked meat dish. With high water content, bok choy doesn't reheat well, so it should be cooked at the last minute. Ginger miso sauce is also great drizzled over roasted pumpkin or grilled eggplant slices, stir-fried with blanched broccoli and cauliflower florets, or mixed in a corn, avocado and spring onion salsa.
Ready in 15 mins. Serves 6
6-8 heads bok choy, ends trimmed and leaves separated
A sprinkling of black sesame seeds, to serve
A handful of coriander leaves, to serve
Ginger Miso Sauce
2 Tbsp white miso paste
1 Tbsp finely grated fresh ginger
2 tsp sesame oil
1 tsp sugar
1 tsp soy sauce
½ cup water
2 tsp cornflour
To make sauce, combine all ingredients in a small pot, stirring until cornflour is fully dissolved. Simmer until lightly thickened (2-3 minutes). Strain, discarding ginger solids. If not using at once, store in a covered container in the fridge for up to two weeks. To cook the bok choy, bring a large pot of well-salted (about 3 tsp salt) water to a boil. Drop in bok choy leaves and bring back to a boil over high heat - it should take only a minute. Drain at once. To serve, pile on to a platter, drizzle with ginger miso sauce and sprinkle with sesame seeds and coriander.