Their futures were mapped out from an early age — high school, university, job. But as their new TV show launches tonight, Masterchef winners and Herald on Sunday food writers Karena and Kasey Bird tell Siena Yates how careers as an auditor and accountant went off the rails in the best way possible.
When you go to lunch with people who get paid to eat delicious food, take their advice and "wear stretchy pants".
When MasterChef winners ­Karena and Kasey Bird take their seats at ­Auckland restaurant Gusto, they ­immediately start strategising over how best to order.
For a non-foodie, it's intimidating. I don't even know what half the food on the menu is, let alone whether I want to eat it. But the sisters answer my stupid questions as if they're not at all, which is comforting.
The thing is, they're not trying to be fancy with their order. They're just ­trying to order as many things as they can that they haven't tried before, or that they already know they love.
We get everything from clams, ­calamari and octopus to deep-fried ­potatoes, broccoli and fried chicken.
As each plate hits the table, we pause while Karena snaps a photo.
She photographs everything before she eats it and Kasey jokes her ­sister's Instagram is "50 per cent food and 50 per cent selfies".
"It's not even that," Karena says.
"It's just that I probably eat so many things that sometimes I forget about it."
When we dig in, they eat with their hands, trying each dish, saying little more than, "Mmm, that's good." No one is critiquing, deconstructing or ­analysing the flavours. They're just ­enjoying good food.
It's a simple concept, but one they have built their lives on.
Karena and Kasey have both ­always loved food and trying new things. Before going on ­MasterChef in 2014, Karena - who was working as an auditor - was even ­saving to go to culinary school to ­pursue her passion.
Kasey, on the other hand, was heading for a life in accounting. She already hated it, but she didn't know what else to do.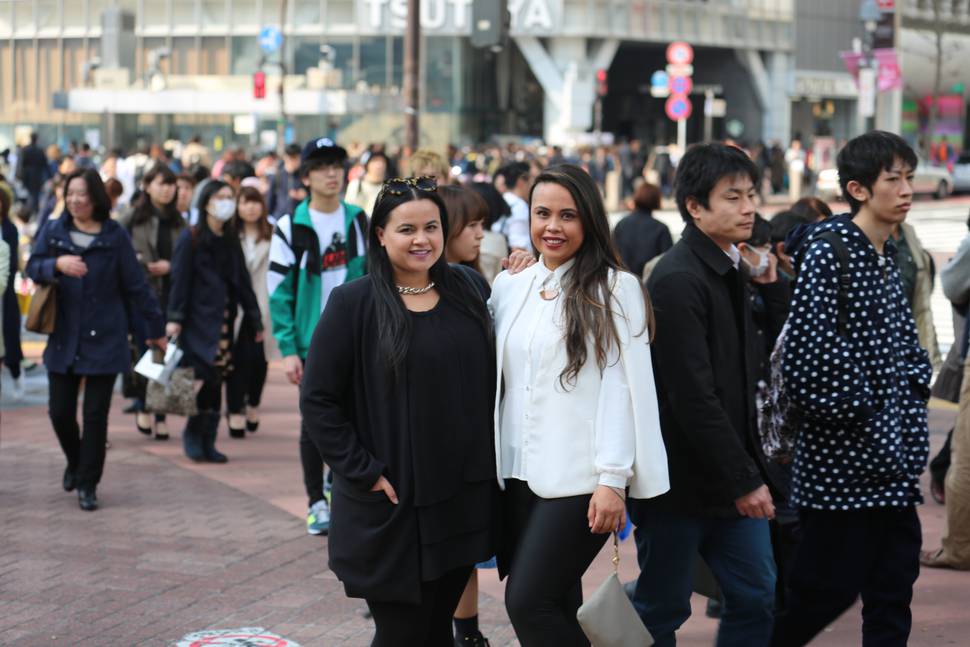 Their father is a traditional man who instilled in them the value of "doing things properly".
"For us, it was always: high school, uni, corporate job," Karena says.
"[Dad] was like: 'Kasey you need to finish your degree, Karena you've got a good job. If you want to do the whole cooking thing, go into a kitchen and do it the right way, work your way up. You gotta do it properly, none of this TV stuff'," Kasey says.
"I'd spend all my time watching cooking shows, saving to go to restaurants, and I still never put it together that that was what I was supposed to be doing. That's just how your mind is set.
"Then we went on MasterChef and it was just like, 'Boom'."
And even then, Kasey tried to turn around when they got to the airport to go on the show.
"I told Karena, 'I don't actually want to do this.' I didn't actually realise what it was until we got there. I was looking up flights on my phone back to Tauranga but Karena was like, 'Too bad' and had already run off and was talking to everyone," she says, laughing.
"I was like, 'Oh, I'm not going to survive this.' Just because the reality of being in a competition on TV.
"I didn't really think about that until I met all the ­other people."
"Before, Kasey was not the kind of person who would want to live with strangers or put yourself out there on TV - it's quite daunting," Karena says.
"Basically, you open yourself up for public judgment and you're just being yourself, so it's quite confronting."
And now, they're doing it again with a reality show of their own: Karena and Kasey's Kitchen Diplomacy.
This time, there are no other contestants, no ­judges, competition or set ­format - "It's just us the whole time".
"All the different parts of us, the good parts, the bad parts so, yeah.
"Can't wait," Kasey says sarcastically.
It's not that she is not excited, she is, but she's also the one who reads the comments sections, and knows how the public can be.
That said, they've learned to ignore it for the most part.
The best example is the "Kupu of the day" videos the pair posted to ­Facebook during Maori Language Week, in which they were unscripted, unrehearsed, wearing no make-up and in their jeans and hoodies in the car.
"Before I was on TV, I would probably not have done that," Kasey says.
"But being on TV you get really comfortable with yourself and how you look and how you sound and the way you are and what you do, and you're like, that's me and I like me and if you don't like me then that's fine, I still like me."
"You can be super-confident sitting at your keyboard in the anonymity of your own house, but we're actually ­putting ourselves out there, so I don't even bother looking at [comments]," ­Karena says.
The only time they have a problem is when one sister sees something written about the other. They are fiercely loyal and protective.
But other than that, they say, all they care about is representing themselves and their family well.
There's a break in the interview as Karena stops one of the wait staff. I'm not sure what I was expecting, but "Hey, do you guys have any tomato sauce?" was not it.
The woman talks up a specialty sauce with a bit of spice to it. Karena says: ­"All right. I'll try your fancy sauce."
If that's not a sign that fame hasn't changed these two, I don't know what is.
I'd spend all my time watching cooking shows, saving to go out to dinner, and I still never put it together that that was what I was supposed to be doing.

SHARE THIS QUOTE:
"It's like, we'll go to these restaurants overseas and the waiters will be serving us with white gloves and stuff and say, 'How was it?' And we'll be like, 'Bro, that was so nice.'
"It's funny when people go to posh places they feel like they have to act different. You can still be polite and nice but you don't have to be like, 'Thank you so much sir'," Karena says, in a fake ­British accent.
"You can still just say, 'That was yum, Bro'."
"But then we still go back and eat pies and fish and chips and stuff, too," Kasey says.
"And you go into the fish and chip shop and they're like, 'Shouldn't you be cooking this?'."
And that's the thing; amid all the ­autographs, book signings and TV ­appearances, there's no air of celebrity around these two. Karena even refers to celebrity as "the c-word - we hate that word".
The sisters still live in Maketu, where their family and community keep them grounded.
The closest they come to ­celebrity is having strangers put their arms around them in the supermarket and ask, "What's for dinner?"
And that's just the way they like it.
The pair travelled the world ­visiting 10 different countries being ­followed by a camera crew, dining in first-class ­restaurants and getting the star ­treatment for their TV show, and even then, all it did was make them want to dig further into their roots.
Karena and Kasey's Kitchen Diplomacy sees them visit Chile, India, Indonesia, Vietnam, China, Korea, Japan, Italy, the US and New Caledonia.
Over the course of six months they met with the New Zealand ambassador or consul general to learn about each country, its connection to New Zealand, the local culture and, of course, the food.
They usually cooked at an event, ­going from fine dining to the home kitchens of locals.
But as well as cooking like the locals, they also tried to infuse some of their own culture into the food, but that was when they realised they didn't really know enough to do so.
"I just smoke everything," Karena says, laughing. "When I eat smoked things I think about my childhood.
"And ­because we grew up in Maketu we cook heaps of seafood - that's why we need to learn about Maori cuisine so we have more inspiration to draw from."
"So we're not just smoking everything," says Kasey.
So with the TV show done and hitting screens on tonight, a second cookbook nearing completion for an October ­release, and a bit of spare time on their hands, the pair are focusing on home.
Their plan is to travel around New Zealand learning traditional recipes from kuia and kaumatua - "Because they don't write them down, and once they're gone, it's all gone".
They also plan to learn te reo Maori, something they admit they should've done earlier, given their mother was a Maori language teacher for years, but "we just didn't appreciate it growing up".
Now, though, being successful ­Maori women with such a public platform, they feel a kind of responsibility to do so.
"It's almost like we're not just ­representing ourselves, when you make a decision you're making it for your family, your community, the iwi. It's massive," says Karena.
"It's kind of always been a part of what we do, but now it's our focus.
"We want to do something that matters and that makes a difference," says Kasey.
By the time we're done with our meal - including dessert, of course - everyone is stuffed, but Karena and Kasey are satisfied, having ticked off ­another ­Auckland restaurant on their list of ­places to eat at.
"The more things I try, the more my repertoire of tastes expands - as well as other things," Karena says, laughing. "Worth it, though."
• Kitchen Diplomacy starts tonight on TV One at 8pm.