Bad exam results can feel like the end of the world for some students, but a UK teacher has sent a powerful reminder to a pupil that life isn't all about tests.
The teacher, from Lansbury Bridge School and Sports College in St Helen's, wrote the letter to her student Ben Twist, who has autism.
The college is a school for students with special education needs, and Ben was the only pupil there to sit the exams.
When the results came back, Ben had failed every test, but the head teacher, Jane Grecic, had a special message for him.
"A very important piece of information I want you to understand is that these tests only measure a little bit of you and your abilities," she wrote in her kindhearted note.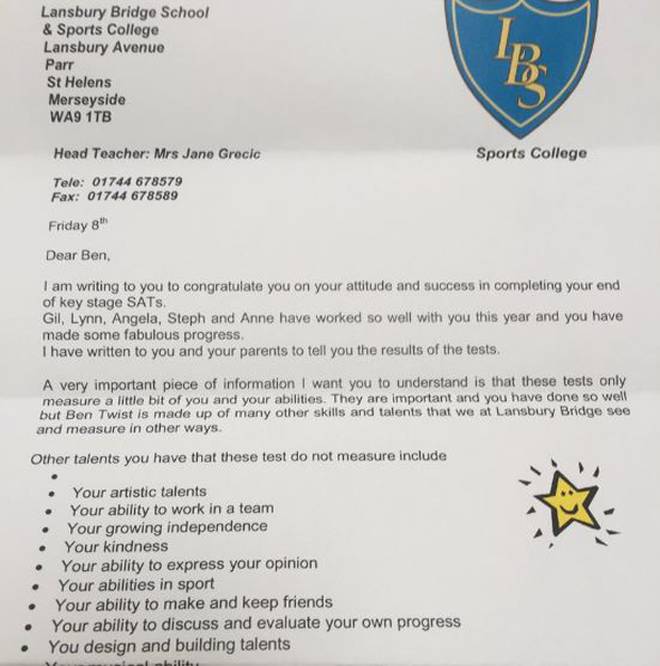 "You have done so well, but Ben Twist is made up of many other skills and talents," she said in the letter.
The note then went on to list Ben's other qualities, including his kindness, his musical skills, and his ability to work in a team.
Ben's mum, Gail Twist, posted the note on social media, and the letter has been shared thousands of times.
"It's just wonderful and the most beautiful letter I've ever read", she told the Daily Mirror.
"The fact that they'd addressed it to Ben was just so lovely too, he was so surprised."
Ben's mother said her son was a sensitive and loving boy, and she was thrilled the school had recognised his other qualities, not just those he was tested on.

Gail had initially had reservations about sharing the letter on social media, but was blown away by the overwhelmingly positive response.

"The internet can be such a cruel place," she told the Daily Mirror, "so it's great to know that this has made someone's day."
-nzherald.co.nz