Address:559 Manukau Rd, Epsom
Phone: 09 623 3213
Rating out of 10: Food: 9, Service: 7, Value: 7, Ambience: 9
Suburban dining can lull your wallet into a false sense of security. Parking is cheap, the customer vibe is relaxed and, invariably, the menu includes pizza.
Little Jimmy Bar and Eatery in Epsom ticks all those boxes but don't be fooled. If you're in for the whole hog, this is a $100-a-head night out. Fortunately, the food is worth every penny.
Consider the honey-roasted carrots. Orange, purple and yellow. Some whole, some shredded. A sticky, but not sickly, coating. Thoughtfulness rarely seen in a $9 vegetable side.
Enter the restaurant through the bar. It was a Saturday, and somewhere in a nearby suburb, there was live rugby. The waitperson reported things had quietened down since kick-off but I counted just one spare table inside and a handful outside. Bookings are as recommended as the carrots.
The menu is divided into smaller, larger and "big cut" plates, with about six items on each list. We started with West Coast trevally and venison meatballs, both $17.
The fish was exceptional -Thai green curry flavours served ceviche-style, and augmented with curls of fresh coconut; the meatballs were meaty (not as common as you'd think) and the polenta was the lightest and - though this seems counter-intuitive - the creamiest I've tasted.
Little Jimmy's advertised ethos is artisanal. A menu note advises no dominant market players, just "top quality little guys who produce some damn good stuff". Suppliers are name-checked, and the wine list is devoid of the usual suspects. We were guided toward a Misha's Dress Circle pinot gris and a Lamont pinot noir, both from Otago and $13 and $18 a glass, respectively. There were 14 craft beers and two ciders on offer. The table water was, by default, bubbly.
It's all served in an elegant space. Candles and mirrors scream date night, but the dark metal detailing, tiled floor and spanner-handled cutlery give an urbane edge.
Go with a crowd for the sourdough pizza ($25-$28 for Clevedon buffalo mozzarella, wild boar salami, etc) and the "big cuts" that include a $69 whole free-range roast chook. "Larger" plates are probably best shared a deux.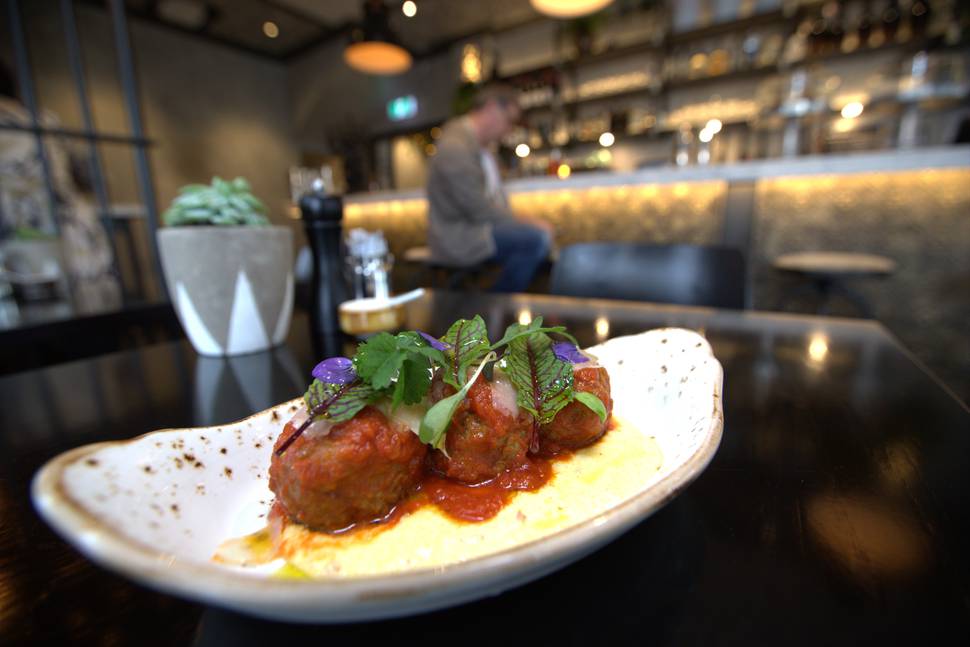 The kitchen was out of the potato gnocchi's main selling point - enoki mushroom - so I nominated the lamb ($33). More specifically, an incredibly, stupendously, delicious roasted merino alpine lamb with minted sorrel pesto and radicchio. The flesh was juicy, the fat cap perfectly rendered and the sour lemony-sorrel exploded against the meaty backdrop. Sublime.
In our excitement, we neglected the pork belly ($32 for three decent-sized slabs). Sadly, it lost its melty tenderness as it cooled. However, if the accompanying celeriac mash (spiked, we think, with mustard and apple?) had fallen on the floor, we would have asked for a spoon.
We should have stopped there. Dessert was good but not as great as what had come before. The rhubarb in the trifle ($17) was too jammy for our teeth, and a hazelnut creme got lost in the sweetness of the chocolate parfait ($15). They were both ridiculously big. Consider splitting a pudding - and spending the savings on carrots.