When a mum posted a question on an online forum, she probably wasn't expecting to cause a lively debate involving more than 800 parents.
The mum posted her comment on parenting site Mumsnet, asking whether anyone would leave a ten-month-old baby sleeping at home alone for seven minutes.
She then added that the situation would involve a baby who "napped reliably at the same time everyday for at least an hour and a parent who was going to a shop to collect something approximately 50 metres away."
As more and more parents have joined the conversation, opinions have became increasingly divided.
Many have said "no way", with some even saying the disappearance of British toddler Madeline McCann should have served as a lesson to other parents about the dangers of leaving children alone.
On the other hand, many parents have said they don't see any problem with it, and some have said they have left their own children alone while doing chores outside or walking the dogs.
Other parents took the middle ground, saying they would only leave children under specific circumstances, and that they definitely wouldn't be telling others about it.
In the 'no' camp, one commenter said, "Never - a fire can rip through your house in less time and your baby won't be able to save itself."
"Today 7 minutes. Tomorrow 15 minutes. Who knows what time limit you'll be justifying next week", said another parent who clearly opposed the idea.
Following a wave of criticism, the original poster clarified her stance further, saying she had carried out a thorough risk assessment before leaving the house.
Although she admitted that if a babysitter had done the same thing she would have been angry about it.
The mother went on to say she left the baby alone in order to collect some boxes of clothes, which seemed to spark another round of debate about what constitutes a good enough reason to leave a baby.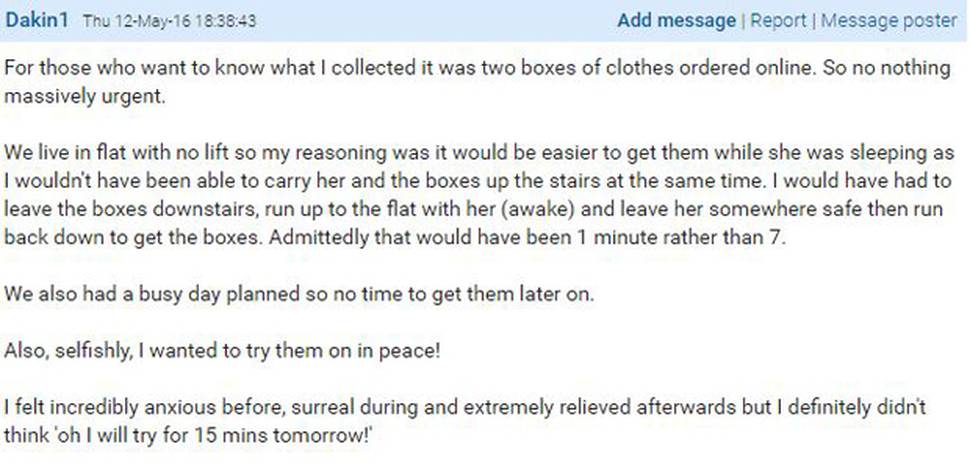 However, as the debate raged on, other parents came to the woman's defense.
"Nothing wrong with it, more chance of a car accident driving up the road. If it feels right, then do it", wrote one supporter.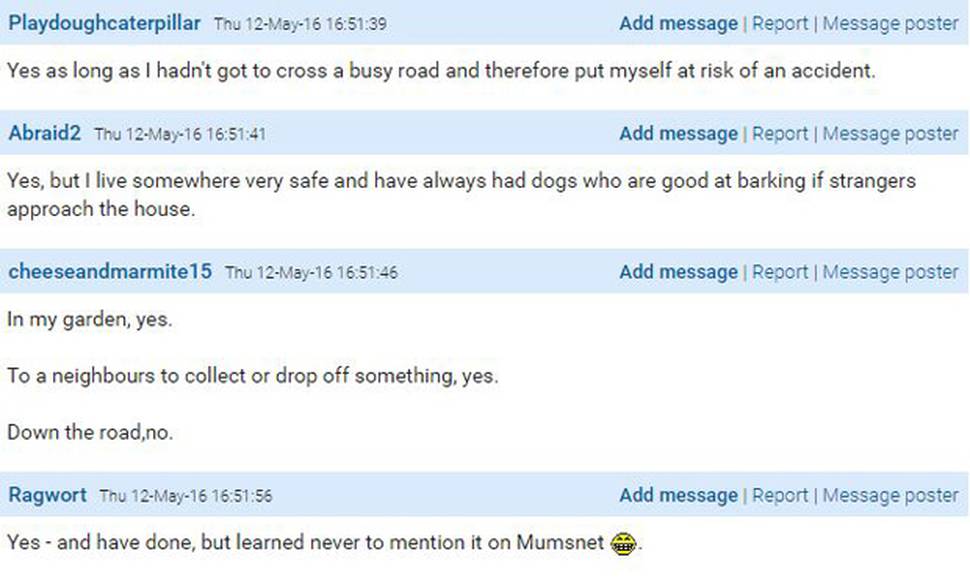 "If you check on your child and he's sleeping peacefully, the chances that he could wake up and work himself into an agitated state within 7 minutes are slim, wrote another parent. "The chance of something catastrophic e.g. a house fire are slimmer still."
Another commenter wrote: "You've got to live. You've got to get stuff done. It's a minuscule risk. If your life is like mine then every minute of the day is jam-packed.
"I just wouldn't tell anybody about it, for precisely the responses above."
-nzherald.co.nz