Address:
Shed 5, City Works Depot, 90 Wellesley St, Auckland
Phone:
(09) 309 0304
Open:
Mon-Fri from 7am, Saturday and Sunday from 8am. Open 7 days morning and noon, nights Tues-Sat
Online:
odettes.co.nz
SET UP & SITE
Odettes has been in the City Works Depot site for a year or so but the closest I'd managed to get was to drool over Instagram and Facebook shots posted by a friend (a regular at this cafe). So when planning a brunch with husband and son, I jumped at the chance to test it for real. Odettes (yes, no apostrophe) occupies the site that a few years ago housed the Deus Ex Machina motorcycle workshop and cafe (sadly missed by the males of my family). It now is transformed into a light and airy dining area, but the main attraction this sunny Sunday was the greenery-bedecked outdoor area.
SUSTENANCE & SWILL
The menu has one of the most original range of choices we've come across. No boring old eggs benedict in sight. Instead, imagine a chocolate crepe with spiced cherries, toasted pistachio, creme fraiche and plum icecream ($21); Puy lentils with lime labneh, roasted cashews, savoury crepe and poached egg ($20); or crayfish tortellini with yoghurt curd, saffron cream and baby spinach ($24). These and other options made the deliberation of our brunch no easy feat. Finally we opted for a three-egg omelette with cured Spanish mackerel, watercress, pickled shallot and rouille ($22); the confit octopus with crisp pumpkin, shaved chorizo and toum ($21); and the wild mushrooms with whipped Persian feta, donuts, basil and poached egg ($23). All three were presented as works of art and tasted just as good. The males also opted for a side of hand-cut fries and mayonnaise for the table ($10), which, upon arrival, were cooked to perfection. The coffee was Millers brand and just right.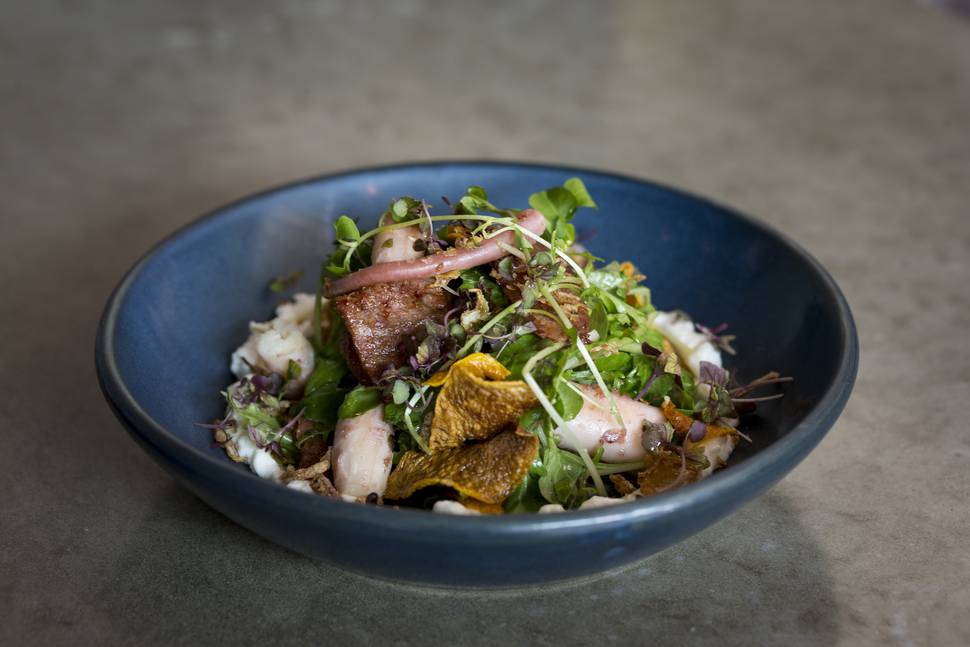 SERVICE & OTHER STUFF
The service was excellent. Right from our arrival when every effort was made to seat us this busy morning - first at the indoor bar area by the kitchen, then when a table came free outside, they quickly transferred us. The staff were courteous and prompt with service and well-versed in the menu's ingredients. We will be back. That chocolate crepe sounds too good to miss, as does the range of prettydamngoodforyou juices and smoothies.