The chocolate heavens have answered our prayers. You can now go all day with the taste of Nutella on your lips, thanks to this DIY balm recipe - and it is delicious.
Yes, Nutella lip balm is a thing, and it takes just three ingredients and a few spare minutes to make in your own home.
Start by scooping all of the balm out of the container - in the video they use an EOS balm container, but we think any lip balm pottle will do the trick.
Once the container is empty, mix up the three ingredients.
Start by putting one tablespoon of beeswax chips in to a heatproof jar or cup. If you don't have the beeswax, use one plain white tealight candle (chopped up) instead.
Follow up with a heaped tablespoon of Nutella, and then two or three tablespoons of coconut oil - which can be purchased from most supermarkets and health food shops.
One of the main ingredients in Nutella is palm oil, which combines well with coconut oil to give a highly moisturising balm for the lips. But this balm is not edible! While beeswax is non-toxic, it is not intended for human consumption - so use on your lips only.
Next, heat the mixture in a shallow pot of boiling water until all ingredients are combined.
If you are using the EOS balm, put the grate from the base of the container so it is sitting on the lid, then pour into the empty container, until it just covers the grate.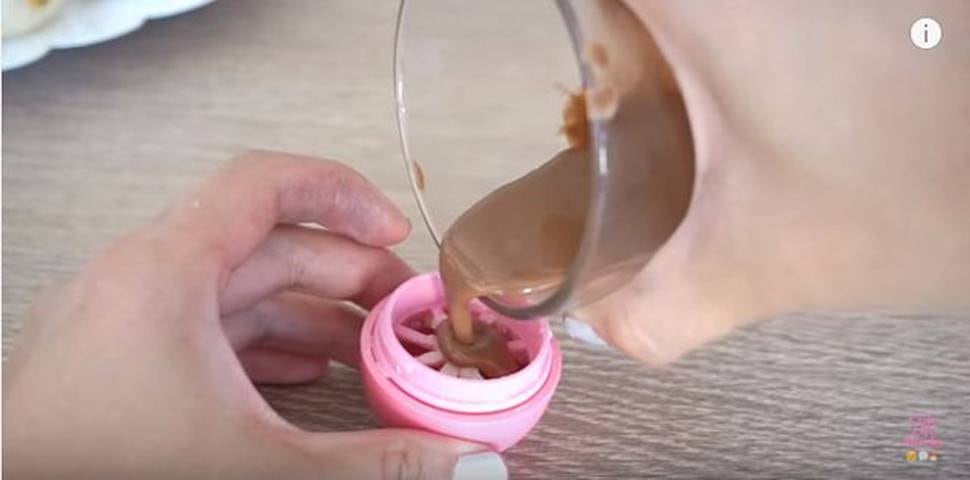 Place the Nutella filled half of the container into the freezer for 10 minutes or until firm.
Snap the base of the EOS container in to the Nutella filled half, and you have the tastiest lip balm ever.
Oh and for those worried about staining your lips brown - don't worry. The coconut oil ingredient means the balm comes out clear, leaving your lips with a chocolatey sweet taste.
-news.com.au