Two strangers who fell in love after conceiving a daughter through anonymous IVF have tied the knot, with their beautiful and unique love story set to become a feature film.
Aminah Hart and Scott Andersen, from Victoria, first laid eyes on each other in 2013, a year after their daughter Leila was born.
Mr Andersen was a sperm donor and Ms Hart had decided to go through IVF after enduring the tragic loss of two sons, Marlon and Louis, to a genetic disorder called x-linked myotubular myopathy.
She was prepared for motherhood but little did she know the birth of her daughter Leila would end up leading her to the love of her life, whom she married in a stunning lace gown atop a cliff overlooking the ocean in December.
When baby Leila was born on August 14, 2012, weighing a 'big and healthy' 3.9 kilos, Ms Hart said she felt 'relieved' but growing up without a father herself she had always wanted her child's father to play some role in their life.
Ms Hart's mother Helen did some digging and was able to find a picture of Mr Andersen online. She encouraged her daughter to get in contact with the clinic so they could pass on her information in case he wanted to get in touch or see a photo of his daughter and luckily Mr Andersen had indicated he was willing to meet a child that came from his genetic pool.
After meeting and miraculously falling in love Mr Andersen proposed on what would have been her late son Louis' birthday, a day Ms Hart normally spends reflecting on her loss and the short time she had with her first two children, who suffered from a condition that affects muscles used for movement and occurs almost exclusively in boys.
"He went out to get milk with Leila and came back with an engagement ring, which was a real surprise because usually I spent the anniversaries of their death and birthdays having a quiet day," she told Daily Mail Australia.
READ MORE
• IVF mum falls in love with 'anonymous' father of her child
Twelve months later and the pair exchanged vows at a 'very low key' wedding in front of 130 of their closest friends and family in Sorrento, Victoria.
"It was utterly spectacular overlooking the sea, but it was blowing an absolute gale."
"I have quite a lot of dark curls and Leila has her blonde curls so the wind just kept blowing our hair all over our face which did not impress the photographer.
Ms Hart got ready with her sister and Leila, who wore a white lace dress and floral crown, while Scott's new mother in law Helen and three sons - Luke, 22, Jye, 30 and Bailey, 18 - helped him prepare for the big day.
"Scott's boy and his daughter Belle were really glad to know their dad had finally found happiness."
Despite Leila and her father sharing a very close bond, Ms Hart said the three-year-old was quite protective of her mother after learning of the wedding and did not appear all that impressed with the impending nuptials.
"She wasn't interested at first and kept saying 'you can't marry my mum' but she ended up getting caught up in it all and was the most divine little flower girl," Ms Hart said.
Ms Hart, who has endured unthinkable tragedy, said she was so glad to be able to give her friends and family, who have supported her unconditionally, a reason to celebrate.
'It really felt like the beginning of something incredibly beautiful. You could see the happiness and pure elation in the room.'
"The band knew how to work and audience and got everyone on to the dance floor - even Scott who is not one to dance," she added.
Ms Hart said it was incredibly special to see her husband's ten-year-old leading him around the dance floor among their big, blended family.
Mr Anderson took time in his "emotional" speech to make sure he thanked his mother-in-law, who was the driving force behind the couple meeting after Leila was born in 2012.
"My mum has been the wind in my sails when I thought the boat was going to capsize and in the end she helped bring me to Scott," she said.
Ms Hart, who "doesn't really believe in fate", said it was incredibly lucky to have found such a generous and loving partner, especially one who loves Leila as much as she does.
"It is incredibly random that two people who wouldn't' have met under different circumstances were brought together through a child that was created through sperm donation," she said.
"The attraction between us would have been there if we had the chance to meet but when or where that would have happened without Leila is a mystery."
Ms Hart said it was very important that Leila knew her siblings and was elated to know she would that she would grow up with a big family.
The doting mother said her journey to Leila and her husband did not come without a few road bumps, but she now see's that without the tragedy in her life she would never have found them.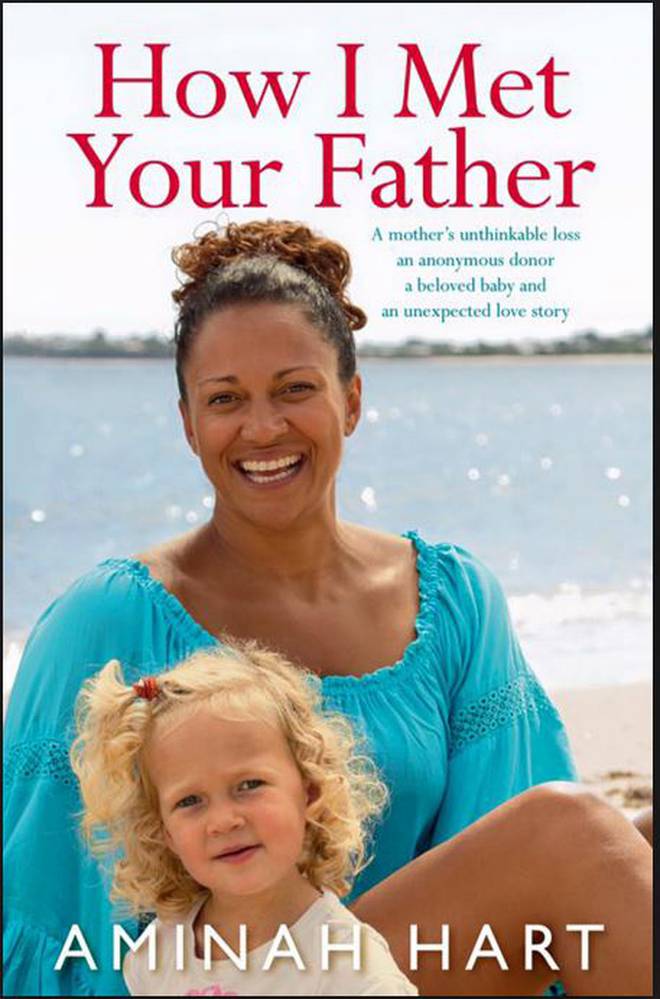 She recently took stock of her life, tracing back to before she was born, to pen an emotional memoir, 'How I Met Your Father', that she said is a tribute to her two sons Marlon and Louis, who lost their lives at 14 weeks and 14 months respectively.
"I really wanted to expose my sons to a few more people and give their short lives a little bit more meaning," she said.
She said most of her friends never had the chance to meet her son Marlon, who only spent 13 days of his 14 week life out of hospital.
"They were very sick little boys but had very distinct personalties. They were human beings and I just wanted to pay tribute to them because they are kind of how I got here."
"I did set out to have a family the conventional way and if I didn't have them I wouldn't have Leila or Scott. I would have never been looking for a sperm donor or thought to go through IVF to have a baby on my own."
Her first son Marlon, conceived with her former husband, died at the age of four months, while she was living in England, and in 2010 when Ms Hart was living back in Australia, Louis - fathered by a former partner - died at the age of 14 months.
"You can't really put it into words. I had two relationships and two children but it wasn't until the second one that I got a diagnosis of the genetic disorder,' Ms Hart told Daily Mail Australia.
At 42, Ms Hart felt like time was running out but she was also faced with the prospect that the genetic disorder has a 1 in 4 chance of occurring in every pregnancy so she thought long and hard about her options and decided to use a sperm donor to conceive.
She was given three pieces of paper by the fertility clinic with the vital statistics of three anonymous men - one of whom would become not only the biological father of her daughter but her future partner.
The pair first met in person after Ms Hart's mother helped track him down and he agreed to meet Leila. On August 18, 2013, the mum and dauighter drove an hour and a half from Melbourne to Mr Anderson's house near Phillip Island, about 140 km south-southeast of Melbourne, where they met not only him but two of his children.
"It was much easier than I'd anticipated. I was nervous ... I was walking in to meet a complete stranger and I had his genetic child in my arms," Ms Hart laughed.
There was an instant rapport between the pair, with Ms Hart finding Scott "easygoing" and "a bit of a talker". Some time later they started to feel a spark and eventually confided in each other about their feelings.
- Daily Mail