Whether it's inside, outside or somewhere in between, we have your long weekend covered.
INSIDE
The binge guide to Easter. You have four days to hide away. You have hot cross buns and butter. Now all you have to do is pull the curtains and pray for a storm.
TV
Daredevil (season 2)
Where:
Netflix
Yes, it's yet another dude from a comic book fighting crime in a mask. And yes, Daredevil's second season does that Avengers thing by inviting a whole lot more characters from the comic books to the party. So get ready to spend a fair bit of time getting to know The Punisher and Elektra in the first few episodes. But even if you're completely jaded about all things superhero, Daredevil is still binge-worthy. That's because it has incredible fight sequences worthy of lighting up a big screen.
It's got a great supporting cast, including affable lawyer Foggy (played by Elden Henson) and Daredevil's potential love interest (Deborah Ann Woll). And Charlie Cox, who plays the masked crusader, delivers a pitch perfect performance that requires him to play two roles: blind lawyer Matt Murdock by day, and ass-kicking do-gooder Daredevil by night. In season two, he's about to meet his match thanks to The Punisher, played with brutal force by Jon Bernthal. I won't be bingeing on Easter eggs this Easter, I'll be bingeing on this. Chris Schulz
UnReal
Where: Lightbox
If you've been sucked into the drama of The Bachelor NZ recently, do yourself a favour and watch UnReal this weekend for a new insight into the "reality" of reality television. It may be a work of fiction but the inspiration for the series comes straight from real-life, with series creator Sarah Shapiro working as a producer on The Bachelor for nine seasons. Revealing a world of scheming manipulation and outrageously bad behaviour, it's even more addictive than the reality show it portrays. Joanna Hunkin
Chef's Table
Where: Netflix
Not only will this Netflix series divert your attention away from all the chocolate and hot cross buns flying around over Easter weekend, it might even hypnotise you into feeling full, with it's stunning, serene cinematography (though I make no promises).
The six-part documentary series is a fascinating homage to some of the most innovative chefs in the world. Each episode covers one chef, telling their life story and showcasing their different food philosophies.
From passionate, eccentric Argentinian chef Francis Mallman, who cooks with fire and snow, to sweet, obsessive American-Japanese master Niki Nakayama, and charming Italian renegade Massimo Bottura, the series (made by Jiro Dreams of Sushi director David Gelb) is not so much about the fine points of gastronomic creation, but the way each chef tells their unique story through their restaurant. Lydia Jenkin
Love
Where: Netflix
With a modest 10 episodes to get through, Love, streaming on Netflix, is a great option for a long weekend binge.
Starring Paul Rust -- who is also a co-creator of the show -- and Community actress Gillian Jacobs, Love explores the messy relationship between Gus and Mikey. The two main characters are equally delightful and horrible, both having good and bad moments, and you alternate between loving them and hating them from episode to episode.
One of the best parts of the show is the supporting cast. Bertie, Mickey's new roommate, played by Australian actress Claudia O'Doherty, is completely loveable and funny, as are many of the other supporting players, notably House actress Charlyne Yi, who played Cori.
Love is co-created by Judd Apatow, known for his work on Trainwreck, Knocked Up, Girls and cult classic TV show Freaks and Geeks.
If you enjoyed any of these, there's a chance you'll dig his new Netflix series. Love's story is small, but one that many people will be able to relate to. Rachel Bache
Occupied
Where:
Netflix
It was the infamous Nordic Nazi-collaborator who gave the world "Quisling" for traitor. You almost expect it to crop up in this 10-episode drama created by Scandinavian superstar author Jo Nesbo, which follows what happens in the near future after Norwegian Prime Minister Jesper Berg announces a stop to his country's fossil fuel production, provoking the EU and Russia to keep the North Sea gas turned on. But interestingly, Quisling doesn't get a mention. Maybe because in this, the geopolitics of this aren't quite black and white.
The stylish Norwegian-French production follows as the PM is forced to accept Russian intervention while trying to stave off a full-scale invasion, as various citizens either rebel against the intrusion or revel in the economic or career benefits the men from Moscow bring with them.
The premise may come with a strong echo of Putin's efforts in the Ukraine -- his ambassador to Oslo officially objected to the series when it screened there last year. While Occupied engages with its plausible political scenario, it's the show's ensemble of engaging characters, who get caught in the political -- and sometimes actual -- crossfire, that make it such addictive viewing. Russell Baillie

Films
Stream them on Netflix or get them on DVD. Some are for the kids. Some, not so much.
Like Water For Chocolate (1992) -- Passionate forbidden love, with food.
Chocolat (2000) -- Alfred Molina. Juliette Binoche. France. Chocolate. Enchanting.
Charlie and the Chocolate Factory -- Tim Burton's classic.
A Wild Hare (1940) -- This Bugs Bunny classic was the first to feature the line, "What's up, Doc?"
Watership Down
(1978) -- Watch the film, then eat the cast. The chocolate cast, that is.
Who Framed Roger Rabbit (1988) -- Featuring one of the best lines ever: "I'm not bad, I'm just drawn that way."
Rabbit-Proof Fence (2001) -- A powerful film about three Aboriginal girls wrenched from their homes, who trek across the Outback.
Night of the Lepus (1972) -- Giant mutant rabbits terrorise a small Arizona community.
Hop (2011) -- Voiced by Russell Brand, this is a hare-raising Easter classic.
Donnie Darko (2001) -- Featuring a man-sized rabbit called Frank. Early Jake Gyllenhaal. That is all.
OUTSIDE
Keeping with the theme, we have Easter egg hunts.
If you're planning on an egg hunt in your backyard, make it more challenging with cryptic clues. Simply biffing eggs around the yard isn't very interesting - make the kids work for it.
Create a list of clues, such as "What do you call a girl doll with sausages on her head?" Answer: "Barbie". So they have to find the Barbie Doll to find the egg.
Plus, it'll drag out the fun a bit longer, allowing you time to sit on the deck and contemplate life and the universe.
Public Egg Hunts
Aucklanders take part in an Easter treasure hunt around Wynyard Quarter.
Chamberlain Park:
MC'd by Robbie Rakete, Chamberlain Park is turning on a free Easter egg hunt, egg decoration, sack race and egg and spoon race.
Today, 10am-noon, Point Chevalier.
Arty Good Times: Grab your friends or family and head along to the biennial Harbourview Sculpture Trail to hunt for eggs amidst the artworks and stunning natural surrounds of Harbourview Peoples Park.
Egg hunt: Tomorrow, 10am, Easter egg hunt. Sculpture trail: Today-Easter Monday, Te Atatu Rd, Te Atatu. This year's exhibition closes Easter Monday at 6pm.
Hurstmere Green: Registration for this begins at 1pm-3pm so make sure you don't miss out. Families will have to decipher the map to find the numbered giant Easter eggs along the way before heading back to Hurstmere Green to collect a chocolate treat. This hunt is for all ages, but numbers are limited to the first 1000 kids, so get in early to avoid missing out.
Today, 11am-4pm, Hurstmere Green, Hurstmere Rd, Takapuna
The Amazing Maze: Thirty thousand eggs will be hidden throughout the Amazing Maze 'n' Maize cornfield and it will be your mission to find the easter bunny, collect some eggs and then make your way out of the 8km of paths in the maze. That might be a lot of eggs but at least, from now, you have three days to find them.
Today-Easter Monday, 11am-2pm. 833 Kingseat Rd, Auckland. Tickets from $10 can be purchased through Eventfinda.
Kaipara Coast Sculpture Gardens: Head out on a hunt for easter eggs hidden along the 1km trail among the plants and sculptures of the gardens.
Tomorrow, 9am-3pm, Kaipara Coast Plants & Sculpture Gardens, 1481 Kaipara Coast Highway, Auckland.

Other outdoor activities
Here are some other Easter and not-so-much Easter related activities to get up to during your long weekend.
Bark in the park
Take your dog-pal along to Chamberlain Park to witness the good work of organisations such as Humane Rescue, Rehabilitation and Rehoming Charitable Trust and Desexy Revolution. There'll be an educational stall and small prizes. For the pups, there'll be buckets of multicoloured tennis balls, a dog training tunnel, dog agility poles and rabbit ears to photograph your dog in to get into the Easter theme.
Bark in the Park: Today, 2pm-5pm

Sweet symphony
Enjoy a picnic in Chamberlain Park, or enjoy the foodstalls while you listen to a concert by the Aotea Youth Symphony. It's the group's 30th anniversary. Chamberlain Park Golf Course will be operating an alternative course layout during this time. The course will be open and will continue to offer 18 holes of golf.
Symphony: Today, noon-2pm. Chamberlain Park, Sutherland Rd, Pt Chevalier. Walk, bus or use the North-Western Cycleway. There is limited parking on Sutherland Rd, but parking is available at Unitec or behind the Pt Chevalier shops.

Royal Easter Show
Make the most of the rest of the long Easter Weekend at the Royal Easter Show. There are the exhilarating Drift Trikes and all those scary rides, too (the terrifying Turbo Boost), plus the more sedate sideshows and nightly fireworks displays.
Check out all the animals on display. There's everything from alpacas and donkeys to giant pigs and friendly sheep. And kids can have a go at "bunny shearing" (using wooden shears and toy animals).
ASB Showgrounds, Green Lane, Auckland. Entry is free.

Leigh carnival
Seafood, cakes, castles, plants, books and a silent auction. The Leigh Carnival has it all covered. They'll be laying it on for their fundraiser, with old-fashioned cake stalls, a raffle and plenty of fun for the kids.
Tomorrow, 9am-2pm, Leigh School field.

SOMEWHERE IN BETWEEN ...
You plan to leave the house with the ultimate goal of ending up inside, elsewhere...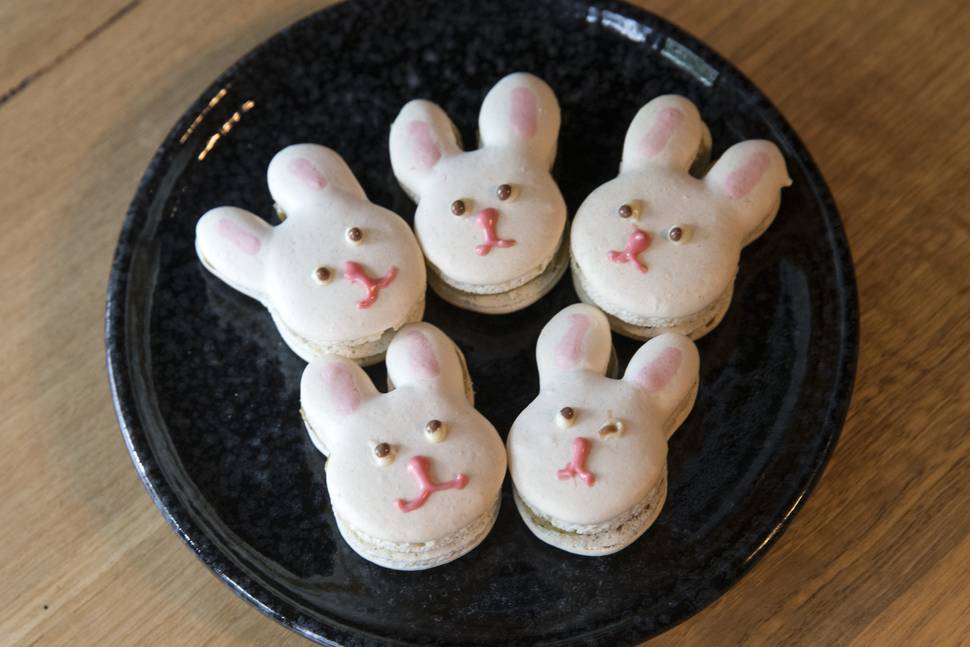 Auckland City Art Gallery
Whether you seek serenity or inspiration, or you just like great architecture, you'd be hard pushed to find a more magnificent place than this. This weekend, music and film converge in a glorious artsy feast for those wanting to gorge on something other than 70 per cent dark cocoa 100 per cent Fair Trade Mr Bunnykins. On Easter Sunday, the gallery features the documentary, The Great Museum.
It's described as a curious, witty and humorous peek behind the scenes at a world-famous cultural institution. Director Johannes Holzhausen and his team spent more than two years gathering material at the Kunsthistorisches Museum in Vienna. Shot in the attentive style of direct cinema with no off-screen commentary, no interviews and no background music the film observes the various processes involved in creating a perfect setting for art. From the managing director to the cleaning services team, from the carriers to the art historians, the staff members at the museum are all interdependent cogs in the same machine.
Tomorrow, 3pm. 94 mins. Free entry. Auckland Art Gallery Auditorium
Head back there on Easter Monday for the Auckland Credo Chamber Orchestra conducted by Dr Nelson Wu, perform a range of Easter-themed works by Bach, Handel and Mozart.
Easter Monday, 2pm. Auckland Art Gallery, Mackelvie Gallery. Free entry.

Miann
The French chef they called the first celebrity chef, Marie-Antoine Careme, said: "When we no longer have good cooking in the world, we will have no literature, nor high and sharp intelligence, nor friendly gathering, nor social harmony." Careme invented the millefeuille. Carrying the torch for splendid desserts is Brian Campbell, formerly of the French Cafe, now chef of Miann. Miann means "crave" or "desire" in Gaelic. They even do a breakfast "dessert" menu.
57 Fort St, Auckland.
Devonport Chocolate
If you look under your bed this Easter and discover no chocolate eggs, just dust and old cicadas the cat brought in, go to the source. Devonport Chocolates is a few minutes' walk from the centre of Devonport and is easy to get to from the Ferry Building. The chocolateurs make truffles and bunnies and cars with caramel eggs in them. There's dark chocolate, white chocolate and every shade in between.
Today and Easter Monday, 17 Wynyard St, Devonport.

Satsanga
Satsanga means "to share in the highest spiritual truths with those of like mind". At the Easter Spiritual Gathering and Satsanga you can sing, meditate and hear an Easter message.
Tomorrow, 10am, Balanced Living Centre, 81a Pleasant Rd. Free admission, but book ahead.

Retro style
The Annual National Antique Bottle and Collectables Show comes to Auckland just once every five years, and is a major gathering of collectors from all over New Zealand. The collectors compete in various categories, and these exhibits are on display for the public of Auckland to view and enjoy, there will be more than 100 exhibits on show, ranging in age from the Victorian Edwardian era into the 1950s. There will also be an Antiques, Retro and Collectables Fair, with dealers from all over New Zealand offering the wares to the public.
Today and tomorrow, 10am-4pm, ASB Stadium Kohimarama, admission is $5 adults and there is free parking on site.

Cuddles with chicks, bunnies
Meet the baby bunnies and chicks at Butterfly Creek's Buttermilk Farm. While you're there, enter the draw to win one of five dino eggs when you complete our Easter Quiz. There'll also be Easter egg giveaways.
Easter weekend, 11am-3pm, Butterfly Creek, Tom Pearce Drive, Auckland Airport.

Speaking French
Get ready for a whole lot of laughter with Dawn French - 30 Million Minutes. It's a new live show, and the indefatigable French performs six shows in Auckland.
Tomorrow, March 29, 30, 31 and April 1, 2, The Civic Theatre. Strictly limited tickets available from Live Nation or Ticketmaster.

PLAN AHEAD
This weekend: Waiheke Food and Wine Fest
The very first Waiheke Wine & Food Festival is an opportunity to taste many boutique Waiheke wines in one location. There'll also be some fabulous food on offer that is either produced on Waiheke or matches superbly with our wines. Live musical entertainment will be playing throughout the day.
Winemakers will be giving talks during the afternoon. April 2, 11am-5pm.

This month: Taste of Puketapapa
Take your taste buds around the world and celebrate Auckland's most ethnically diverse area, at Taste of Puketapapa food festival.
Back for its fourth year, the festival has 43 eateries offering a range of dishes for just $12 and under. Foodies will be taken on a culinary adventure in Mt Roskill and surrounding suburbs, as they sample the flavours of Indian, Chinese, European, Middle Eastern cuisine and more. Everyone who orders a signature dish during the festival will be in to win the grand prize of dining out in Puketapapa for a year.
To enter, restaurant patrons simply need to slip their receipt and contact details into the entry boxes, each time they dine at participating eateries.
March 30-April 10.

Next month: Titirangi Festival
The Titirangi Festival of Music is well established with a core audience of music lovers and community enthusiasts. The legendary Dave Dobbyn and band perform, along with Hopetoun Brown.
Collaborations this year include Te Uru, West Auckland's own purpose-built art gallery in the heart of Titirangi Village. Te Uru will host two significant performances on Friday, April 8; Acapollinations, led by Tui Mamaki, and master musician Arli Liberman.
There's a big emphasis on family-friendly free music in such events as Village Day on Saturday 9th, with local musicians, an art-workshop trail, marching bands and street performers from noon until early evening.
Titirangi Festival of Music 2016, April 8-10. Tickets on sale at Titirangi Pharmacy and through titirangifestival.com.