Address:
228 Jervois Rd, Herne Bay
Phone:
(09) 361 5060
Website:
thegovernor.co.nz
Open:
Mon-Fri 6.30am to 4pm, Saturday and Sunday 7.30am to 4pm.
SET UP & SITE
I'd noticed a new cafe had opened where Zus and Zo once was so I was interested to see how it would fare in the shadow of the uber-popular Dear Jervois. Zus and Zo had once been the place to be, but seemed to fall out of favour once Dear Jervois opened with a bang around the corner. The Governor has a simple layout, with white walls and striped cushions on the seating and it's a little less ramshackle ride for those who are tired of sitting on old school seats. It also has a conference room available that can seat up to 20. The clientele appeared to be a slightly older version of the Dear Jervois crowd and were, predictably, very Herne Bay.
SUSTENANCE & SWILL
The menu is locally sourced and organic. There's some Middle-Eastern influence, with offerings like labneh (yoghurt cheese) on toast ($14). There's also Clevedon tomatoes with fried spelt bread, Matakana olive oil, herbs and sea salt ($14); and
eggs with greens, which comes with beets, carrots, seeds, spelt and a turmeric tahini dressing ($18). There are plenty of interesting-looking lunch options, along with a decent wine and beer list if you feel so inclined.
I ordered the Imperial Eggs ($18), which seemed like a signature dish. It comes with baked lentils with curry leaf, crispy fried eggs, yogurt and kasundi. It was flavourful and light, a great way to awaken the taste buds. My friend went for the poached eggs ($18), served with ham off the bone, rather than greasy bacon. The poached eggs were perfect and the hollandaise was just right.
The flat white and long black were good, but not outstanding. I'd really wanted to try a smoothie, but they had run out, so they must be really good. However, the freshly squeezed juice with spinach, pineapple, cucumber, celery, lemon and apple ($8.50) was a refreshing and delicious substitute.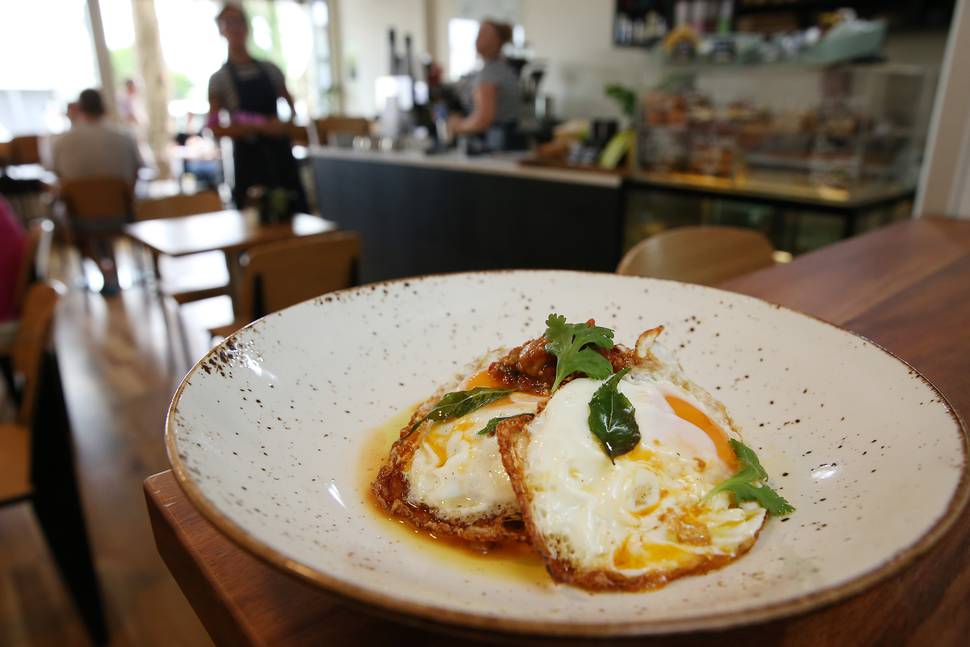 SERVICE & OTHER STUFF
The staff were very friendly, decked out in stripes to match the decor. The Governor had only been open for a couple of weeks and was very busy, so we had to wait a while for a table. Once we were seated, we were impressed by how quickly the food arrived and how good it all looked.