Preparation is the key to your dinner party going smoothly.
We come from a family that prides itself on hosting guests and throwing fantastic dinner parties. It has been ingrained in us from a very early age that when you have guests, the most important thing is that they feel comfortable and leave with a full stomach and a massive smile on their face.
As hosts, we need to be able to float through the evening, making sure it seems like we have loads of time and aren't stuck in the kitchen all night.
Our dad would always tell us, "fail to prepare, prepare to fail". This rings true for dinner parties as well. Being strategic about the dishes to serve is imperative to hosting a smooth evening. They should always be delicious and, if you can have two of the courses pre-made, there should be lots of time to refill glasses and spend time with everyone. Today, we are sharing our easy, impressive and stress-free three-course dinner party menu.
Steak tartare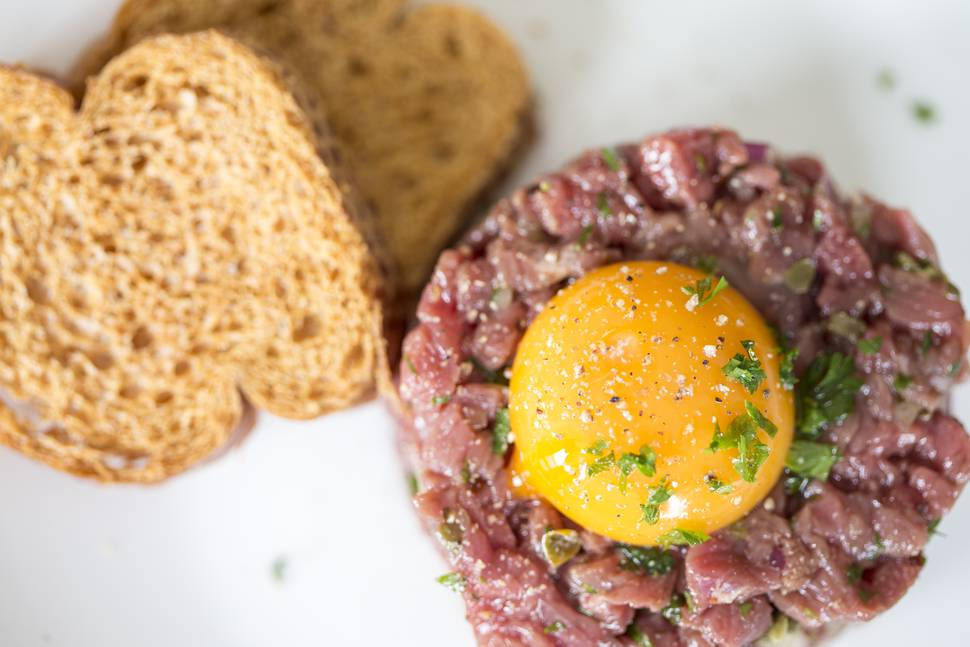 Interactive food helps lighten the mood. Our "do-it-yourself" beef tartare is a great first course for this. We have used the classic flavours for beef tartare but feel free to mix it up. Maybe have a South East Asian twist using fish sauce, lime juice, chilli and coriander or Italian with balsamic vinegar, fresh tomatoes and basil. Because you will be serving the meat raw, be sure to buy it from a trusted source and also keep the beef covered and refrigerated until you are ready to use it.
Serves 4
4 oiled anchovy fillets, minced
2 Tbsp capers, drained
4 tsp Dijon mustard
800g eye fillet, cut into small dice
2 Tbsp finely chopped red onion
2 Tbsp finely chopped flat leaf parsley
4 tsp olive oil
8 drops Tabasco or other hot sauce
4 tsp Worcestershire Sauce
1 tsp crushed chilli flakes
4 large free-range egg yolks (very fresh)
Toasted baguette, to serve
1 Combine all the ingredients except the egg yolks, season to taste with salt and pepper and divide in to 4 servings.
2 Mould into circle shapes on the plate
and make a dent on top to place the
egg yolk.
3 Additional ingredients can be added to adjust taste to your liking. When served, tell your guests to combine the egg yolk into the meat mix. Serve with toasted baguette.
Chorizo and prawn pasta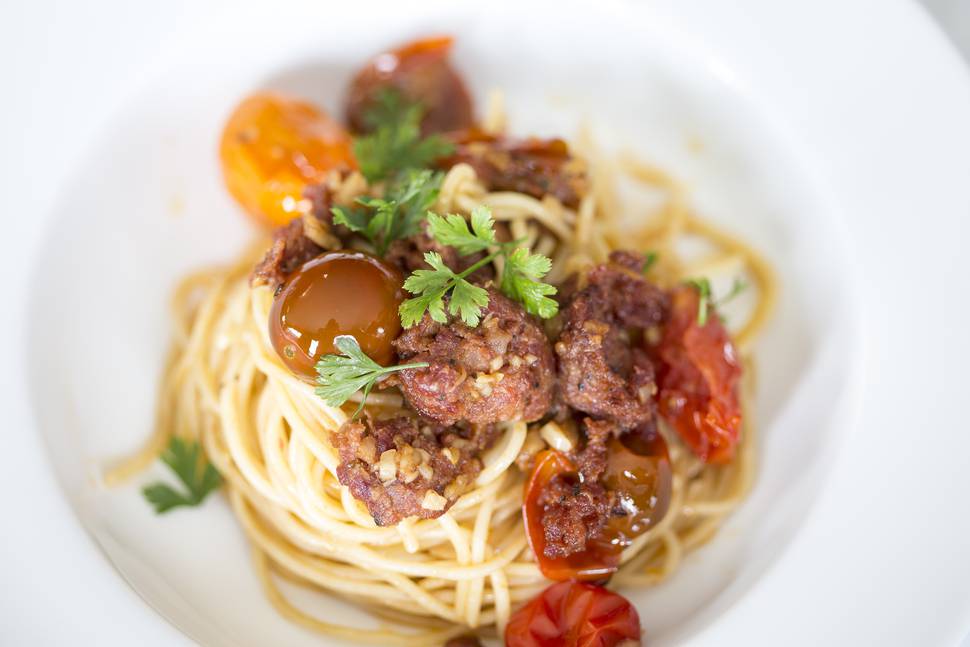 Pasta is always one of our go-to carbs when entertaining. If we have enough time we will make our own pasta but for this recipe we used store-bought spaghetti. The beauty of this dish is that the chorizo imparts so much flavour it seems like you have spent a long time working on the sauce. A good-quality chorizo will make all the difference.
Serves 4
400g linguine
Olive oil, for frying
6 garlic cloves, crushed
2 large chorizo, cut into small cubes
24 medium prawns
1 cup cherry tomatoes, halved
1 Tbsp red wine vinegar
Juice 1 lemon
½ cup fresh basil leaves
1 Heat a large pot of water to a rolling boil and cook the pasta according to packet instructions. Drain the pasta and set aside.
2 In a large frying pan on a medium heat add the olive oil and fry for about one minute until the garlic has softened.
3 Add the chorizo and prawns and fry for three minutes or until the oil has started to release from the chorizo. Stir in the tomatoes and vinegar and cook another three minutes until the prawns have cooked through.
4 Add the pasta back to the pan and toss through the sauce. Add the lemon juice and basil leaves, reserving some of the leaves for plating. Season to taste and garnish with some fresh basil to serve.
Chilli chocolate mousse with blueberries
This dessert is awesome because you can have them whipped up and in the fridge the day before. We have placed a few chopped up prunes in the bottom that have been soaking in some port or Pedro Ximenez.
Serves 4
1 block Whittakers chilli chocolate, chopped in small pieces
1 Tbsp caster sugar
1 cup cream
2 egg yolks
4 Tbsp fresh blueberries
4 marshmallows
Cocoa, for dusting
2 tsp golden ball cake decorations
Edible flowers (optional) we used dianthas
1 Place the chocolate pieces into a microwave-safe bowl. Melt gently for 20 seconds at a time until just melted. Take care to not let the chocolate burn. Set aside to cool slightly.
2 Meanwhile whip the sugar and cream until medium peaks form.
3 Whisk the egg yolks into the chocolate. Add ? of the cream mix to the chocolate and gently fold together. Once combined, fold through the rest of the cream.
4 Divide the blueberries among four serving dishes, top with the chocolate mousse and smooth the top with a knife or palette knife. Leave in the fridge for at least one hour to set.
5 To serve, dust with cocoa and decorate with the marshmallows, golden balls and flowers for a simple yet impressive dessert.