All kinds of animals were given a great gift during the festive season - a loving, permanent home, as the annual Hawke's Bay Today adopt-a-pet campaign once again proved a success.
The campaign involved publishing a daily profile and photo of an animal available for adoption from both the Napier and Hastings and Districts SPCAs.
SPCA Napier centre manager Bruce Wills said 55 dogs and cats have so far been adopted since December 20.
"We've had very strong adoption rates over the Christmas and New Year period. It is chaotic, there are so many coming and going. At this time of year, it is nearly always families adopting our animals. Just after Christmas with children being promised a pet and after the New Year when people have come back from their holiday and are ready to bring a pet into their lives, tends to be when they are adopted," Mr Wills said.
Dog-lover Ben Thomason received the best Christmas present after his partner, Stacey McCann surprised him with 9-month old female puppy, Layla.
Now known as Leila, the playful and fun puppy was one of the animals who was featured in Hawke's Bay Today's campaign from the Napier SPCA.
"My partner and I have just bought a new house and we wanted to add to the family," Miss McCann said.
"It is funny how she is a labrador staffy cross, as the dog he grew up with was a labrador and I grew up with a staffy."
Watson the Flemish giant cross rabbit was another animal who was too cute to resist.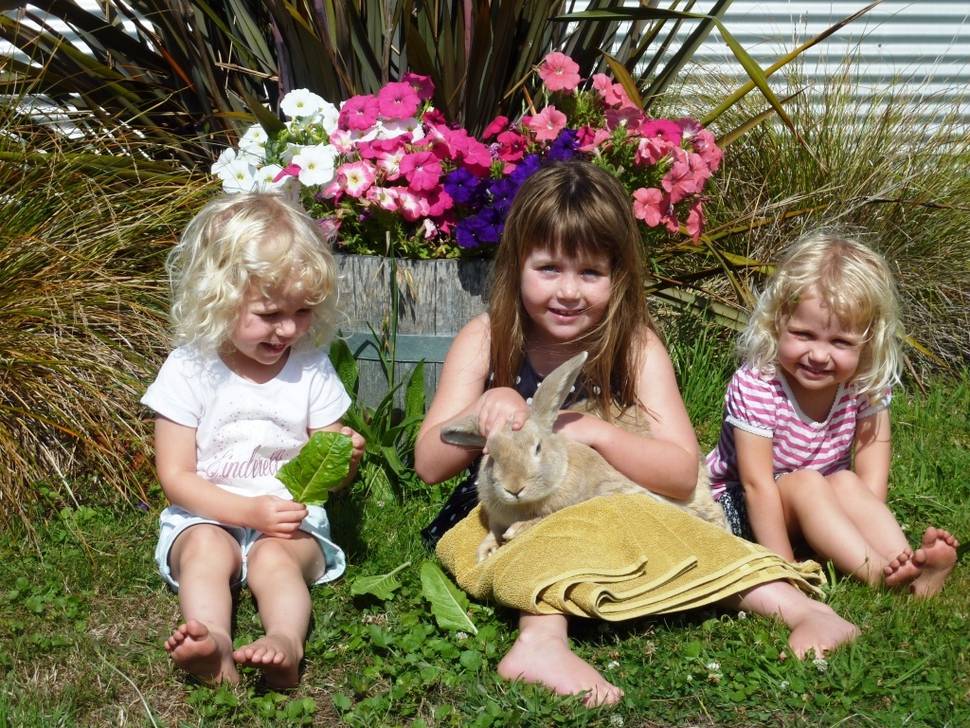 Jennie Arnold, along with her three daughters Poppy, 6, and twins Lily and Bronte, 3, adopted the fluffy bunny after they fell in love with him at the Hastings and Districts SPCA.
"He is a gorgeous little fellow who demolishes his spinach and carrots. He has quite a palace," Mrs Arnold said.
"The girls give him cuddles, feed him and change his water bottle."
She recommends adopting from the SPCA and will definitely be adopting from them again.
"The SPCA are fantastic, we adopted our two cats; Huckle (Male) and Ellie (Female) from the Napier SPCA five years ago. Knowing you are helping these animals find a forever home is fantastic," she said.
"I would adopt all the animals if I could," Mrs Arnold said.
SPCA Hastings and Districts centre manager, Cynthia Repko said all of the animals featured in the campaign had been adopted.