Prime Minister John Key has been inspired by a heart-wrenching speech given by a Christchurch student just days after he was diagnosed with cancer, and has taken to wearing a bracelet in acknowledgement of his support.
One week before senior prizegiving, Christchurch Boys' High School senior monitor - or head boy - Jake Bailey was diagnosed with Burkitt non-Hodgkin's lymphoma and told he might not live to see the day.
But he was able to leave his hospital bed to deliver his speech from a wheelchair on November 4.
"Here's the thing, none of us get out of life alive. So be gallant, be great, be gracious and be grateful for the opportunities that you have," the 18-year-old said.
Today, Mr Key said he was so touched by the speech that he personally wrote to Mr Bailey in hospital.
In return, headmaster Nic Hill sent the prime minister a bracelet featuring the student's message to be gallant, great, gracious and grateful.
"I just put it on," Mr Key said in Christchurch today.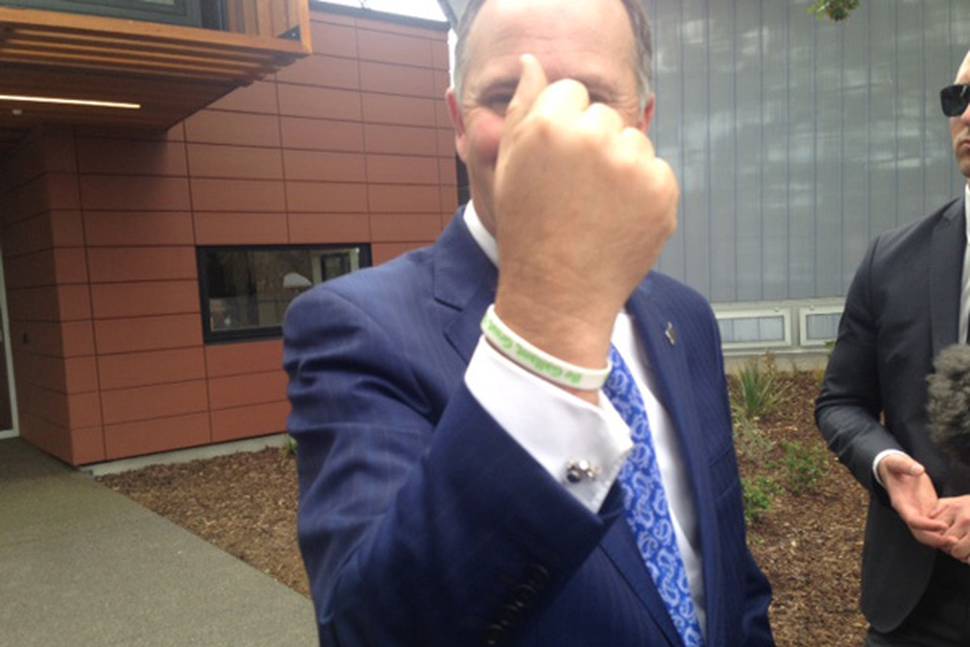 "Obviously, [Bailey is] a young man going through some big challenges at the moment and we wish him all the very very best.
"I just wanted to lend my support to him and he was obviously pleased to receive the letter and wanted me to have this."
Mr Key described him as "brave" and "courageous".
A video of the inspirational speech has now been viewed more than 1.5 million times on YouTube.
His story has prompted people to write to him in hospital from all over the world.
Infection remains a risk for Jake and visits are restricted.
The teenager was diagnosed with Burkitt - a fast-growing cancer which is fatal if left untreated - in late October.
He underwent about a week of intensive chemotherapy before delivering the speech.
"I wrote a speech. And then, a week before I was due to deliver that speech, they said, 'You've got cancer'," Jake told the audience at the prizegiving.
"They said, 'If you don't get any treatment within the next three weeks you're going to die'. And then they told me I wouldn't be here tonight to deliver that speech."
What is Burkitt lymphoma?
• Burkitt lymphoma is a form of non-Hodgkin's lymphoma, where cancer starts in the immune cells.
• It is recognised as the fastest growing human tumour.
• The cancer is related to impaired immunity and fatal if untreated.
• It was named after British surgeon Denis Burkitt, who first identified the disease among children in Africa in the 1950s. The cancer is rare outside Africa.
• Intensive chemotherapy is the preferred treatment.