Ten emerging fashion designers have been selected to open four shows at New Zealand Fashion Week in a colourful display of garments made from Indian saris.
App users: tap here to view photos.
The 10 looks by NZ Fashion Tech diploma students - from its central Auckland and Wellington campuses - use hand-woven silk made on ancient looms by locals in the village of Dhoddampalayam, south India.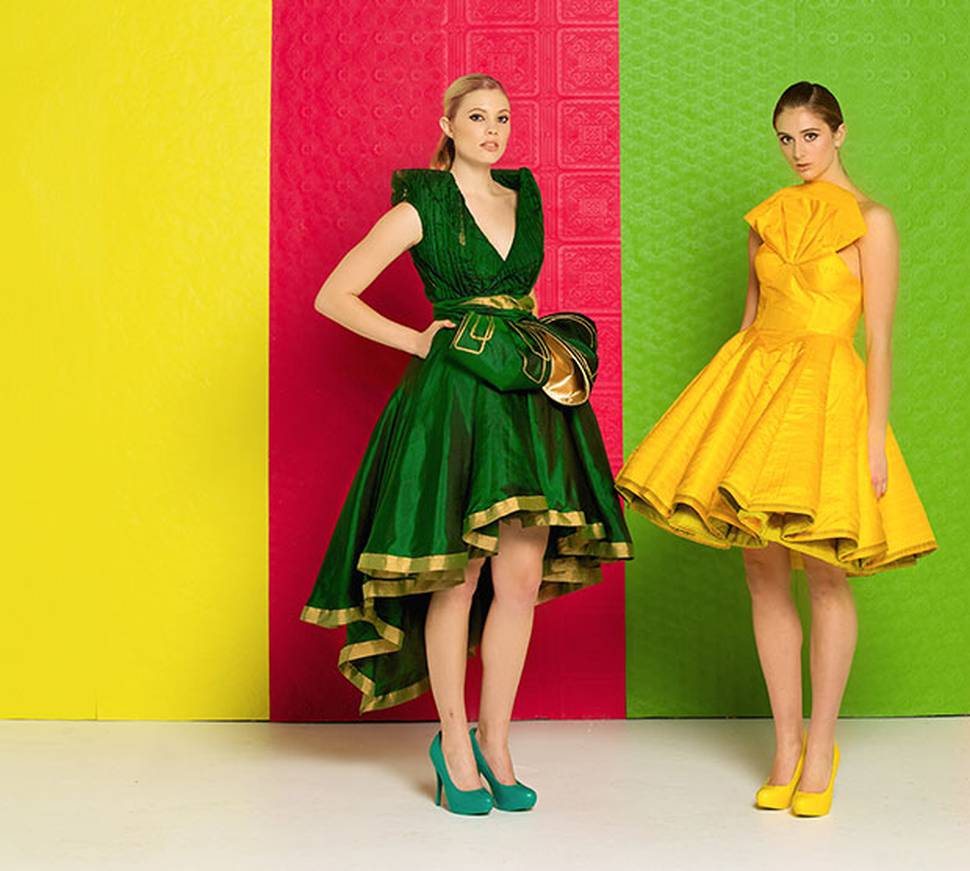 The students, who range in age from 18 to 29, were asked to come up with colourful ideas that represented the latest paint colours from Resene - a Fashion Week sponsor - such as Smooch, Freefall, Juicy and Kakapo.
A panel of judges will select a winning design from the four shows, which start on August 26 and run before each Resene Designer Selection Show.
Each show features all 10 designs.
The winner will win a trip for two to attend ID Dunedin Fashion Week in April 2016
Fifty saris for the project - in its second year - were selected from the village by the Giles Brooker Group, which organises academic exchanges between India and NZ.
Natalie Park, 18, from Mellons Bay, East Auckland, created an orange jumpsuit, based on the paint colour Ayers Rock, calling it Breath of Fresh Ayer.
"I imagine that when [imaginary character] Maya wears my garment she feels exactly how she would feel standing on top of Ayers Rock - strong, empowered, and undefeatable," Ms Park said.
The teenager left high school early as she was keen to go to Fashion Tech.
"When I was at high school, I was always making lots of clothes that I wanted but could not find to buy."
Her mother, father, sister and boyfriend will be at Fashion Week when her creation hits the runway.
Khrishae Teriaki, 29, who lives in Mangere, put a contemporary take on a fairytale. She was inspired by the Little Red Riding Hood character on the TV show Once Upon a Time for her outfit New Life Resolution.
"I wanted to change it up and make [the outfit] modern by adding pockets and a funky hood," she said.
When designing her outfit, Ms Teriaki imagined "clear blue waterfalls flowing into vibrant blue ponds, and snow-capped mountain ranges standing majestically under sapphire blue skies".
Among the judging panel is designer Doris de Pont, who said the garments were of "a quality and inventiveness which would confidently hold their own on any fashion runway".
The project also involves students travelling to the Bannari Amman Institute of Technology's campus in the village of Sathyamangalam, near where the saris were made, for a five-week fashion course, ending in a catwalk show.
It will be made possible through the Prime Minister's Scholarships for Asia, of which Fashion Tech won 20.
Students will have to apply, but some whose designs are on the catwalk are likely to be involved.
Last year, 15 outfits were taken to India by students who had won Prime Minister's Scholarships for Asia. They spent five weeks in November and December re-creating the garments from saris for a fashion show.