From its new Manukau base, Pasifika shows off sophisticated flavours
In a swift response to the fruit fly no-go zones in and around its original Western Springs stomping ground, the 23rd Pasifika Festival moves to Manukau this year.
Crowds of up to 40,000 are expected to the world's biggest celebration of Pacific Island culture, with more than 1000 performers and 300 stalls.
At the heart of Pacific island cultures is their food. And so Auckland Tourism Events and Economic Development have backed the new organiser, Orange Productions, to bring authentic flavours to the festival. To help, they've brought in New Zealand chef Robert Oliver.
Oliver, who was raised in Fiji and Samoa, has a passion for the flavours of the South Pacific and is on a mission to use island food and agriculture to grow the region's tourism.
His first book, Me'a Kai, won Best Cookbook in the World 2010, at the Gourmand World Cookbook Awards in Paris, his second Mea'ai Samoa: Recipes and Stories from the Heart of Polynesia (Random House) won Best TV Chef Cookbook in the World 2013 and his two seasons of TV show, Real Pasifik, have explored variations on island flavours.
Last year Oliver made a heart-warming connection with Aaron and Heather Freeman when he was one of the tasting judges on the first season of My Kitchen Rules.
Aaron is Cook Island, Heather is Maori, and the Palmerston North pair, who came second on the show, are now food ambassadors for this, their first festival.
"I'm pretty excited, I've wanted to go every year," says Aaron. "We're working with chef Robert to make our food more accessible, providing real culinary destinations at each village."
For as long as he can remember, Aaron has hung around the kitchen - he reckons he's been to twice as many weddings, birthdays and parties as anyone else because his mother was a chef and his grandmother had one of the largest catering operations back in the islands.
To compete in the show, Heather quit her day job at the Ministry of Social Development (Aaron was a full-time dad and home cook) but since filming ended in October they have built a new career in food.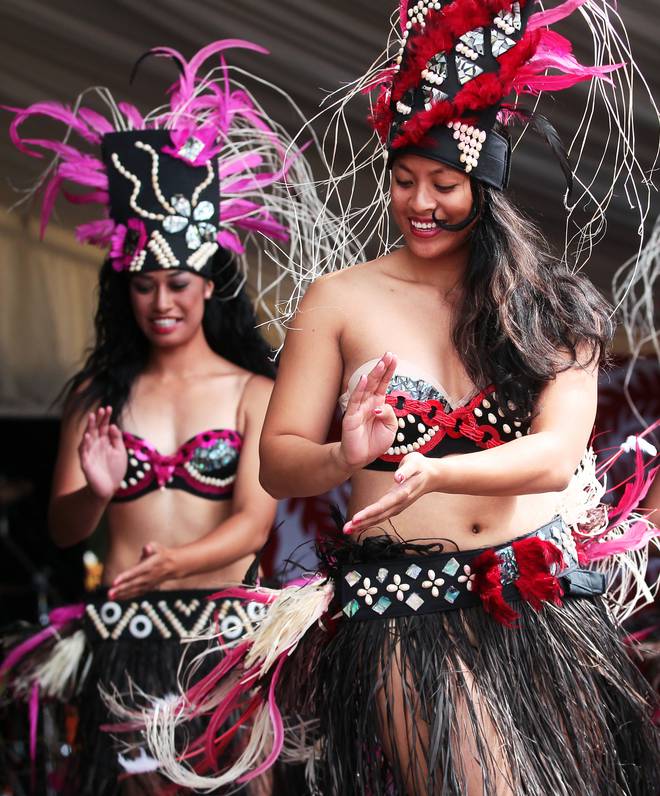 Life has been a whirlwind of cooking, speaking and recipe development. Aaron's already creating a menu for a 200-person banquet in August when Cook Islands Prime Minister Henry Puna visits, the pair have a trip back to the islands planned for location scouting, there's a book pitch, even a food truck in the pipeline and they're featuring in Wellington on a Plate this winter and the Wellington Wine and Food Festival later this month.
The Freemans enchanted not only Oliver with their skilled take on Polynesian flavours: judges Ben Bayly of The Grove and Gareth Stewart of Soul feature Pasifika-influenced dishes on their menus now. "This is nothing like you've seen; Pacific food used to be a thing of flea markets, but we're changing that point of view," says Aaron. "We've been ... crap at celebrating ourselves, we don't even look at this food and think it belongs in a restaurant. But from the top down, we're educating people.
"[Samoan-born] Michael Meredith was an inspiration to me when Heather and I ate there during filming. Every dish that landed on the table, I could recognise as something from my childhood."
Aaron jokes that he's not sure he can show his upside-down take on the traditional Cook Island ika mata that wowed the television judges at Pasifika - "I'll be in front of a real panel of experts then, everyone would know" - but his demonstration dishes will be celebrating the best of local produce and his country's sophisticated flavours.
"Chef Robert is right, cuisine is a cultural indicator. We're not doing ourselves justice if we're not showcasing it properly - here and in the resorts back home," he says.
Fabulous flavour at every turn
Marinated raw fish (ceviche) is a dish in nearly every one of the islands, but every island has its own variation. Robert Oliver invited four of the cooks from Pasifika to share their variations:
Ota ika, Tonga (Sela Mavae): The Tongan version uses a lot more vegetables than other islands' versions: cucumber, tomatoes, capsicum, spring onions and finely diced red chilli; the lemon or lime juice and coconut milk are all mixed in together (no marinating first).
Oka, Samoa (Ane Chan Paeu): While Samoan actor/comedian Oscar Kightley (who shares his oka recipe in Robert's second book, Mea'ai Samoa) reckons there are as many versions as there are Samoans, oka mixes the vegetables in a lot more lemon than the Tongan version first, then stirs in coconut cream. Fans of heat add a dash of the Hot Samoan Boys Chilli Sauce.
Ota ika, Niue (Mina Kaliatama): In Niue, tuna fresh from the sea is served with nothing more than sea water and lime, for a delicate briny taste.
This weekend try the fai kai, fish baked with coconut cream.
Ika mata, Cook Islands (Michelle Potoru): Aaron's judge-wowing version used fresh tarakihi marinated for 15 minutes in lemon juice, with grape tomatoes, coconut cream and the unexpected addition of chives and olive oil.
He and Heather will be demonstrating at 10.45am on the Cook Islands stage.
This weekend, Samoa serves the all-time favourite, watermelon icecream, but also give the taro, corned beef and chop suey umu a try, as well as traditional palusami (taro leaves baked in coconut cream).
There's mape (chestnuts) served a variety of ways at Tahiti, hangi, paua, smoked eel and fried bread at Aotearoa, a whole spit-roasted pig (tunu puaka) in Tonga, fish and taro tolotalo from Tuvalu, and Fijian lovo (one of the best in-ground cooked dishes, according to Robert Oliver).
Check out the Hawaiian poi and kulolo, and their version of taro, the smooth kalo.
Need to know
Pasifika Festival, Hayman Park (next to Manukau Institute of Technology and Westfield Mall), Manukau, today 10am-5pm, tomorrow 10am-4pm. Free.
Use the Auckland Transport planner to find bus and train times (usual weekend timetable applies). Shuttle buses will run from Puhinui Station to Manukau Station if needed. Davies Ave will be closed until 9pm tomorrow. There will be pay and display parking on street, buildings at Ronwood Ave and Manukau Station Rd. aat.govt.nz/bus-train-ferry/
Everyone is welcome to the interdenominational church service, with amazing singing from choir groups. Tongan Village, tomorrow, 8.45am.
Live performances and workshops including hula dancing, hat weaving, ukulele lessons, drumming and carving, crafts demonstrations and more. Islands include Cook Islands, Fiji, Niue, Aotearoa, Hawaii, Kiribati, Samoa, Tahiti, Tuvalu, Tonga and Tokelau (today only), and Solomons, Vanuatu and Papua New Guinea (tomorrow).