The massive foodie tome, 1001 Restaurants You Must Experience Before You Die, has just been released. Among the featured eateries are a dozen of New Zealand's best. We can share three full extracts with Life & Style readers. Plus, read on and win a copy of the book.
Sidart
A hidden gem with a truly innovative menu
Location:
Ponsonby
Signature dish:
Roquefort ice cream, red wine poached pear, almond crumble, and red wine syrup
A gem of a restaurant where owner and chef Sid Sahrawat produces innovative, sometimes daring, and perfectly balanced dishes with flavours and textures that play out to create a feast for eyes and mouth.
At his "Tuesday Test Kitchen" night, he offers experimental dishes in a feast of eight courses that can become contenders for his regular menu. This is probably one of the best bargains of Auckland's sophisticated dining scene, with optional wine matches for an added fee. The rest of the week diners can choose from a five- or ten-course menu.
Diners need to negotiate their way through a bizarre mall entrance and up a set of winding stairs; but, once in the restaurant, they will find a comfortable haven on the otherwise busy Ponsonby Road restaurant strip. Dark and intimate, the restaurant offers stunning views of Auckland's downtown skyline and city center. Both the chef's table alongside the kitchen or one of the cozy banquettes provide the perfect setting for a fascinating succession of courses.
Dishes may include snapper, lychee, and nim jam, comprising a little jar with coconut puree with a chunk of nim jam-marinated, ocean-fresh snapper in tempura, and a tangle of bean sprouts and green onion, all topped with bright-flavored coriander and chili sorbet. Who would ever think of putting snapper in a jar? Then there is the Roquefort cheesecake that is so good it has been on the menu for several years: it has all the elements of a cheesecake, but then again-not cheesecake as you know it.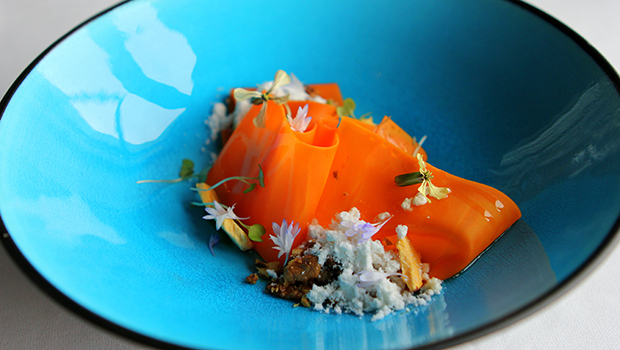 Photo / Sidart Images, Sidart
The waiting staff perform their duties in a warm and welcoming manner, helpfully guiding guests through all elements of dinner as well as the eclectic wine list, suggesting wines that may surprise and delight as much as the food. A magical, truly enchanting experience. LJ
"Sidart presents the sublime essence of fine dining: art on a plate. A truly unique experience." - The New Zealand Herald

Depot Eatery & Oyster Bar
Casual Kiwi fare with fun and flair
Location:
Auckland
Signature dish:
Hapuku sliders, pickled lemon mayo, watercress
There has been a line of expectant diners standing on the pavement from the very first day chef Al Brown threw open the doors at Depot. Well worth the wait, this attendant experience is often as fun outside as the crammed dining within. Once your name is on the list, the friendly staff will ply you with on-tap wine and beer. Depot is also open all day, serving simple breakfasts and coffee with no lines.
Brown is the archetypal Kiwi, a hunting, shooting, and fishing type who has created a menu at Depot that reflects his love of land and sea. There is no artfully styled fancy food here, but you can feast on some of the freshest oysters and clams to be found anywhere, opened to order at the raw bar as you settle in to share small and large plates of locally sourced specialities. The New Zealand meat board is crammed with charcuterie sourced from the country's best artisan purveyors and is a must to nibble on to balance all the briny seafood.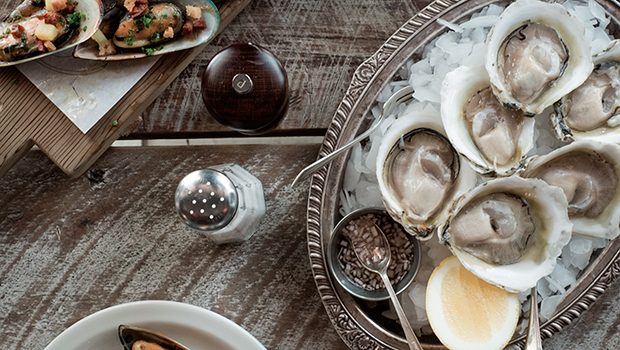 Photo / Depot, Kieran Scott
Having spent time on the U.S. East Coast during his chef training and during subsequent travels, Brown incorporates New England and New York influences in this diner-style eatery. The most popular dishes are fish-based: tasty sliders filled with fresh hapuku (groper) and tangy lemon mayonnaise and cumin-battered fish tortillas with coleslaw and tomatillo sauce. Brown is the also the master of economical cuts of fish and meat, creating hearty dishes such as hapuku belly with eggplant kasundi (a type of relish), skirt steak with tobacco onions, or lamb ribs with skordalia (a garlic-based puree).

Waiting staff buzz happily about in the narrow space, which is furnished with heavy wooden tables and stools crammed together. The chefs work in full view, and a few lucky diners can perch near the kitchen, observing pans flashing and orders being called. The wine list extends beyond Sauvignon blanc on tap, with a wide choice of wines available by the glass. LJ
"... a fast-paced, fresh venue where you can drop in and enjoy perfectly cooked dishes." - The New Zealand Herald

The French Café
Consistently excellent food in an elegant setting
Location:
Auckland
Signature dish:
Spiced duckling with Asian greens, mandarine, and kumara
The awards bestowed upon this café reinforce its reputation as first choice for special-occasion dining, when you want a flawless experience. Chef Simon Wright and wife Creghan Molloy Wright, who oversees the dining experience, never rest for one minute in their relentless pursuit of excellence in food, wine, service, and classy atmosphere.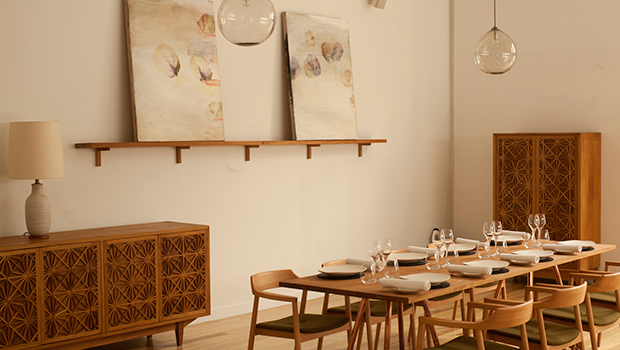 Photo / French Cafe, French Cafe
The pair took over this eclectic café more than 15 years ago and each year they added innovative details to make their restaurant a temple of fine dining. The exemplary service provided by staff turned out in impeccable style, the constantly reworked interior and exterior architecture, a snazzy outdoor courtyard planted with herbs and vegetables, and a stunning wine list make for a sophisticated, stylish experience.
The modern menu reaches back to Wright's classical British culinary training, and the experience he gained on travels to Asia, the Pacific, and back to Europe provide plenty of interesting influences. Produce is sourced daily for playful dishes such as the "Fruits of the Sea," a frothy combination of native seaweed, oyster cream, samphire, and lemon oil, revealing delicious small sea creatures in the jellied broth, while caramelized pork belly is enhanced with langoustine, carrots, and the surprising flavors of almond and gingerbread. The duck is not to be missed, and is always paired with seasonal fare.
The tasting menu is highly recommended: ten courses of exquisite flavors, starting with a briny kingfish ceviche supported by apple jelly, verjus cucumber, crème fraîche, and caviar, and finishing with two desserts. Vegetarians are catered to with a separate tasting menu, including dishes such as barely-set egg yolk with smoked potato, mushrooms, rye, and fresh truffles. Dining in New Zealand does not get better than the French Café experience. LJ
Other Auckland restaurants included:
• Soul Bar & Bistro
• The Engine Room
• The Sugar Club
And further afield:
• Black Barn & Bistro, Hawke's Bay
• Ortega Fish Shack, Wellington
• Logan Brown, Wellington
• Herzog Restaurant, Marlborough
• Pegasus Bay Restaurant, Waipara
• Fleur's Place, Moeraki, Otago
• Fishbone Bar & Grill, Queenstown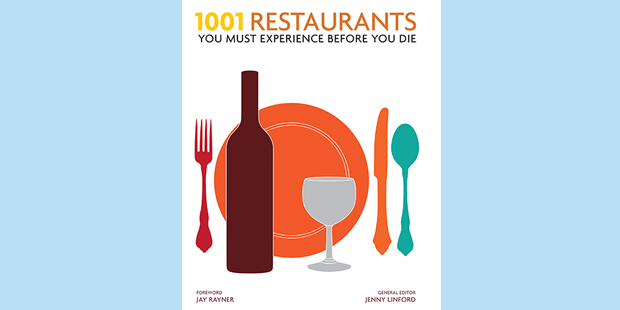 Book cover for 1001 Restaurants You Must Experience Before You Die.
1001 Restaurants You Must Experience Before You Die, general editor Jenny Linford and New Zealand contributor Lauraine Jacobs. Published under the Cassell Illustrated imprint and distributed in New Zealand by New Holland, $45.00.
We have three copies of the book to give away to readers. Entries close on Wednesday, October 15th at noon. Good luck!