Auckland's annual Food Show is a delicious chance to get out and taste something new - but with so much to try it can get a little overwhelming. Here are ten of the stands worth checking out at this year's show:
The Beverage Boy
This year there were a few food trucks about - but The Beverage Boy and it's adorable 1974 Bedford Cresta camper van was easily my favourite. Matt Lockwood's smoothies and juices are amazing - especially the pear apple and lime mix, which is both sweet and refreshing.
Chantal Organic/Pic's Really Good Peanut Butter
Organic peanut butter feels very on trend this year, I lost count of how many stands I saw. Chantal's Crunchy Whole Peanut Butter leaves the skins of the peanut on to make the spread even more flavoursome. Pic's Really Good Peanut Butter's name was spot on - their peanut butter is really good.
Chorizos Garcia
There are so many great nibbles to pick from - so be sure to try a few mouthfuls of the authentic Spanish Chorizo. It has just the right amount of kick to it and just melts in your mouth.
Selaks Wine Bar
If you're a wine fan, make sure you head to the Selaks' wine bar for a drop or two. Their new Premium Selection Breeze range has lower alcohol percentage and tastes fantastic and fresh - the Sauvignon Blanc will be my pick for when the summer rolls around.
Real Good Brownies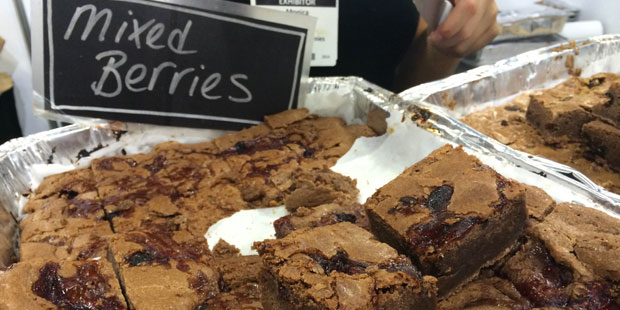 Delicious mixed berry flavour brownie from Real Good Brownies.
You can normally find Real Good Brownies at festivals or markets - so it was great to see them at The Food Show this year. Honestly, they serve up some of the best brownies, with a great range of flavours. Tripple chocolate? Raspberry white chocolate? I'll take both thanks.
Nespresso
The Nespresso stand does get quite crowded during the day - but if you can get to it when it's not too busy, you can get a taste of their instant-barista-style coffee, just the way you like it. Plus, you can't really go wrong with a free cup of coffee.
Devonport Chocolates
Make sure you sample some of Devonport Chocolates' rich morsels, they are divine. Their Fairtrade Classic Hot Chocolate Mix also goes down a treat - with a strong coco flavour that isn't too sickly sweet.
The Tea Lady/Harney Fine Teas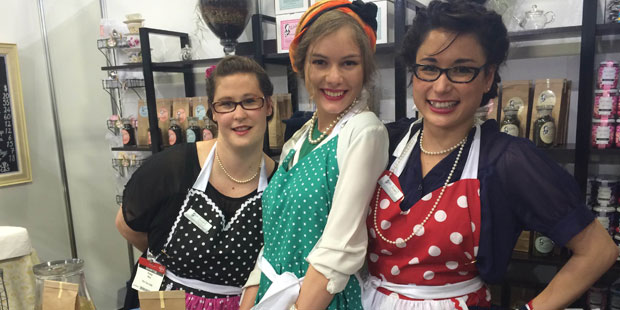 The lovely ladies at The Tea Lady stand.
The girls at The Tea Lady are gorgeous and so are their teas. Their Rooibos cream and caramel tea is particularly scrumptious and they have a wide range of flavours to choose from. Also, if you are a tea-lover, Harney Fine Teas, with their massive range and cute tea-tins, are worth trying out as well.
Hellers
Free smoked bacon. Need I say more?
New Zealand Natural
You've probably tried New Zealand Natural ice cream in your local mall. However, at The Food Show this weekend they're selling scoops for a gold coin donation, with all the money raised going to the Starship Children's Hospital. Not to mention, the caramel cookie crunch is exceptional.
It's not too late to get along to the Food Show, it is on at the ASB Showgrounds until 5pm tonight.