Dionne Christian discovers Auckland's full of fantastic holiday fun - with cool activities that are easy on the pocket.
Wintery weather and school holidays mean finding ways to keep active kids busy that won't break the bank.
Adventure time
At Extreme Edge Indoor Rock Climbing and Playland in Panmure, there are 47 different and creatively themed Climbzone walls, plus Adventure Land where the under-9s can leap around a pirate ship with swing bridges and giant slides. There are also 60 top-rope climbing walls and an overhanging wall for lead climbing. Children under 16 have to be actively supervised by an adult. You stay all day for just $10 for preschoolers; $16 for kids aged up to 15 and $21 for adults; includes gear (prices come down if you've got your own). Extreme Edge is also in Glen Eden and Hamilton. extremeedge.co.nz
On Auckland Council's Glow Worm Night Trail at Totara Park, in Manukau, you see eels in babbling brooks, frogs and the glow worms who call the park home.
Glow Worm Night Trail, Tuesdays July 8, 15, 8.15pm-9.15pm. Free, bookings essential. Ph 301 0101 or email: Chris Earl.
Get your skates on
Panmure's Skateland has extended school holiday hours, with something for skaters of all abilities: music, games, races and fun classes where you can learn the basics or how to play inline hockey.
Entry $6, skate hire $3, spectators free; classes from $9. skateland.co.nz
OnBoard Skateboard School teaches young skateboarders how to stay safe and make the most of their boards, with the chance to build up to a series of challenges depending where they feel they're at. Parents may well feel a whole lot better about letting their young skateboarder head off to one of Auckland's free skateparks.
North Harbour Stadium (rain or shine), Tuesday, Wednesday, July 8, 9. $50 a day. To register ph 021 283 2777. onboardskate.org.nz
Dinosaurs, meteors and defying gravity
Stardome Observatory's new show, Dinosaurs at Dusk, lets the 5- to 12-year-olds set travel back in time to meet the dinosaur ancestors of modern-day birds and experience the cataclysmic "last day" of the dinosaurs. There's also a chance to touch a real meteor from space and take part in some dino-themed arts and crafts.
Dinosaurs at Dusk sessions, weekdays during the July school holidays, 10am and 1pm; kids $10, adults $8. Ph 624 1246 or email info@stardome.org.nz to book. stardome.co.nz
The Classics
It's free for Aucklanders to visit the Museum so make the most of it these holidays. Entangled Islands: Samoa, New Zealand and the First World War is the first of the exhibitions about the New Zealand World War I experience, and the museum is planning to engage youngsters, not just the oldies.
The kids will be stunned at the images in Wildlife Photographer of the Year; can get hands-on with Dinosaur Footprints - A Story of Discovery; and Tungaru: The Kiribati Project is a collaborative art exhibition with interactive bits for children. Workshops that won't break the bank include Fun-ology (a one-hour introduction to the science of palaeontology) or a dinosaur hunt for the museum's resident "terrible lizards" - Basil, Delaurus and Gertie. Bookings recommended. Ph 306 7048. aucklandmuseum.com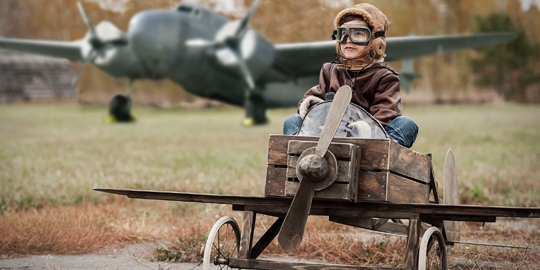 The Defying Gravity is the school holiday programme at Motat.
Defy gravity at Motat by learning the four basic principles of flight with gravity-themed activities and earn your Motat Aeronaut Licence. The Science Roadshow is also back during the holidays, with 60 hands-on exhibits and two live shows, Am I Living? and Up, Down, All Around. Get your kids (aged 8-plus) into the new three-hour Motat Spark-Lab workshops, which teach robotics.
Workshops run on July 15, 16, 17, 10am to 1pm. $30. Book at least three days before by emailing bookings@motat.org.nz
General admission adults $16, kids $8, family pass $40 or check out the annual Motat Mates family pass $75. motat.org.nz
It's also free for Aucklanders to visit Voyager New Zealand Maritime Museum, where the stories of our ocean-going past take centre stage. These holidays Voyager has the Dangers of the Sea trail which feature "spine-tingling" tales about triumphs and tragedies from the deep, stories of dramatic shipwrecks to tips for survival. Gold coin donation. maritimemuseum.co.nz
Or take a road trip around the past to the Thames and Waihi gold mines (shuttles to the great kid-friendly bike trails make for a terrific day trip). The Thames School of Mines runs gold panning sessions. Wednesdays, Thursdays and Sundays from July 6-17. Ph (07) 868 6227. heritage.org.nz
Get arty
It costs nothing to visit the Auckland Art Gallery and play gallery games, like art gallery bingo, hang out in the creative learning centre or enjoy the kids' Kangaroo Crew activities, part of the My Country Contemporary Art from Black Australia exhibition (free for kids under 12, until August 17). Paid workshops, all under $20, include a Time Travellers' Wearable Art workshop for children to make their own historic costumes and Portraits from the Past, looking at portrait painting and experimenting with various materials. During Matariki there are also three free family drop-ins, and Story Corner sessions with the Pacifica Mamas' community lei project.
Drop-ins Saturday, 1pm; Story Corner Sunday July 6, 1-1.30pm; lei project daily Wednesday to Saturday, July 9-12, 11am to 3pm.
The workshops fill up fast so book quickly at eventfinder.co.nz or aucklandartgallery.com
There are always good quality free events at our libraries but they get wilder during the July school holidays with the Go Wild programme. Every Auckland Council library has activities, including the Weird, Wild and Wonderful Poetry Workshop at Titirangi, Kiwis Go Wild at Helensville including the the Mataia kiwi restoration project, and Wild, Wacky and Wearable at Glenfield. aucklandlibraries.govt.nz
Step back in time
Cornwall Park is a fantastic free place to visit any time of year, and these school holidays the information centre is demonstrating early European life in Auckland. Bake scones in the coal range in historic Huia Lodge, or kids, with help from their grown-ups, can bake and decorate their own gingerbread people. Scones are baked every Wednesday in July, noon-2pm; gingerbread Wednesdays July 9, 16, 11am to 2pm (ages 5 upwards). Bookings Ph 630 8485.
The living history museum at Howick Historical Village shows how life was lived by Auckland's Fencible settlers from 1840 to 1880. Kids can get hands-on during the holiday's Marching and Starching event. Reflecting strict gender boundaries of the day, the boys get to practise being Fencible soldiers while the girls ready their homes and families for a special church service. Kids wear dress-up clothes from the village's collection and use real artefacts.
Marching and Starching Thursday, July 17, 9.30am to 2.30pm, $35 a child. Regular family passes $40; children $8, adults $14. fencible.org.nz
Big Days Out
For a special occasion, here are some options that are a little more pricey, but cool fun for everyone.
Join the hunt for Zoo Loot at Auckland Zoo, using clues from a treasure map to follow a trail and find answers to some tricky questions which will lead you to your own Zoo Loot. aucklandzoo.co.nz
There are Dino Days aplenty at Butterfly Creek with different dinosaur activities and quizzes every day, including Monday mask making, dinosaur encounters on Tuesdays, a Dino Dig on Wednesdays, colouring-in on Thursdays and face-painting Fridays. butterflycreek.co.nz
A real-life mermaid visits Kelly Tarlton's Sea Life Aquarium. Bex the mermaid will swim in the Shipwreck Discovery tank and there are Disney's The Little Mermaid activities including a quiz trail and a mermaid grotto. Bex swims at 10.30am and 1.30pm. Until Sunday, July 20. kellytarltons.co.nz
At Rainbow's End all rides, including the super scary new Stratsofear, will be open and there will be live music when it throws open its doors for school holiday Night Rides. Saturdays July 5, 12 and 19, 5-11.30pm. Online ticket deals at rainbowsend.co.nz