Life & Style Editor Nicky Park dishes up NZ's latest Food News.
If you have anything you want to share with us at Life & Style online, flick me an email by clicking the link above. Share your thoughts on social media and follow my wining, dining and thriving with the Twitter link above or on Instagram @Nicky_Park_.
Josh Emett's latest venture
"@Nicky_Park_: Better get quacking @JoshEmett #mastermatch pic.twitter.com/9K5JVvzfqR"don't forget the salt.
I would never ever have roasted a duck for Sunday dinner, but when the chance to make Josh Emett my virtual sous chef arose, well, it would be rude not to. I was among a throng of foodies to give the new Master Match concept a crack. The popular MasterChef NZ judge has joined forces with Kiwi winemakers, crafting simple recipes to perfectly pair with their drop. The selected wines are marked with a QR code, allowing punters to scan, shop for ingredients and cook up a storm. (Then gloat to guests about their perfect food and wine matching skills.) The fun part comes with sharing the experience online, shooting chef, @joshemett, any questions via Twitter as you go. Check out all the recipes here.
More from Mr Emett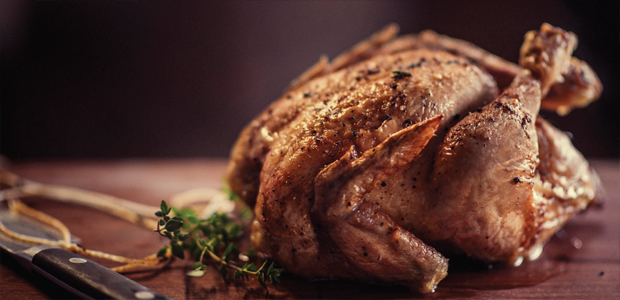 The dishy chef is staying busy this winter. If you'd rather take the heat out of your own kitchen head along to his slick Auckland establishment, Ostro and check out their brand new Sunday roast menu. Make your selection from two or three rotating roasts and relish all the trimmings - yorkshire pud, piles of root veggies, seasonal greens and lashings of condiments and sauces. Costing $38 a pop, the Sunday Roast will kick off this weekend with a choice between prime steer scotch, free range chicken & stuffing or free range pork belly. There's also special list of $16 Bloody Mary "pick-me-ups" to wash it all down. Our mouths are watering already.
Masu's new must-do

Learning about the food and beverage we put in our mouths enhances the joy of eating for us. We find it so satisfying knowing the source of our seafood, the way our cocktail was crafted and where our beer was brewed. We can now add sake appreciation to our gastronomic education thanks to Nic Watt and his team at Masu. Recently named Restaurant of the Year by Metro magazine, Masu is a must-do. (If you haven't been, get there, in a hurry, and ask for the crazy softshell crab on squid ink brioche, and the most melt-in-your-mouth wagyu beef, and don't forget the chef's selection of sashimi ...) This week we went along for an intimate six course lunch, celebrating the launch of their sake appreciation. The offering comes for guests who reserve space in the private dining room - called the OBI room - this special haven seats 18 and requires a $1000 spend minimum. For an additional $35 a head, diners are treated to a flight of three premium sakes with oodles of explanation and suggested food matches. After our sake sipping experience we can safely say Masu's master sommelier Meg Abbott-Walker knows her stuff.
A birthday blend for Coffee Supreme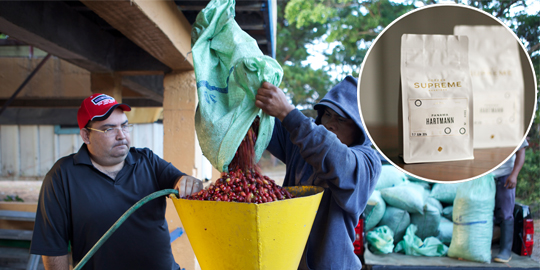 Coffee cherry being pulped at the farm in Panama. Inset, Panama, Hartmann, Geisha from Coffee Supreme. Photo / A. Keating for Coffee Supreme
The gifted guys at Coffee Supreme wanted a special batch of beans to celebrate their 21st birthday. In search of something unique, that true coffee connoisseurs would appreciate, they headed to Central America. In Panama, spooning the boarder of Costa Rica, they found an old family run farm growing rare Geisha coffee beans. The clean, perfectly picked beans won their hearts. We were treated to the very first public tasting of the beans which have just arrived, vacuum packed in New Zealand. Freshly ground and slowly drip-fed through a chemex for maximum pleasure, Supreme managing directer Al Keating, said the brew is best enjoyed at "mulled wine temperature". This will enhance the full array of caramel and tropical fruit notes this gourmet Hartmann bean boasts. Best used within a fortnight of roasting, the beans will be sold by pre-order online only and will set you back $24 for 150g of the limited edition product. You don't need a hip chemex to treat yourself, once ground, you can pop them in your plunger, or even through a filter straight in to a cup. Learn more about the craft of coffee on the Coffee Supreme website. (Fun fact: An expert at tasting coffee and articulating the flavours is called a cupper.)
Sidart scores national restaurant award
The degustation only menu at Sidart has been described as "art on a plate" by Kerry Tyack, head judge in the Cuisine NZ Good Food Awards. It's this clever and creative cuisine which won the restaurant the top spot in this week's awards. "Good chefs never stand still - they continuously experiment, evolve and adjust. Over the past year, Sid Sahrawat's food at Sidart has come into its own and truly excelled," Tyack said. See the full list of winners and hat recipients below.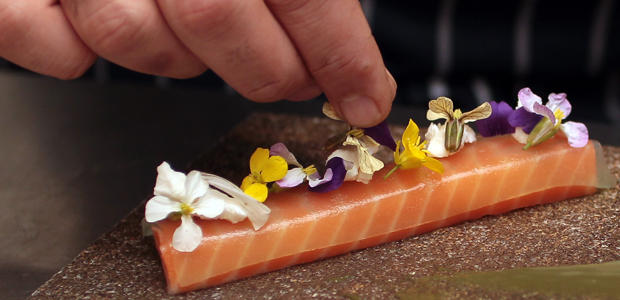 Restaurant of the year 2014: Sidart, Auckland
Vittoria Coffee Chef of the Year: Benjamin Bayly, Baduzzi and The Grove, Auckland
Sanpellegrino Best Metropolitan Restaurant: Sidart, Auckland
KitchenAid Best Regional Restaurant: Chim Choo Ree, Hamilton
Runner-up: Riverstone Kitchen, North Otago
Electrolux Best New Restaurant: Masu, Auckland
Runner-up: Roots, Lyttelton
American Express Best Specialist Restaurant: Baduzzi, Auckland
Runner-up: Ortega Fish Shack & Bar, Wellington
House of Travel Best Winery Restaurant: Elephant Hill, Hawke's Bay
Runner-up: Amisfield Bistro, Central Otago
European Foods Restaurant Personality of the Year: Mojo Horiuchi, Kazuya, Auckland
Negociants New Zealand Best Wine Experience: O'Connell Street Bistro, Auckland

3 Hats
Clooney, Auckland
Sidart, Auckland
The French Café, Auckland
The Grove, Auckland
2 Hats
Baduzzi, Auckland
Kazuya, Auckland
Logan Brown, Wellington
Masu, Auckland
Merediths, Auckland
The Grill by Sean Connolly, Auckland
1 Hat
Amisfield Bistro, Queenstown
Bracu, Auckland
Cazador, Auckland
Charley Noble, Wellington
Chim Choo Ree, Hamilton
Depot, Auckland
Elephant Hill, Hawke's Bay
O'Connell Street Bistro, Auckland
Orphans Kitchen, Auckland
Ortega Fish Shack & Bar, Wellington
Ortolana, Auckland
Pegasus Bay, Waipara, North Canterbury
Pescatore, Christchurch
Ponsonby Road Bistro, Auckland
Rata, Otago
Riverstone Kitchen, Oamaru
Roots, Christchurch
Soul Bar & Bistro, Auckland
Taylors on Jackson, Petone
The Larder, Wellington
- www.nzherald.co.nz