Danielle Wright discovers ways to paint the town green this St Patrick's Day.
Have you got a touch o' the Irish today? We'd love to see your photos! Email ushere.
It seems fitting that the patron saint of Ireland - St Patrick (not his real name) - wasn't even Irish. Depending on who you talk to, he was Scottish, Welsh or maybe French. He has a Kiwi connection, too. As the story goes, he drove his sword into Irish soil to banish poisonous snakes from Ireland (some say a metaphor for paganism). The tip of his - incredibly long - sword is said to have touched New Zealand and saved us from the poisonous snakes found across the ditch. No matter what else he did, that's worth celebrating. We've rounded up ideas on how to toast the Emerald Isles in Auckland.
The Pubs
On average, one Irish-theme pub a day opens around the world. We have a fair few of them in Auckland worth a visit - here's a selection to try today: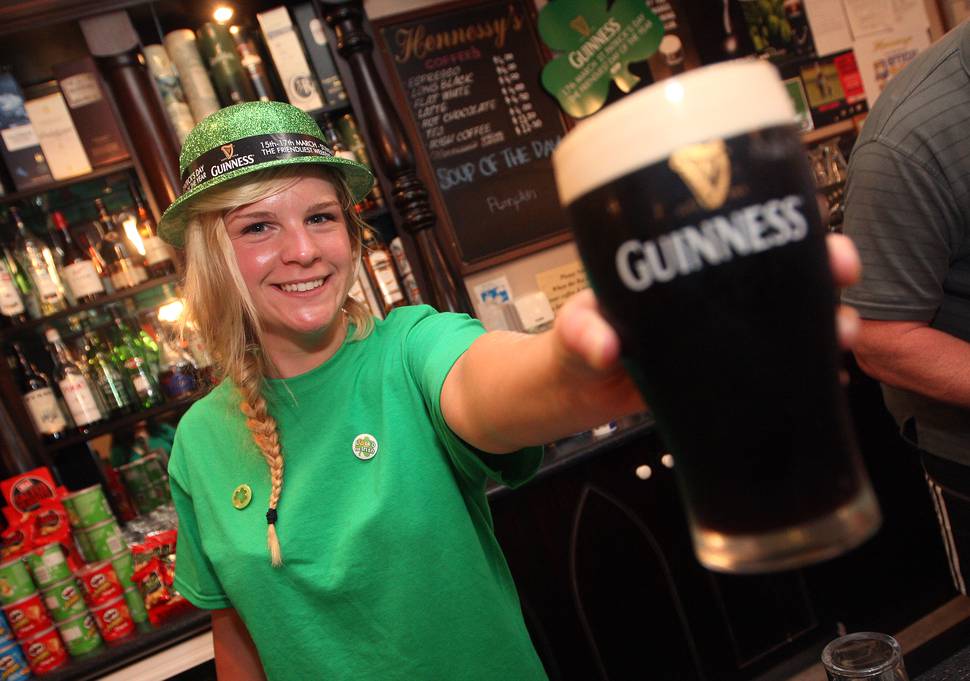 Muldoons
8 Moana Ave, Orewa, telephone (09) 427 8444.
Former Prime Minister Sir Robert Muldoon had a bach in Hatfields Beach, near the original Orewa bar, named after its famous patron.
"He used to drink in there quite a bit," says Adrian Martin, current general manager of Muldoons, which reopened last September under the original name. "We're trying to bring back the atmosphere and people who used to enjoy the place."
Martin is embracing St Patrick's Day by offering customers four days of festivities. Today the bar is open from 8am for breakfast with live music from 6pm until late.
If you're not partial to a pint, try the teapot cocktails poured into martini glasses and sober up with a walk along the beach afterwards.
O'Hagan's Irish Bar
103 Customs St West, Viaduct, ohagans.co.nz
O'Hagan's is arguably the most famous St Patrick's Day pub in Auckland.
Staff at the pub love it so much they have a "St Practice Day" today with live entertainment on Sunday.
Duty manager Biddy O'Neill has worked St Patrick's Day at the pub for the past 12 years. "The only way to get out of it is to leave the country," she says:
Her advice? "Please drink Guinness - it's the proper drink to have on the day. Don't forget to dress up. And bring your funny bone."
Duty manager Bex Mulligan agrees. "Everyone has been planning their outfits for ages - it's all-hands-on-deck to look as ridiculous as you can."
O'Hagan's opens for breakfast at 7am and there will be marquees extending to the waterfront outside the pub with live music, free merchandise and extra bars for the pub's biggest day of the year.
The Claddagh
372 Broadway, Newmarket, thecladdagh.co.nz
If you're looking for the perfect pint of Guinness head to The Claddagh, winner of last year's Northern Region Pintmaster Competition.
It's tucked away down a lane beside the Fair Trade shop on Broadway.
Play darts or a game of pool, or find yourself a cosy red armchair under framed photographs of famous Irishmen such as Samuel Beckett and James Joyce. There's also framed recipes such as Pickled or Soused Herring and Buttermilk Scones beside a bookshelf stuffed with paperback thrillers.
There will be St Patrick's Eve Guinness specials, a full Irish breakfast served from 8am and live music from 7pm. If you can't make it on the day, come down for one of the regular Ukulele Céilís (R18) that attract around 60 people strumming and singing.
The Clare Inn
274 Dominion Rd, Mt Eden, theclareinn.com
Neighbourhood Irish pub The Clare Inn's proprietor Suzanne Harley-Conway says the pub is very traditional and very Irish. One phrase you'll hear at The Clare Inn on St Paddy's Day is céad mile fáilte (not "Cave Me The Vulture", as I first heard it), meaning "A hundred thousand welcomes".
"We pride ourselves on our meals and on having very good Guinness," says Suzanne. "The perfect pint takes a lot of loving and caring and looking after to get right. It's our biggest seller so it's important that it's done properly."
Award-winning dishes, such as Beef and Stout Wellington served with Green Pea and Smoked Pork Puree with a Guinness Reduction and Hot Mustard, are offered. A traditional Irish session will be held from 5pm tomorrow at which top Irish musicians will sit down to jam.
Danny Doolans
204 Quay St, Viaduct, dannydoolans.co.nz
If you're looking for whiskey, head to Danny Doolans through a tiny entrance next to Snapdragon at the Viaduct.
It's an old-world-style pub filled to the brim with cosy atmosphere during the day we visit, replaced by loud crowds later on. It has more than 130 types of whiskey but you won't find any Guinness here - it's Murphy's Irish Stout all the way.
"I like it better," says duty manager Steph Dow. "I'm not biased at all."
Danny Doolans will feature live entertainment from midday with traditional fiddlers and jig music.
With its traditional Irish feel, stone floor and antiques, you'd be forgiven - after a few too many whiskeys - of thinking you're in a country pub on the other side of the world.
Florrie McGreal's
136-138 Hurstmere Rd, Takapuna, florriemcgrealsirishpub.co.nz
Queues start early on St Patrick's Day at Florrie McGreal's with a full Irish breakfast available from 9am. It's $20 and includes bacon, eggs, sausages, black pudding, potato cakes and tea, coffee or juice. There's also an Irish Open Toastie, wedged with a side of Swiss cheese fondue or Steak & Murphy's Pot Pie, alongside 11 different beers on tap.
"People wear just about green everything," says manager Colm McNeill-O'Keeffe, a veteran of 12 St Patrick's Day events in Auckland. "It's amazing how many Irish people come out of the woodwork on the day."
McNeill-O'Keeffe says it's "grand" being an Irishman in New Zealand, "except when we play the All Blacks, which can be heart-breaking".
Florrie McGreal's is named after the owner's Protestant grandmother, who was born in Northern Ireland and married her husband (a Catholic who liked a drink) on Christmas Eve in Australia in 1909, later moving to Taranaki.
The pub is now part of the second biggest St Patrick's Day event in Auckland, which McNeill-O'Keeffe says is not a bad achievement for a small place. The event, the St Patrick's Day Hurstmere Hooley Street Party, starts at 2pm with a mix of traditional and contemporary Irish music and dancers.
"You might hear Irish people saying 'Top of the Morning' tomorrow but they won't say that any other day of the year," says Colm."
If you can't wait a full year until the next event at "the best little Irish pub this side of the rainbow", head to Florrie's in September for its "Halfway to St Patrick's Day" celebrations.
Others:
Father Ted's Original Irish Pub at 1 Wellesley St, CBD has live music from midday. The barman tells me it's like one big happy family on the day.
Doolan Brothers pubs in Ellerslie, Lynfield and Newmarket will be full of Irish fun, doolanbrothers.co.nz
Malones Irish Tavern at 6 Miami Ave, Surfdale gives you a place to celebrate on Waiheke Island.